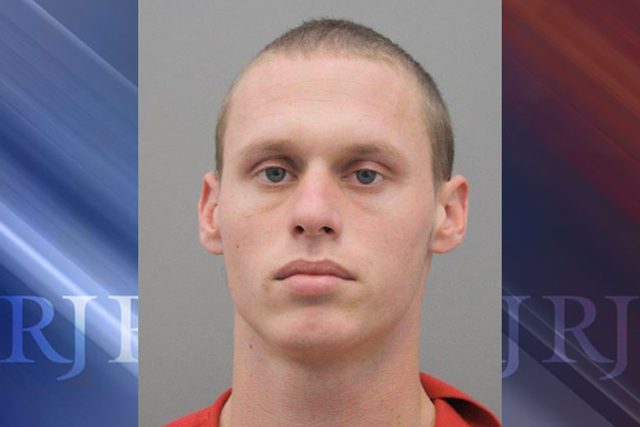 A teenager was arrested Wednesday morning in connection with a bonfire explosion earlier this summer, Clark County officials say.
Michael Brandon Boyd Jr., 19, was arrested by Clark County and Henderson Fire investigators. He faces 11 charges, including third-degree arson, mayhem, and acting in reckless regard resulting in bodily harm.
On June 9, an explosion at a Henderson desert bonfire left several high school students and recent graduates injured, some badly enough to keep them in the hospital for over a month.
The bonfire was near an abandoned building on Bureau of Land Management land in the far southeast valley. A group of teenagers gathered on the night of Basic High School's commencement ceremony, but their celebration was interrupted when a boy identified by students as "Mikey" rolled a 55-gallon drum of fuel into the fire around 11 p.m., one of the burned teens said.
Nothing happened at first, but 20 minutes later, the container blew up.
"Next thing I knew, I was running away and my friends were on fire," burned teen Maddie Anderson told the Review-Journal in June.
The teens were out of cellphone range and drove themselves to the hospital. Clark County officials confirmed that no Las Vegas-area fire departments or ambulance services were called. BLM couldn't open an investigation at the time because no 911 services were called.
The boy who rolled the drum of fuel into the fire seemingly disappeared in the chaos of the explosion.
Investigators believe Boyd caused the explosion by rolling a 55-gallon drum of fuel into the fire, Clark County officials said.
One boy was put into a medically-induced coma that night, "so they could scrub him," Anderson said. Multiple teens were in serious and critical condition, hospital spokeswoman Danita Cohen reported two days after the explosion. Other teens reportedly had burns over 65 percent of their bodies.
Pictures posted on social media from June through August showed some of the involved teens in a hospital room and at home in bandages.
Boyd is being held at the Henderson Detention Center on $37,000 bail.
Contact reporter Annalise Little at alittle@reviewjournal.com or 702-383-0391. Find her on Twitter: @annalisemlittle.