At $780 million, potential subsidy for Las Vegas stadium at front of the pack
February 3, 2016 - 6:42 pm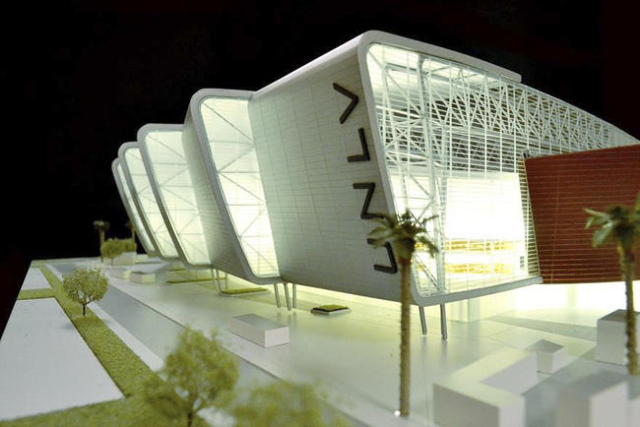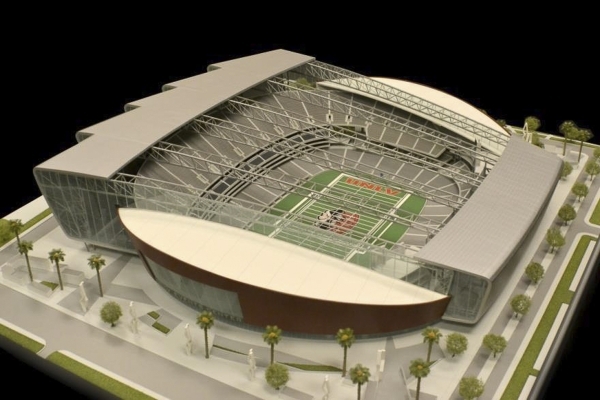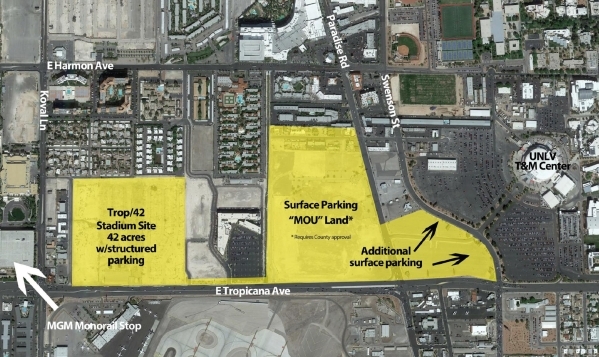 Early figures show Las Vegas Sands's ask for tourism-based taxes for its joint project with UNLV would be among the biggest ever for an NFL-ready stadium.The size of Las Vegas Sands Corp.'s stadium subsidy ask — 65 percent of a $1.2 billion proposal — bucks current trends in the funding of football stadium construction, sports economists say.
Private developers and teams are paying more toward the cost of NFL stadiums than ever before, based on private/public cost splits for recent projects involving the Minnesota Vikings, Atlanta Falcons, San Francisco 49ers and the recently relocated Los Angeles Rams.
Early figures show Las Vegas Sands hopes to land $780 million in tourism-based taxes to fund the bulk of its joint project with UNLV. If that number holds, the stadium's public subsidy would be among the biggest ever for an NFL-ready stadium.
By comparison, 53 percent of the new Vikings stadium is privately financed; the Falcons' new stadium is 84 percent private; the 49ers' stadium in Santa Clara, Calif., was 88 percent private; and the planned Inglewood facility for the Rams will see no public subsidy at all.
The Las Vegas Sands plan is "totally counter to the trend," said Victor Matheson, a sports economist who teaches at the College of Holy Cross in Worcester, Mass.
Las Vegas Sands spokesman Ron Reese stresses that the plan an is an "extremely preliminary presentation … that surely will change." He said the company expects to present a proposal to the tourism infrastructure planning committee created by Gov. Brian Sandoval in a month or two.
Majestic Realty Senior Vice President Craig Cavileer, a "co-collaborator" with Sands, said Wednesday the game plan is to seek enabling legislation in a special session of the Nevada Legislature in late summer.
While calling the stadium proposal "an exciting prospect for UNLV, the residents of Southern Nevada and the millions of tourists who travel to Las Vegas annually," Sandoval spokeswoman Mari St. Martin said that "At this time, it would be premature for the Governor to consider a special session when the details of the public financing portion of the proposal have not yet been introduced…"
Majestic four years ago unsuccessfully partnered with the University of Nevada, Las Vegas on a "Mega Events Center" that was rejected by lawmakers because of its cost. Majestic had committed $385 million to a proposed $1 billion domed stadium.
This proposal ups the ante.
Billionaire Sheldon Adelson, Chairman and CEO of Las Vegas Sands, last week met Oakland Raiders owner Mark Davis, who is considering Las Vegas as a potential new home for the football team.
However, Sands says it wants to build the stadium even if Las Vegas doesn't land an NFL team, and UNLV business official Gerry Bomotti agrees it would be economically viable even without a pro team.
"Some of the hotel/resort folks are coming out in favor of a stadium, noting it is not contingent on any future NFL team, but would have positive economic impact on Las Vegas because we could support more events for more tourists," said Bomotti, UNLV senior vice president for finance and business. "The Sands folks have always been very supportive of the stadium concept, going back to the Mega Events Center discussions."
The stadium would be the new home of the Rebels' football program, which currently plays in the east valley's aging Sam Boyd Stadium. It would be built on vacant land, recently purchased by UNLV, at Tropicana Avenue and Koval Lane.
Like the former development team of the failed Mega Events Center, Las Vegas Sands is also looking to tourism-based taxes collected on hotel rooms, rental cars and taxi rides to help cover the public subsidy. Such requests for public money typically generate intense political fights.
Less than two years ago, the city of Las Vegas, The Cordish Cos. and Las Vegas car dealership executive Justin Findlay caught political heat for pitching a controversial — and ultimately unsuccessful — plan to divert hotel room revenue used for public parks to help build a downtown professional soccer stadium.
Economic impact debated
The Las Vegas Sands project promises a bigger return than a downtown soccer venue, but economic benefits are always a matter of debate.
Las Vegas Sands says the stadium would generate $600 million to $800 million in annual economic impact based on 15 to 20 neutral-site college football games, an NFL exhibition game, music concerts and boxing/MMA, among other events.
The company said 15 stadium events would generate $393 million in direct spending and $210 million in "indirect/induced" spending for $603 million, while 20 events would generate $524 million in direct spending and $280 million in "indirect/induced" spending.
Cavileer said the Las Vegas Sands' stadium presentation includes the same stadium drawings and economic impact projections developed by consultant Mark Rosentraub in 2012.
Matheson and fellow sports economist Rob Baade, both longtime critics of stadium economic impact studies, said the projections for this project seemed high.
"Statistically, the numbers are outside the norm," Baade said from his office at Lake Forest College in the Chicago area.
"Unfortunately, the methodology used to formulate estimates of economic impact is fatally flawed, resulting in a consistent bias toward large, but unrealized, impacts," Matheson and Baade wrote in an academic study published in 2011.
The Matheson-Baade paper describes a "crowding out" effect, "When congestion from sports events tends to reduce other economic activity in the local area, as sports fans displace other individuals."
Matheson in an interview also warned of a "substitution effect" as both tourists and locals spend money at the stadium that would have gone into the local economy in other ways.
"To the extent the stadium attracts locals instead of visitors, it doesn't create any new economic activity in the area. It simply shifts around where money is spent locally," he said.
Tapping tourists
Reese said the company is focusing on tourism-related taxes so that locals wouldn't have to pay.
"Obviously, we won't ask for property taxes," he said.
But the sports economists said the tourist tax revenues the Las Vegas market would potentially produce through sources such as hotel rooms, taxis or rental cars could pay for other public needs, such as more police, or perhaps lower taxes.
Not only will Las Vegas Sands face opposition from anti-subsidy foes, the stadium plan is already under fire from MGM Resorts International.
Three years ago, MGM Resorts criticized the UNLV-Majestic plan as too expensive, though it didn't say at the time it was planning a 20,000-seat arena that would compete with a stadium.
The new stadium plan would divert room tax revenues from the Las Vegas Convention and Visitors Authority, which is planning a Las Vegas Convention Center expansion. Las Vegas Sands opposes that expansion because it would create new competition for the company's Sands Expo and Convention Center.
MGM Resorts CEO Jim Murren, who will open the privately financed T-Mobile Arena on the Strip this spring, last week said he doesn't want to see hotel room taxes diverted for the proposed Las Vegas Sands stadium.
Reese said the company hopes the tourism infrastructure panel looks at the Las Vegas Sands stadium as top priority in driving tourism in Southern Nevada.
"We're putting the stake in the ground," Reese said.
The Review-Journal is owned by a limited liability company controlled by the Adelson family, majority owners of Las Vegas Sands.
Contact reporter Alan Snel at asnel@reviewjournal.com Follow him on Twitter: @BicycleManSnel