Big bridge projects have highs, lows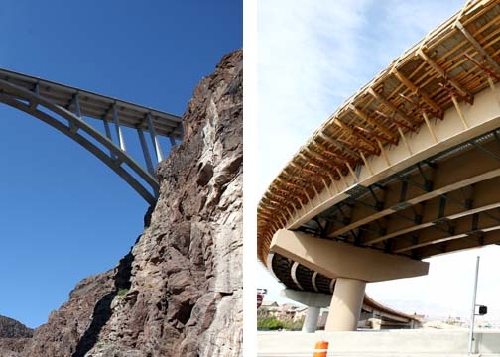 The price tags were almost identical: $240 million and change.
One bought an engineering marvel that, at least briefly, lured tourists away from the Strip to watch workers dangle from cranes to piece together a span 900 feet above the Colorado River.
The second buys five major interchanges, 26 new bridges and a maze of frontage roads in the heart of the Las Vegas Valley.
The Hoover Dam bypass bridge and the I-15 overhaul both were designed to move traffic more efficiently. But one was viewed as a historic event; the other, a hand-wringing annoyance.
But comparing the Mike O'Callaghan-Pat Tillman Memorial Bridge to the Interstate 15 overhaul is a bit like comparing a baseball superstar to a grind-it-out clutch player. It's Alex Rodriguez vs. Lenny Dykstra. Or a Hollywood glamour vs. Tinseltown trouble; Liz Taylor vs. Lindsey Lohan.
The similarities of the two transportation projects went beyond price tags.
Workers overcame treacherous conditions on both. Gale-force winds funneled through Black Canyon, buffeting the bridge workers. Motorists traveling 80 mph blow by the freeway workers just 5 feet away.
Accidents claimed the lives of one worker on each project.
Tempting as it is to compare the price tags, transportation officials cautioned those figures are deceptive.
"With the Hoover bypass, you had contractors falling over themselves bidding for that project," said Scott Rawlins, deputy director and chief engineer for the Nevada Department of Transportation. "They knew how significant the project was and how it would benefit the marketing of their company if they were a part of that. It's not a fair comparison."
The state received a deal on its Interstate 15 project, too, but it had nothing to do with construction companies clamoring to be a part of history.
The project was the state's second design-build project, meaning one company bid on the job and agreed to both draw up the plans and execute the improvements. That strategy eliminates costly change orders, because the same contractor is handling both tasks.
Congestion along Interstate 15 has progressively worsened over the past decade, and transportation officials acknowledged the massive project could no longer wait.
"I-15 is the lifeblood not only to Las Vegas, but to the overall state economy," Rawlins said. "It's vital in moving goods and making sure tourists get to where they want to go in the resort corridor."
That's why the Las Vegas Convention and Visitors Authority is using its room tax revenue to absorb much of the cost of the improvements, which will extend from Tropicana Avenue to Sloan.
I-15 IS A CRITICAL CORRIDOR
"Interstate 15 is a critical corridor," public relations specialist Jeremy Handel said. "It's important for us to step up and make sure we maintain the corridor for our visitors."
About 8 million tourists every year use Interstate 15 to visit Las Vegas from Southern California.
Plus, more than 90 percent of the state's imported products arrive by truck and the majority of those haulers use Interstate 15, according to the Nevada Motor Transport Association.
The underlying concept of the freeway improvements is the same as that behind the recently added express lanes. Some motorists rely on I-15 to quickly navigate the valley from the north to the south, while it delivers others to the Las Vegas Strip.
New frontage roads on either side of the interstate are designed to accommodate vehicles merging in and out of lanes to access the resort corridor, allowing the freeway to serve as a more express north-south route.
The new roads, which prompted the need for most of the additional bridges, will benefit locals and tourists visiting the Strip as well as resort workers.
"The roads take them off the I-15 mainline and put them in a system designed to handle those weaving movements, those merging movements at a slower, more controlled way so 15 can function more effectively and more smoothly," Rawlins said.
Those frontage roads are expected to be open by early summer.
Interchanges at Tropicana, Russell Road, Interstate 215, Blue Diamond Road and Silverado Ranch Boulevard also are being revamped to improve east-west traffic.
Of course the numbers associated with the freeway endeavor pale in comparison to the Hoover Dam bridge: Twenty-six bridges, 35 retaining walls and 1.5 miles of sound walls doesn't sound nearly as impressive as 3.5 million pounds of rock excavated, steel pylons the size of a football field and a 1,060-foot concrete arch.
And then the work force: At the height of activity on the freeway, 300 construction workers were on the job. But 300 engineers worked on the bridge design and logistics, and another 1,200 crew members built the span.
While the prestige of a high-visibility project drove down the price of the Hoover Dam bypass bridge, the higher costs of working in an urban setting drove up the bill for the I-15 overhaul.
NIGHTTIME WORK ONLY
Las Vegas Paving must abide by strict rules, because Interstate 15 and Interstate 215 are two of the city's busiest highways, carrying about 150,000 vehicles per day. To lessen the inconvenience for daily commuters, crews are not allowed to close roads or ramps during daytime hours.
So, most of the work on the roads and ramps occur between 9 p.m. and 5 a.m. For a construction company, that means paying workers shift differential which drives up the cost. Work zones and associated traffic control set-ups are smaller because of this, which also limits productivity.
Corey Newcome, project manager for Las Vegas Paving, worked on the construction of the Las Vegas Beltway and experienced the luxury of building a road where none had existed. At the time, the area around the Beltway was mostly rural, allowing crews to work 12-hour shifts when necessary.
On Interstate 15, that eight-hour overnight window is actually only six hours after workers set up cones and barriers and haul in equipment.
"It adds to the costs. You do less when you have a smaller working window," Newcome said. "When your production goes down, your price goes up."
During the day, equipment deliveries must be carefully scheduled around peak traffic hours.
"It makes it more complicated," Newcome said.
Allowing overnight lane closures only might lessen the inconvenience for motorists, but it doesn't necessarily make workers on the project feel significantly safer. It is easier to move equipment by having an extra lane to accelerate and blend into traffic, but Vegas is a 24-hour city and that means plenty of vehicles are still on the road.
"There are still a lot of people on the road and you wonder if a fair amount of them are impaired," Newcome said.
Fortunately, none of Newcome's workers have been hit by vehicles.
However, three teenagers were killed when they drove up a closed ramp in a construction area and slammed into a pile of steel girders last year.
Placement of traffic control devices presents yet another challenge. Newcome said project managers must decide exactly when and where a project takes place and then guarantee that it will happen because word must be spread in advance to commuters.
"It takes coordination and communication so everybody is on the same page," he said. "We have to have what we need when we need it and make sure the public logistics are involved."
The bridge captured more attention because it was a once-in-a-lifetime project, while work on Interstate 15 will never go away.
After the current project is completed from Tropicana to Silverado Ranch, two more projects will begin — widening the highway to Primm and Project Neon between Sahara Avenue and the Spaghetti Bowl.
Tourists probably won't be pulling over to take photographs of any those I-15 projects, but in the end, the improved flow of traffic will undoubtedly be more noticeable on the freeway than on the headline-grabbing bridge.
Contact Adrienne Packer at apacker@reviewjournal.com or 702-387-2904.
MIKE O'CALLAGHAN-PAT TILLMAN MEMORIAL BRIDGE
• 1 main bridge, 7 smaller bridges
• 300 engineers plus 1,200 construction workers
• 1,060-foot concrete arch
• 1,900 feet long
• 100 yard tall steel pylons
• Nine years to complete
Bottom line: $240 million
INTERSTATE 15 SOUTH DESIGN-BUILD PROJECT
• 26 bridges
• 1.5 miles of sound walls
• 35 retaining walls
• 300 construction workers on the job at the height of the project
• 6 miles long
• Two years to complete
Bottom line: $246 million