Boulder City man says veterinary clinic has long-lost cat
February 28, 2016 - 6:53 pm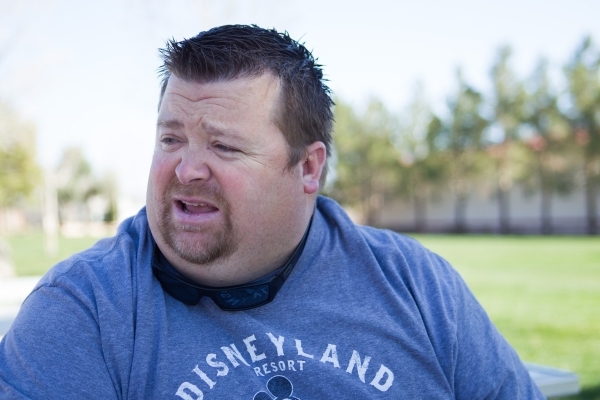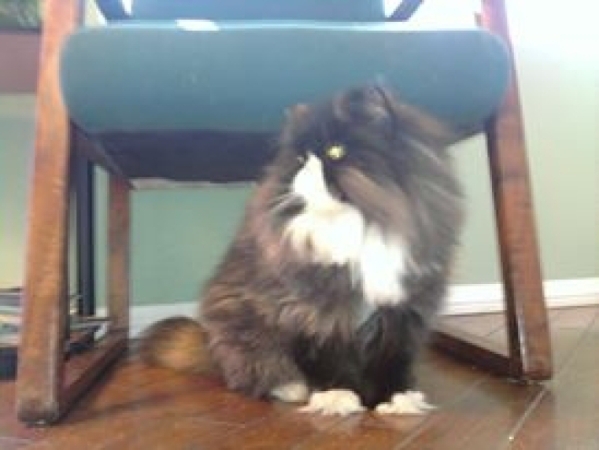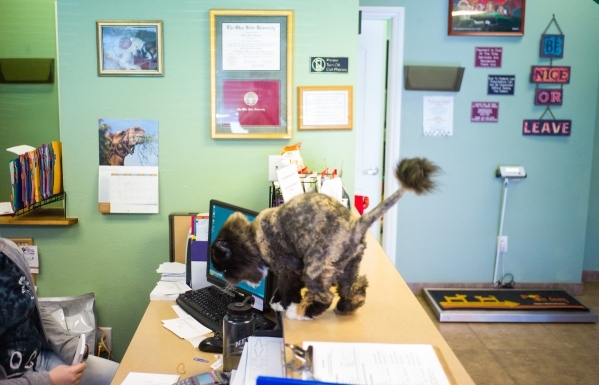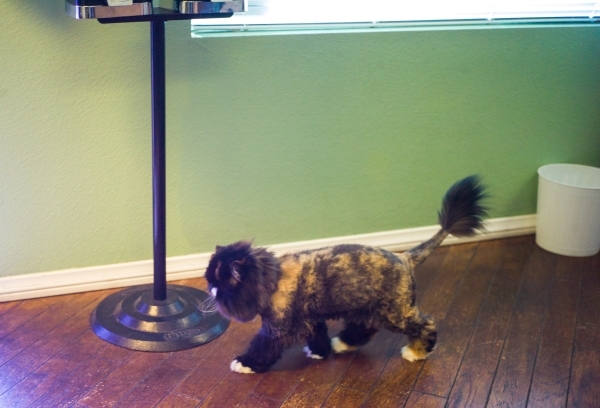 The stories about Boulder City's former head of animal control, who is accused of needlessly killing hundreds of animals, usually end in death.
Seth Snyder's story, however, is different.
When Snyder's cat Booboo escaped roughly a decade ago, he and his daughters were heartbroken. They put up fliers. He called animal control and got Mary Jo Frazier's unsympathetic ear. He said she told him Booboo had most likely been eaten by coyotes. Later, it struck him that telling someone their cat was dead seemed harsh and, he imagined, against protocol.
He told his girls he would find their cat, but months went by. Then years.
The family grieved.
Fast-forward five years. In February 2011, Snyder stood in a veterinary clinic, holding his Labrador retriever Butter, when Booboo walked by. The shock was so intense, it felt like his heart stopped, he said.
Booboo, Snyder said, had become the office cat of The Greatful Pet Animal Clinic, but the feline is now called Isabel. Snyder had no doubt he was seeing Booboo because the flat-faced calico Persian was a rare, unusual-looking cat. But this wouldn't be a reunion.
He said he asked staff where the cat had come from and was told animal control had given the cat to the clinic. The city has a contract with Greatful Pet. He said veterinarian William Flannery blew him off, saying everyone is always claiming the cat belonged to them.
"I'm like, really?!" Snyder said. "So then I went on a mission."
He took a memory card with all of the photos he had of Booboo to a drugstore with a photo lab. Then, he went back.
He also took to Facebook. Snyder's Facebook posts show that on Feb. 24, 2011, he posted photos he took at Flannery's clinic of the cat he believed to be Booboo.
"I just found our cat thats been missing for more than 5 years," he wrote.
Back at the clinic, Snyder said staff agreed the photos of his cat Booboo looked remarkably like the clinic's Isabel. He had someone show the photos to Flannery, but Snyder was then asked to leave, he said.
Snyder said he also went to animal control, and Frazier told him she didn't give the cat to the clinic and kept saying the matter was "civil" and therefore not her problem.
Reached Friday, Flannery said that Snyder's claim caused a "huge stink" at his practice a number of years ago and that the cat doesn't belong to Snyder. Flannery said that he has had the cat for more than 11 years and that a high school student found the cat and brought it to a previous clinic where he worked — one now known as Boulder City Animal Hospital.
He also said he contacted animal control when the cat was brought in and that after no one claimed the cat for months, he adopted her. Flannery said there was no adoption paperwork because he simply took her home. Flannery said he knew the cat couldn't have been Snyder's because the timeline didn't make sense. He said he had already had the cat for a long time when Snyder complained.
When a reporter asked if Flannery had any evidence showing how long he had had the cat, he said, "It's ridiculous. I'm not interested in answering any more questions about it," and hung up. Later attempts to reach Flannery were unsuccessful.
Prior complaint
Flannery's previous boss, Randy Stanton, who owns Boulder City Animal Hospital, and who has the city's other veterinary contract, said Flannery's story could not be corroborated through his clinic's records. Stanton said Friday that he was familiar with the cat controversy and had looked into it himself when someone told him Snyder's story years ago.
Stanton was concerned because he said that he had given Flannery a second chance in 2004 after Flannery took home an 11-year-old Pomeranian someone had brought in to be euthanized.
Flannery had the animal for about three months when a clinic technician came to Stanton and told him there was a problem. Stanton said he immediately called Flannery and told him to bring the animal in. Stanton ran blood work and, because Flannery had been treating the dog, it had healed. Stanton said he then had to make one of the hardest calls he has ever had to make. He telephoned the dog's owner and explained that the clinic had not put the owner's dog to sleep, as it had said it would.
"In a way it was a blessing in disguise because the animal was better and that person took the animal," Stanton said. He added that Flannery was very remorseful and that he gave him a second chance. But he said he filed a complaint with the Nevada Board of Veterinary Medical Examiners about the incident in 2009. Flannery had to pay $400 and received a letter of reprimand.
Stanton and Flannery's relationship is not without tension. In 2010, Stanton filed a lawsuit against Flannery's business partner, now wife, accusing her of penning false negative reviews of him online while planting positive Greatful Pet reviews. She settled the case, paying Stanton $77,500, court records show.
When Stanton heard about Snyder's issue, he said he called the Nevada Board of Veterinary Medical Examiners and told them he had heard of yet another report of Flannery possessing someone else's animal. Stanton said he was told by the board that the owner of the cat would need to file a complaint for action to be taken.
"It's sad because had I known the owner's name, I would have reached out to the owner and said file a complaint with the state board of veterinary medicine," Stanton said. Stanton said he tried to get Frazier to take action, but she refused, telling him that there was nothing to be done.
Grand jury scrutiny
Ann Inabnitt, now head of animal control, confirmed in December 2015 that she had heard about the cat from Frazier. Inabnitt said that Frazier told her she had given the cat to Flannery and that a man later complained about it.
Inabnitt is the whistleblower who reported Frazier in April 2015. A detective launched an investigation and wanted to arrest Frazier at that time, but Police Chief Bill Conger threw out the case when Frazier quit. He told the Review-Journal in December that he didn't want to drag the matter through the mud. He also said he didn't feel the case against Frazier would stick.
But the city reversed course after the Review-Journal reported the closed investigation in December, prompting a public protest. Later that month, the city recommended the Clark County district attorney charge Frazier with 37 felony counts of animal cruelty in connection with the deaths of shelter animals. The district attorney's office has yet to file charges, but sources with knowledge of the case have said a grand jury investigation is ongoing.
Conger quit in January after people close to the investigation involving Frazier went to the city's human resources department and complained that Conger knew about allegations against Frazier a full year before taking action. Conger had claimed, and a city spokesman had told the media, that Conger took action as soon as he found out about Frazier.
The city has refused to clear up the timeline of events and has barred the newspaper from speaking to Inabnitt or the detective who investigated Frazier.
The Review-Journal has been unable to reach Frazier, who sold her home shortly after she quit and is believed to have left the state.
On Wednesday, an "On This Day" Facebook notification flashed on Snyder's phone. It was dated five years ago, the day he had gone to the clinic and happened upon the cat he believed to be Booboo. That day he had posted an old picture from when Booboo was theirs, when his now-grownup daughters were children, a decade ago.
All these years later, it still hurts, Snyder said.
— Contact Bethany Barnes at bbarnes@reviewjournal.com or 702-477-3861. Find her on Twitter: @betsbarnes