Bugsy Siegel's daughter buried in Las Vegas cemetery
November 22, 2017 - 8:51 pm
Updated November 28, 2017 - 4:07 pm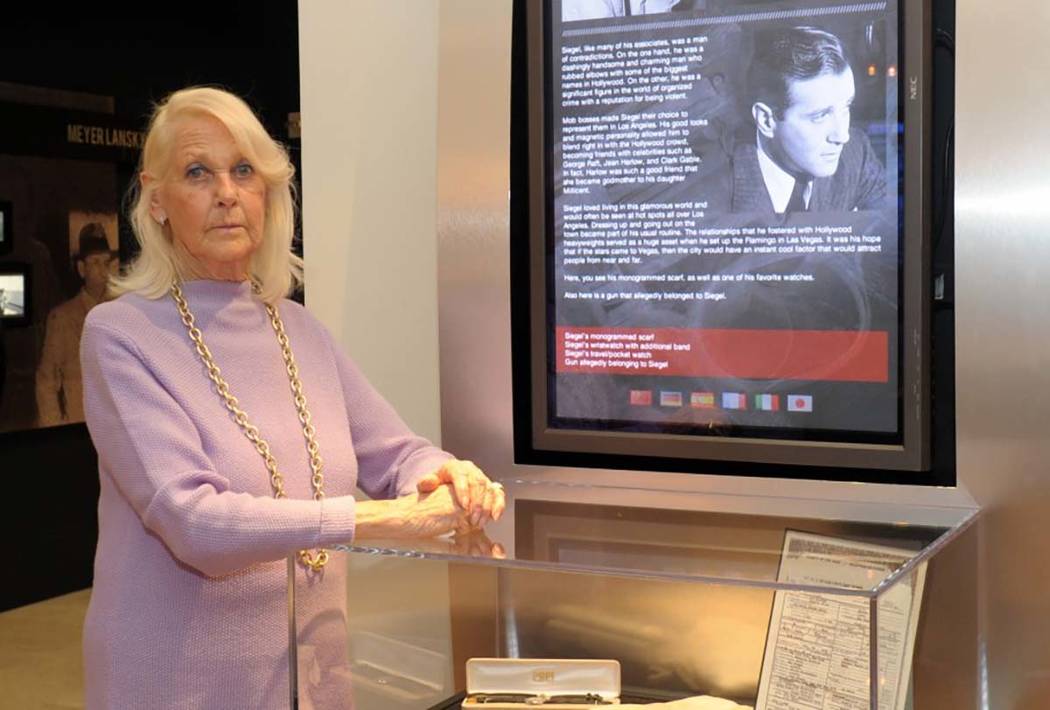 Proud of her roots, Millicent Rosen spent her entire life defending the family name: Siegel.
Millicent Rosen, born Jan. 14, 1931, in New York City to Benjamin "Bugsy" Siegel and Esta Siegel (nee Krakower), died Nov. 17 in Las Vegas. She was 86.
Her father, a Jewish mobster some have credited with helping to build modern Las Vegas, was shot to death in Beverly Hills, California, on June 20, 1947. He was connected to fellow mobsters Meyer Lansky, Charles "Lucky" Luciano and the crime syndicate Murder Inc.
"She was just a very unique lady that had an even more unique history," her daughter, Wendy Rosen, told the Las Vegas Review-Journal on Friday. "She was determined through her work with the Mob Museum to let the world know that Benjamin Siegel was a good man with a great vision."
On Tuesday, Millicent Rosen was buried at Woodlawn Cemetery — a decision her two daughters, Wendy and Cindy Rosen, said was difficult to make.
Days before she died, Rabbi Mendy Harlig was requested to CompassionCare Hospice to provide spiritual and emotional care to Millicent Rosen and her family.
The daughters told the rabbi they had hoped to bury her in New York next to her husband, Jack Rosen, the son of mob associate Morris Rosen.
"My father was always the love of her life," Wendy Rosen said. "They were childhood sweethearts."
But Harlig, the executive director of Henderson-based Chabad of Green Valley, suggested a proper Jewish burial for their mother at Woodlawn Cemetery, citing its Jewish roots.
The family had considered cremating Rosen, but Harlig insisted cremation wouldn't align with Jewish principles.
Rosen's family agreed to have her buried in Las Vegas, where her father bought El Cortez, 600 Fremont St., and opened the Strip's first resort-style hotel in the Flamingo, 3555 Las Vegas Blvd. South. El Cortez has a restaurant named after her father, and the family leased memorabilia for the restaurant to display.
"There needed to be some history of Siegel blood left in Vegas, and my mother's the last of it," Wendy Rosen said. "This would have never happened without Rabbi Mendy. He was there at the exact time we needed him."
Harlig recalled telling the daughters, "Maybe this was meant to be that we met."
Having moved to Las Vegas nearly 15 years ago, Millicent Rosen was a contributing member to the Mob Museum in downtown Las Vegas.
"She did a lot of promotional work the last five years of her life to change the impression that everyone had of her dad," Wendy Rosen added.
A fiercely independent woman outside her family name, Millicent Rosen will be remembered as a well-educated woman who had a great sense of style, her daughter said.
She is survived by her daughters and preceded in death by Jack and her son, Benjamin, who died in 1956.
"She will be missed terribly by everybody that knew and loved her," Wendy Rosen said. "She was difficult at times and did things her way even until the end, but anybody who met her loved her."
In lieu of donations to the Rosen family, the daughters ask that donations be sent directly to the Chabad of Green Valley at 10870 S. Eastern Ave.
Contact Mike Shoro at mshoro@reviewjournal.com or 702-387-5290. Follow @mike_shoro on Twitter. Review-Journal staff writer Rio Lacanlale contributed to this story.
A previous version of this story contained incorrect information about the memorabilia in an El Cortez restaurant named after Bugsy Siegel.