Bull captured after roaming through central Las Vegas
February 14, 2018 - 6:20 am
Updated February 14, 2018 - 8:21 am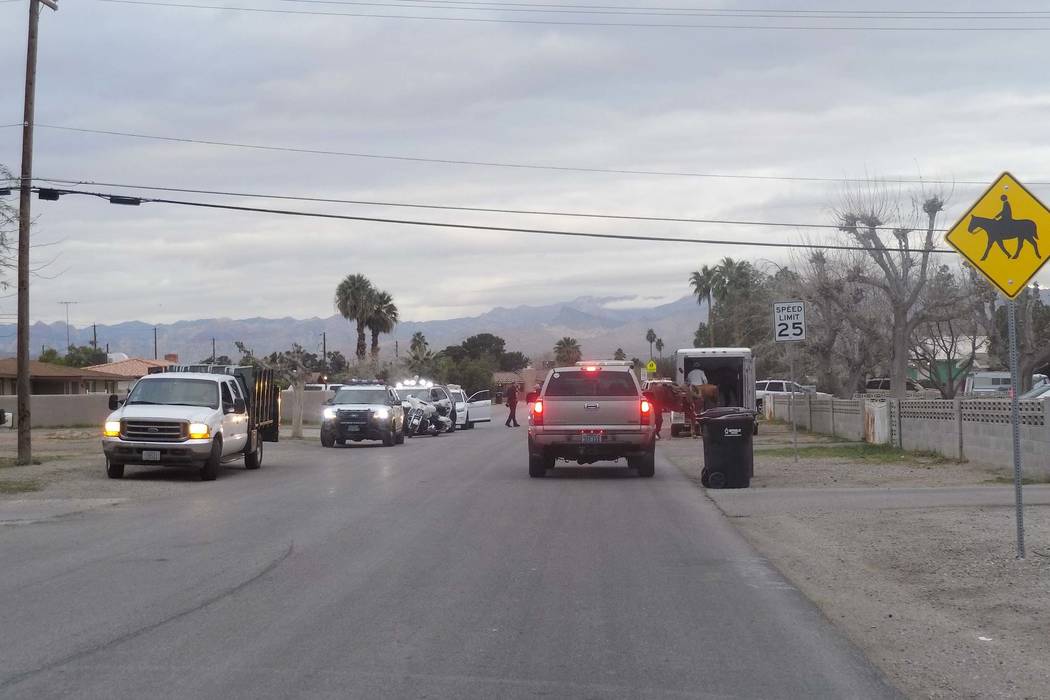 Police and animal control captured a bull Wednesday morning after it roamed through central Las Vegas for several hours.
The bull was first spotted about 3 a.m. at Turquoise Road and Silver Lake Drive. It was finally corralled just before 7 a.m. at a home in the 1900 block of Ophir Drive, near Washington Avenue and Martin Luther King Boulevard, according to Metropolitan Police Department Lt. Carlos Hank.
Metro tracked the bull with a helicopter and patrol units blocked traffic while the bull was tranquilized and captured. A neighbor also pitched in by feeding the bull alfalfa to help calm him down, Hank said.
"It's all about communication and control," he said. "We just basically managed the situation, stayed calm and provided a calm environment so the animal wouldn't go crazy and run into anyone or anything."
The bull's capture was a team effort, Hank said, with help from Las Vegas Animal Control as well as two members of the Henderson Police Department who have experience with livestock.
Police believe the bull came from an area to the northwest of where it was captured. At 7 a.m. police were searching for the owner. Hank said animal control also was trying to find the owner based on markings on the bull.
This is not the first time a bull has run loose in Las Vegas. On April 16, 2017, a bull left its corral behind Texas Station at Rancho Drive and Lake Mead Boulevard. It was captured a few blocks west on Michael Way.
An update on the bull that was loose this morning: our Animal Control team is taking it to a livestock vet to get checked out and then Horsemans Park to be housed until we can get it either back to its owner or rehomed. pic.twitter.com/9zkQQ81cn4

— City of Las Vegas (@CityOfLasVegas) February 14, 2018
Contact Max Michor at 702-383-0365 or mmichor@reviewjournal.com. Follow @MaxMichor on Twitter.