Bundy returned to Las Vegas to face standoff charges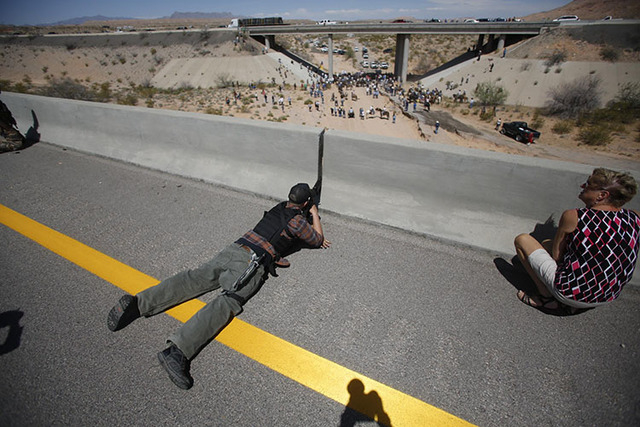 Nevada rancher Cliven Bundy appeared in federal court Friday to face federal charges in connection with the April 2014 armed standoff with law enforcement in Bunkerville.
But his arraignment in Las Vegas on an array of felonies was continued to Thursday so that he could retain a defense lawyer.
With Assistant Federal Public Defender William Carrico at his side, Bundy told U.S. Magistrate Judge Bill Hoffman that he wasn't able to read the new 63-page indictment and discuss it with Carrico. He also said he needed the extra time to find his own lawyer.
Hoffman questioned whether Bundy qualified for a court-appointed attorney and ordered him to remain in federal custody until Thursday. At that time, prosecutors are expected to push to keep him held without bail while he awaits trial.
Carrico will get off the case if Bundy finds other representation.
Bundy, who was wearing a long-sleeve white shirt and dark pants, sat quietly in court until he was questioned by Hoffman. Extra U.S. marshals were on hand in the crowded courtroom.
Nevada U.S. Attorney Daniel Bogden made a rare appearance at the prosecutor's table with two other top members of the office, First Assistant U.S. Attorney Steven Myhre and criminal chief Daniel Schiess.
Outside the courthouse, there were no Bundy supporters congregating.
Bundy, 69, was brought to Las Vegas by U.S. marshals from Portland, Ore., where he was arrested last month on his way to support another armed standoff at a government wildlife refuge in eastern Oregon.
He faces 16 felony counts, including extortion, obstruction of justice, conspiracy to commit an offense against the United States, conspiracy to impede or injure a federal officer, assault on a federal officer, threatening a federal law enforcement officer and using and carrying a firearm in a crime of violence.
Bundy and 18 others — including four of his sons, Ammon, Ryan, David, and Melvyn — were charged in a new federal indictment in Las Vegas on Wednesday stemming from the Bunkerville showdown.
All of the other defendants are in federal custody outside of Las Vegas and will have to be brought here by U.S. marshals to answer the charges.
The Bundys are described in the new indictment as key players in the "massive armed assault" against federal officers a few miles from the Bundy ranch on April 12, 2014.
The confrontation aimed to force federal officials to abandon about 400 cattle they had rounded up under court orders, according to the indictment. The Bundy family had been illegally grazing cattle on federal public lands for more than 20 years.
During the height of the nationally watched standoff, Bureau of Land Management and National Park Service rangers were outnumbered 4-to-1 by the Bundys and 270 supporters, and rangers were threatened by snipers perched high above them on bridges, the indictment alleges.
Ammon and Ryan Bundy and several other defendants in the Las Vegas case are also charged in the 41-day Oregon standoff and are being held without bail in Portland.
Contact Jeff German at jgerman@reviewjournal.com or 702-380-8135. Find him on Twitter: @JGermanRJ