Bundy sued after car hits cow on I-15
September 17, 2014 - 4:07 pm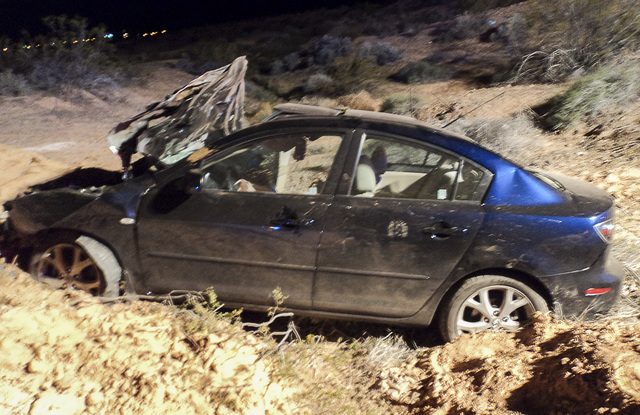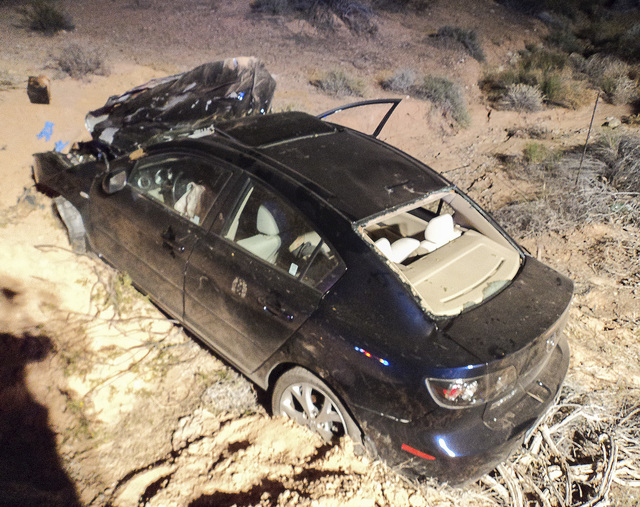 On April 12, a triumphant Cliven Bundy and his supporters chased away federal authorities and set the rancher's impounded cattle free once more to roam public land in northeast Clark County.
Two days later, a car collided with one of Bundy's cows on Interstate 15, about 10 miles from his Bunkerville ranch, killing the animal and sending the vehicle careening down an embankment.
Now a Las Vegas woman injured in the crash is suing Bundy for negligence.
The lawsuit filed Sunday in Clark County District Court alleges Bundy "recklessly, carelessly and negligently allowed his cows to enter onto Interstate 15 through an area where he had no grazing or other rights."
Danielle Beck is seeking at least $20,000 for medical expenses, lost income and other damages.
"She's lucky she lived," said Bob Apple, Beck's Las Vegas lawyer. "I've been practicing since 1975, and I've never seen someone with so many broken ribs."
The crash occurred about 1:15 a.m. on April 14, less than 48 hours after the Bureau of Land Management abandoned its roundup and allowed Bundy to take back his impounded livestock following a tense standoff with the rancher's supporters, including armed militia members from across the country.
According to the Nevada Highway Patrol's accident report, Beck and her boyfriend, Matthew Zanatta, were headed north on I-15 about 75 mph when they encountered cows in both lanes of the road. Zanatta tried to stop the car, but it hit one of the cows. The animal rolled up onto the roof, and the car swerved off the road and into a culvert.
Both Beck, 34, and Zanatta, 40, were taken by ambulance to the hospital in Mesquite.
Apple said his client has recovered enough to return to her job as a schoolteacher, but she was unable to work the second job she usually takes to earn extra money during her summer break.
The accident report said authorities at the scene had to herd four other cows away from the highway through a hole in the fence along the interstate.
"The cow's owner never arrived on scene after being contacted by NHP dispatch," the report said.
Bundy had not been served with notice of the lawsuit Wednesday, but he was familiar with the accident. He said it was his cow that was hit, but he denied any responsibility.
He said it is the state's job to maintain the fence that keeps his livestock off the interstate.
"It's a state problem. It's not our problem," Bundy said. "We really feel bad when it happens. We sure don't want it to happen. But we're not liable."
A spokeswoman for the Nevada Department of Transportation said she needed to research the issue before commenting.
Apple said he did not know why there was a hole in the fence and who was responsible for fixing it, but more defendants could be added to the lawsuit.
One thing is clear: Bundy does not have the BLM's permission to graze his cattle on federal land that brackets the highway and surrounds his 160-acre property along the Virgin River.
The rancher's federal grazing permit was canceled 20 years ago after Bundy stopped paying his grazing fees in a dispute over the BLM's new range restrictions meant to protect the desert tortoise. The land since has been closed to grazing, but Bundy kept his livestock on the range, and the government kept assessing fees and penalties that now exceed $1 million.
In April, armed with a pair of federal court orders, the BLM and a crew of contract cowboys came to round up the rogue cattle. They had about 350 animals in their impound pens northwest of I-15 when the operation was abruptly canceled amid the growing threat of a shootout between Bundy supporters and federal authorities.
After being hailed as a folk hero by pundits and politicians across the country, Bundy saw his support quickly erode when he made racist remarks at a pair of his own daily news conferences near his ranch.
Conservationist Rob Mrowka from the Center for Biological Diversity in Nevada said the April crash is "yet another example of how unrestricted and unmanaged free-roaming cattle can impact public safety and welfare."
"The ripple effects of Bundy's brazen violation of the law extend far beyond the desert tortoise," Mrowka said.
Bundy said Wednesday that technically he is within his rights to make a claim of his own against Beck.
"The person whose car hit that cow is liable to me," he said.
Contact Henry Brean at hbrean@reviewjournal.com or 702-383-0350. Find him on Twitter: @RefriedBrean.
Previous coverage
See more reports on Cliven Bundy's conflict with the Bureau of Land Management.