Businesses scramble for share of 'Pawn Stars' fame
August 22, 2012 - 1:03 am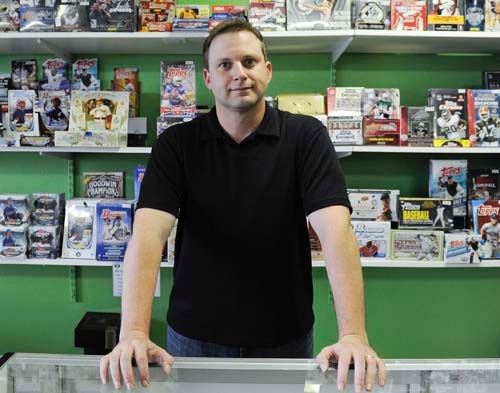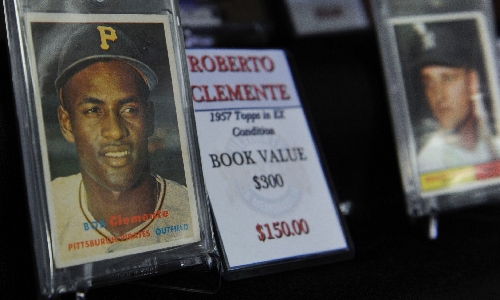 Tourists have long lined up outside downtown's Gold & Silver Pawn Shop to spend hours sweltering in the summer heat for a chance to appear on the History Channel hit "Pawn Stars."
Now businesses affiliated with the show want their own slice of fame. "Pawn Stars" has spawned a cottage industry of small Las Vegas businesses owned by experts who appear on the show to appraise artifacts.
Jeremy Brown, owner of Ultimate Sports Cards & Memorabilia at the corner of Cheyenne Avenue and Tenaya Way, signed on as the show's resident sports memorabilia expert last year. The exposure from "Pawn Stars" has dramatically boosted business, but Brown came to realize his northwest valley location was too far from tourist hubs such as the Strip and downtown Las Vegas to really take advantage of his newfound fame.
So he turned to Neonopolis, the resurging downtown retail and dining complex, where he is leasing space next to the under-construction Denny's restaurant.
"I want to be down here because I can't completely capitalize on my foot traffic being seven miles away (from the pawn shop)," Brown said.
The success of another Neonopolis tenant, the Toy Shack, solidified his decision to move in. Toy Shack owner Johnny Jimenez also appears as a "Pawn Stars" vintage toy expert, and his shop is now a stop on the "Pawn Stars" bus tour route recently launched by OnBoard Sightseeing Tours.
Every day at 2:15 p.m., the bus picks up tourists outside the Bally's box office. For $69.99 a pop, the bus takes fans of the show to Gold & Silver Pawn Shop, the Toy Shack, Rick's Restorations (where reality show "American Restorations" is filmed) and ATM (from the show "Tanked"). Paying customers also get to skip the line at Gold & Silver for VIP entry.
When Brown opens his sports shop at Neonopolis later this year, he'll also be on the tour. Before he signed the lease on the space, he dropped by the Toy Shack to chat with Jimenez. The "Pawn Stars" bus happened to stop by, and after seeing the influx of customers, Brown called Neonopolis developer Rohit Joshi to lock in his space.
"Together we can really market ourselves," Brown said.
Ultimate Sports Cards & Memorabilia fits Joshi's vision for Neonopolis, which is to sign tenants that are destinations in their own right and won't rely on the complex to bring in customers. The Toy Shack draws 600 to 1,000 people each day, despite being tucked away from the Fremont Street Experience.
The store's assistant general manager, Luis Benegas, said the bus tour and the Toy Shack's prime downtown location have shifted the store's core demographic.
"We get a lot of big spenders and people who know what they're looking for," Benegas said.
Joshi said retail is a tough sell at Neonopolis. He prefers food and beverage outlets like the Heart Attack Grill or entertainment venues like the newly signed Krave Massive. But retail could work if it has a built-in audience like that of "Pawn Stars."
"Any retailer could not do well (at Neonopolis) without reality TV, social media or technology," Joshi said.
Brown expects to open his shop in November or December. He is taking the slot next to Denny's now being carved into a 1,000-square-foot and 2,000-square-foot space. After Denny's builds out its piece, Brown will move in next door.
"Pawn Stars" has revived the collectible market and made it possible for Brown's business to grow in an era when online auction sites have decimated many memorabilia stores. Las Vegas in 1992 had 24 memorabilia shops listed in the phone book; today there are just three. But many collectors still seek the authenticity that goes with a brick-and-mortar store. Fear that items sold online may be fake drives customers straight to his shop, where his inventory ranges from autographed cards and baseball bats to football helmets and other miscellaneous collectibles.
"You can find anything I'm selling online, but you run the risk of it being fraudulent," Brown said. "Reputation is everything."
Luckily for Brown, as-seen-on-TV experts build their reputations in front of millions of viewers each week.
"To say that I'll just double my business would be very conservative," he said.
Contact reporter Caitlin McGarry at
cmcgarry@reviewjournal.com or 702-387-5273.