California community hit hard by Las Vegas shooting
October 14, 2017 - 7:14 pm
Updated October 16, 2017 - 10:08 am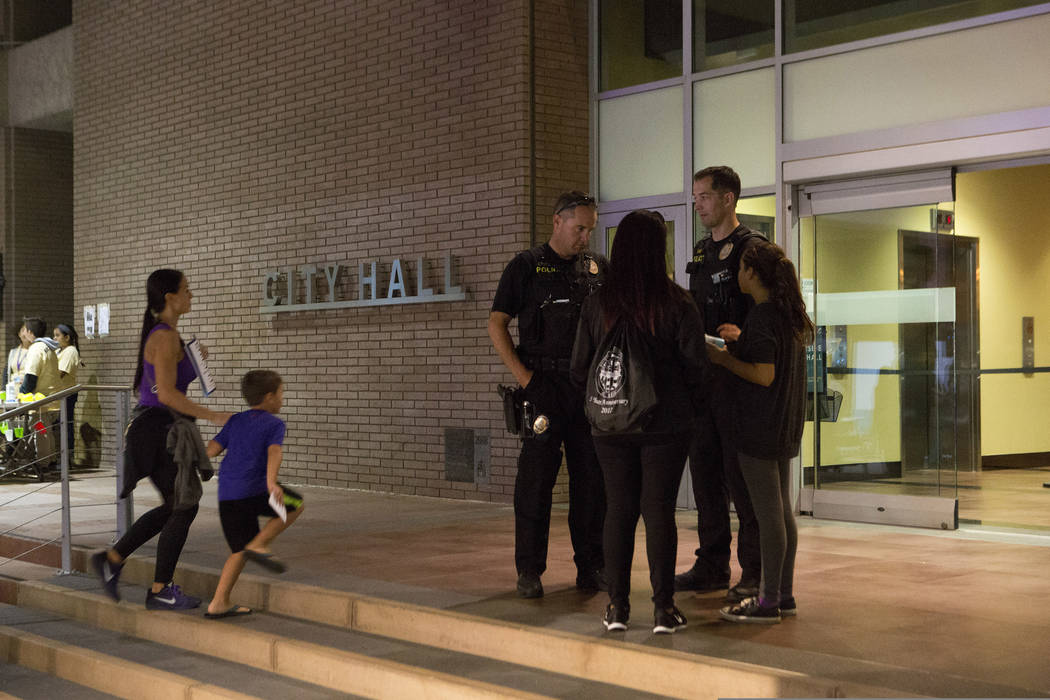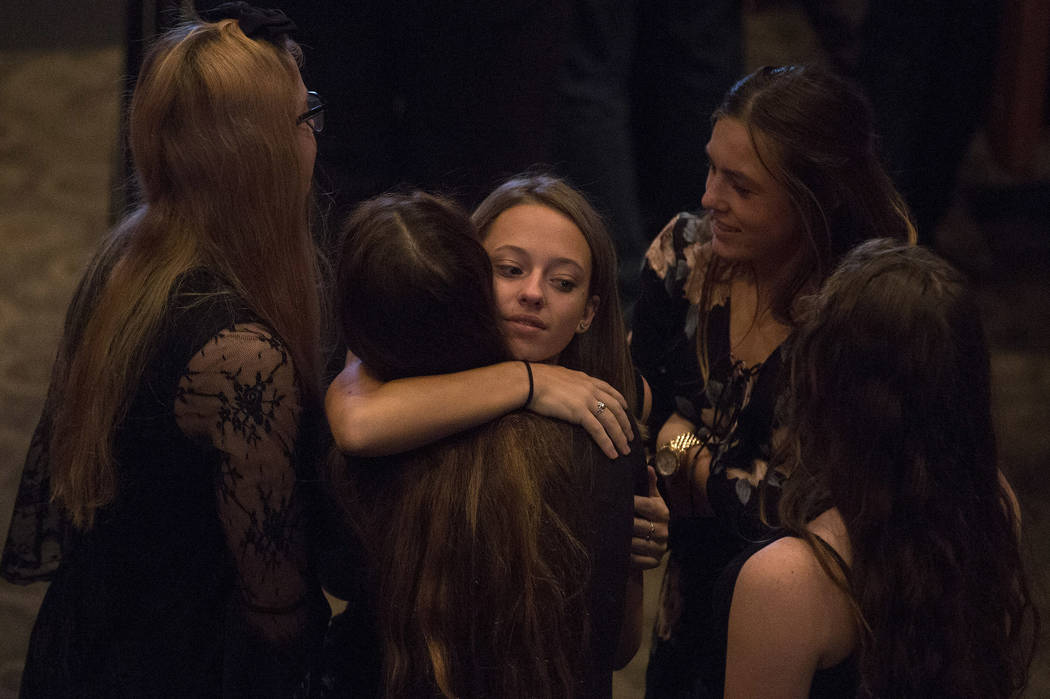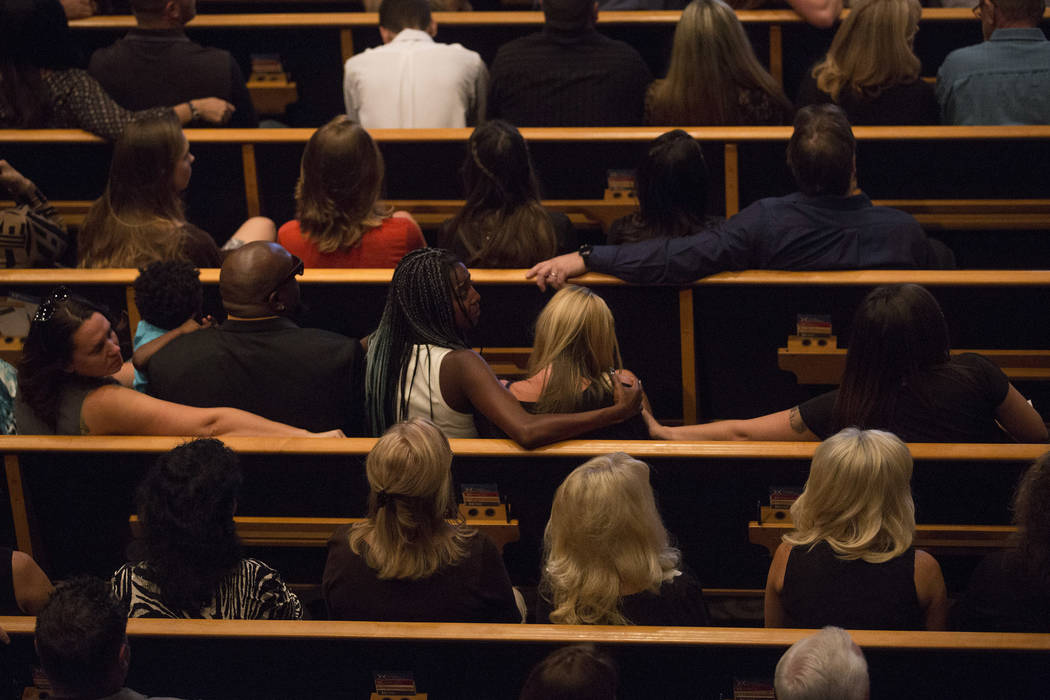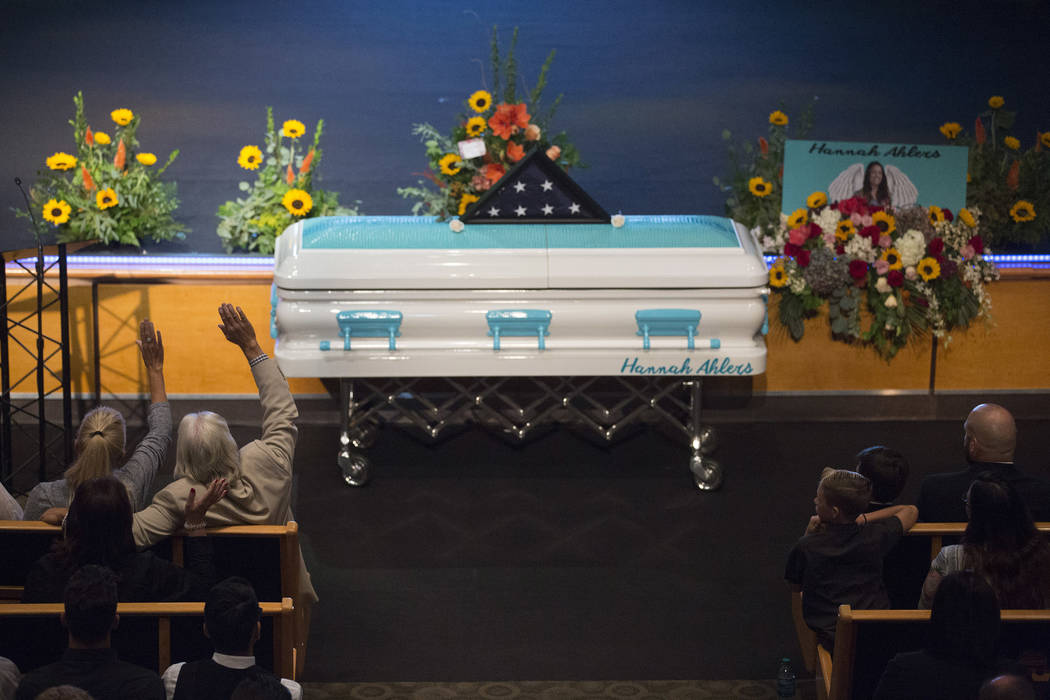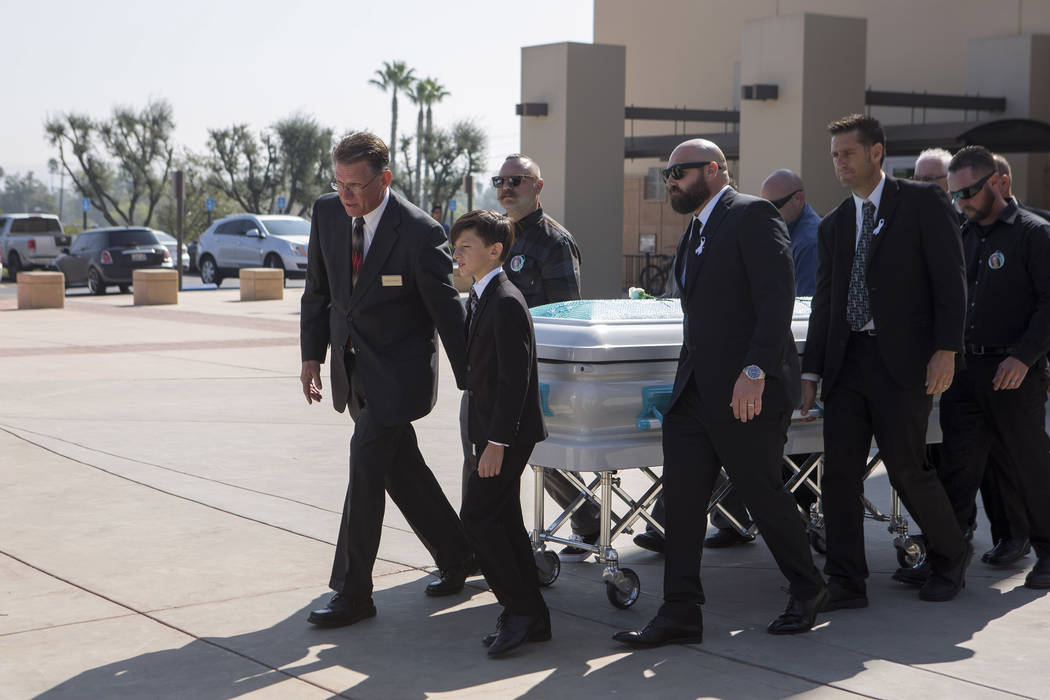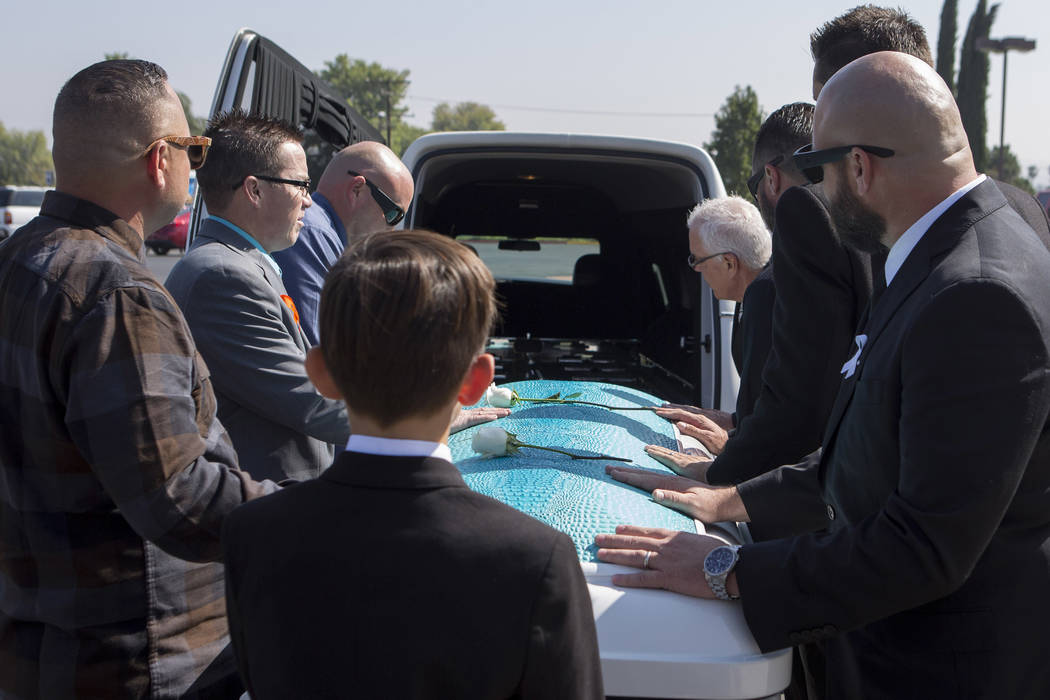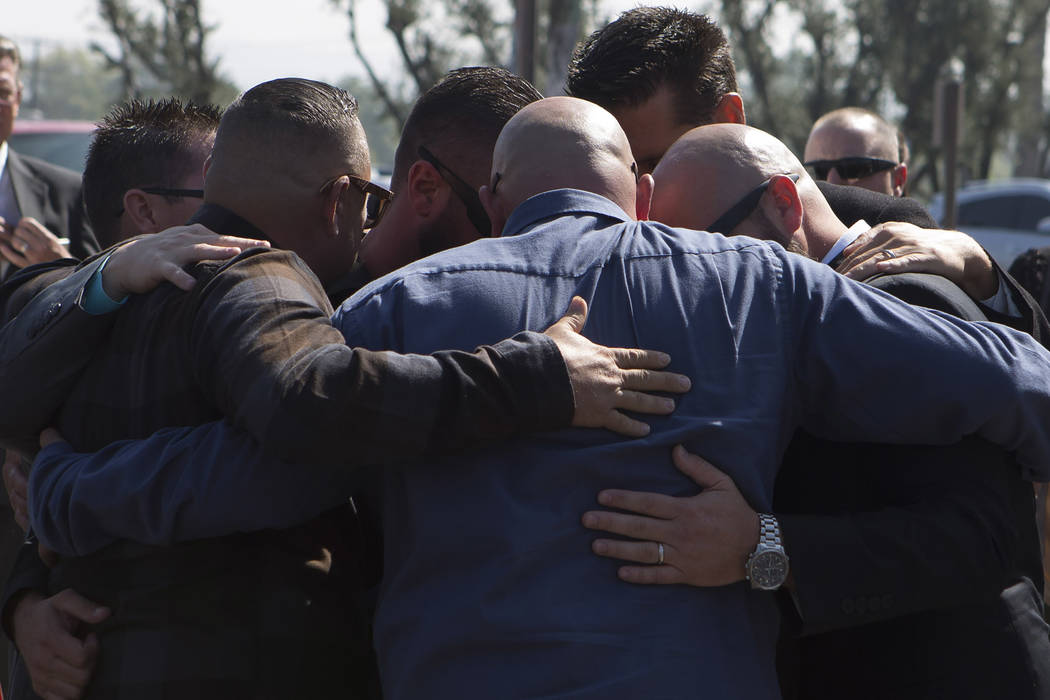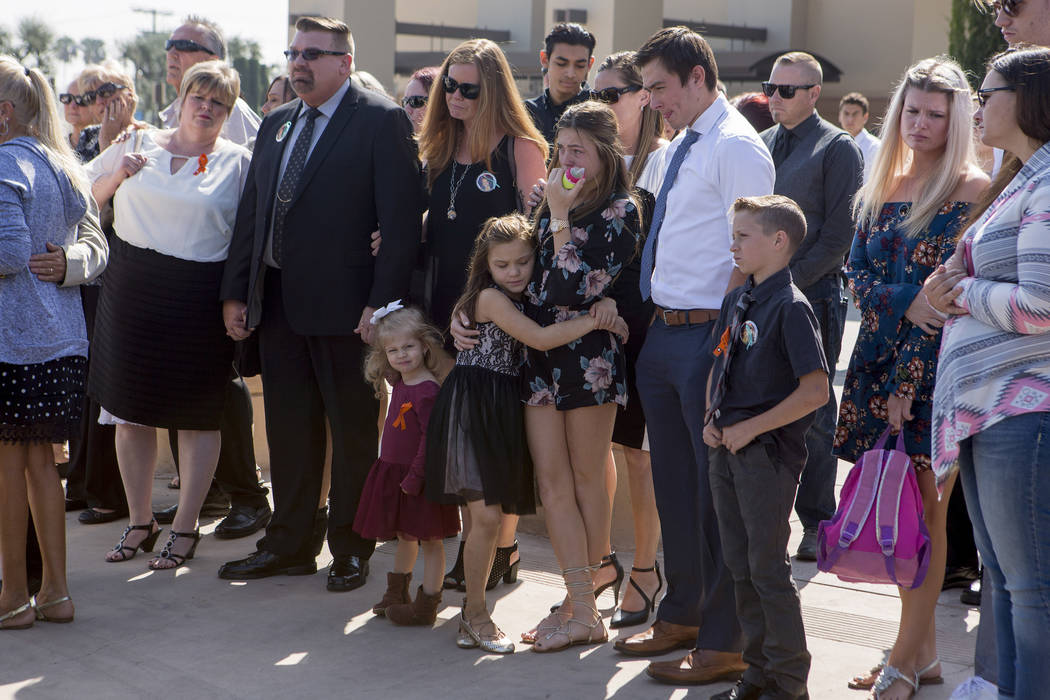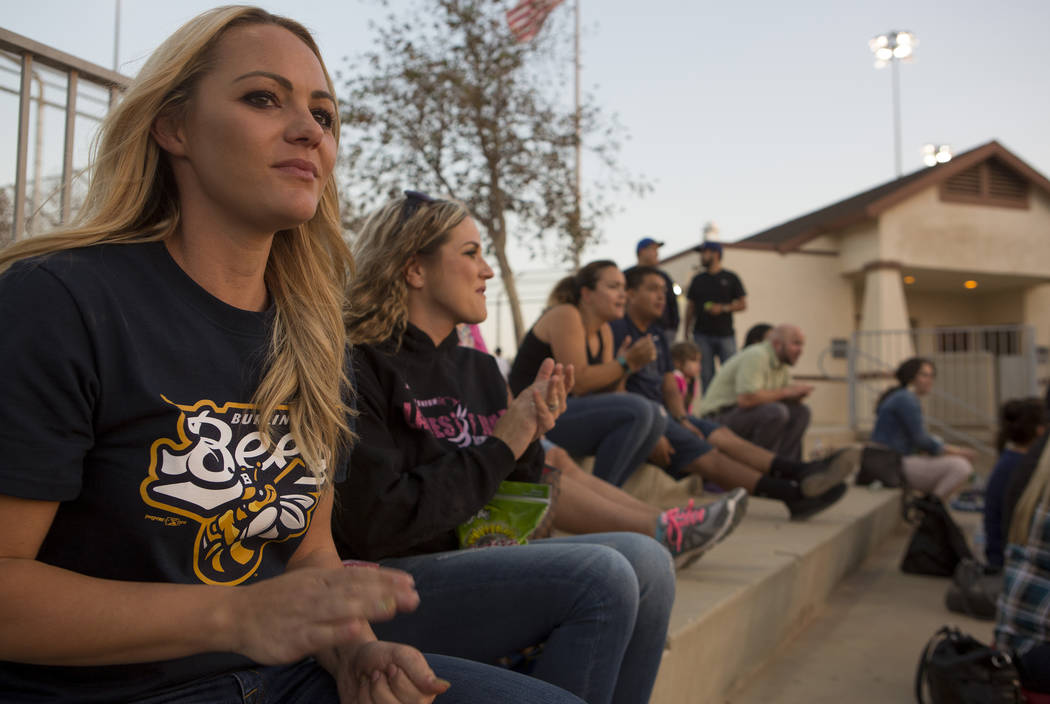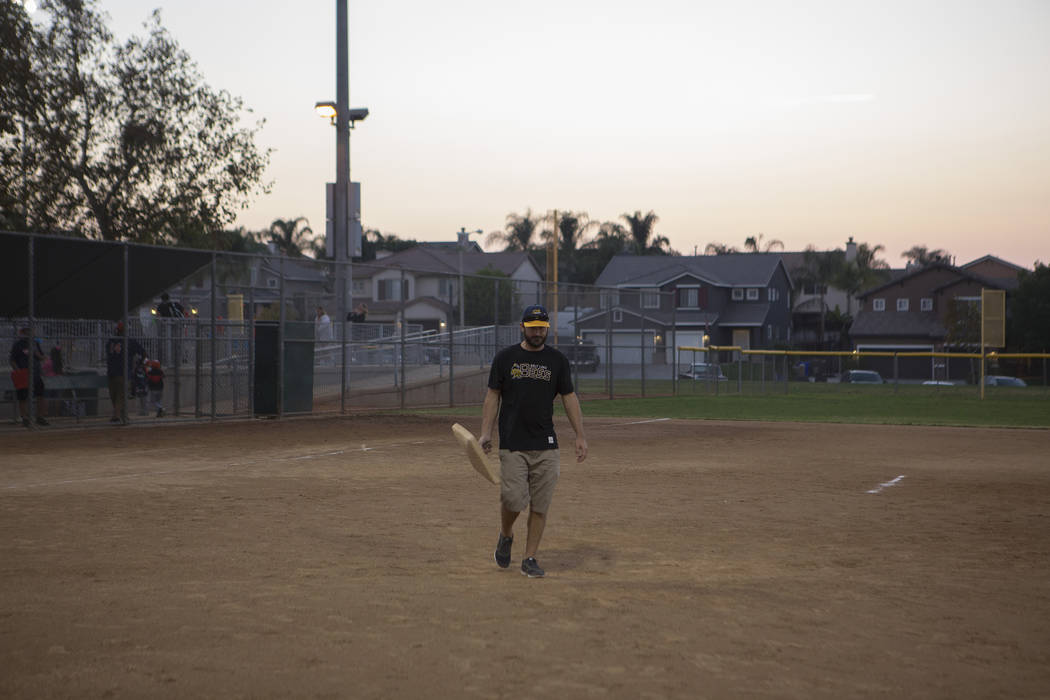 RIVERSIDE, Calif. — The bearded father of three picked up three baseballs on Field 1, juggling them in his hands. It was just like any other Friday for him here: He got up for work at 6 a.m., woke up his young kids and slipped on his everyday cowboy boots.
But now he does those things with a bullet in his back.
Dylan Bertino is one of the many Southern Californians who were at the Route 91 Harvest festival when a shooter on the 32nd floor of Mandalay Bay rained bullets on the crowd. Minutes earlier those people had been dancing to country music under the desert moon.
Mothers and fathers, grandmothers and grandfathers, daughters and sons. Seven of the 58 people killed in the Oct. 1 attack were from Riverside County.
In the two weeks since the tragedy, many of the victims have been remembered and celebrated in Riverside, with some churches putting on multiple services for those touched by the shooting.
While some residents seem disconnected from the tragedy, others are grappling with the fact that it hits too close to home. A few miles from Riverside, Stephanie Pope walked her gray and white puppy, Ziggy, in a park. She said the community, although large, is tight-knit and has offered much support.
"My heart is empty," she said. "It gives me goosebumps just thinking about it."
Living with a bullet
On Friday night, Bertino played the part of baseball coach: He wore black sneakers and a yellow and navy blue hat. It was the only time he didn't wear the boots. Steadying himself in his yellow and white Bees uniform, Bertino's 5-year-old son, Deegan, was up to bat.
"All right, last one," Bertino said, putting his foot on the pedal of a pitching machine. Dust from the dugout swirled around in the wind. "Get down, buddy."
Deegan hit the ball and took off running, firmly planting his feet at third base.
Bertino, 32, spent 45 minutes at University Medical Center. He will live with the bullet and a nickel-sized scar in his back.
He missed two days of work and his son's first game after the shooting, where he hid behind a fence, his body jolted and the bullet burrowed 6 inches into his lower back.
It felt like pliers ripping away his skin. Each day since, it has felt like a pulled muscle. In a few more weeks, he won't even feel it, Bertino said.
"I just want to keep it normal," he said. "If I let him beat me down, then he won."
So, that's what he did. For the two Bees games a week and one practice. For his 3-year-old son Tucker's flag football twice a week. For his 7-month old baby, Dylann.
Bertino said he has felt nothing but support since coming back to the city where he was raised. He received three giant cards, filled from front to back, edible arrangements and flowers at his front door.
"That'll put a smile on anyone's face," he said.
While Bertino might stay away from concerts for a while, he said guns don't make him uneasy. He's planning a 14-day Elk hunting trip in Colorado for the 12th year in a row.
"I'll be back around guns again," he said.
Bertino and his wife, Mindy, planned the trip for seven months. They went with 26 friends. Three were among the more than 500 people shot who survived the attack.
Last weekend, they all had a barbecue. They cooked out, listened to country music and talked about the shooting.
"They're having a hard time," he said. One of his friends looked at him and said, 'Man, you're like therapy.'
"No, I'm a cabinet maker," Bertino replied. "You can't let this get you down."
A connected feeling
Riverside is a sprawling city with a few cash-only businesses, sprinkled with barrel-tile roofed homes on hills.
Riverside County, part of Southern California's Inland Empire, is just a few hours drive from Las Vegas — a common spot for a weekend getaway.
"Las Vegas is like the backyard," city spokesman Phil Pitchford said. "Everyone has some connection to somebody."
After the shooting, almost 900 people went to Riverside City College to remember 20-year-old nursing student Angela Gomez. They wore purple, her favorite color. Car washes and other fundraisers popped up around town.
Chelsea Romo, a 28-year-old mother of two, was greeted with whooping and yelling, tears and get-well messages when she pulled into her Wildomar cul-de-sac almost a week after she lost her left eye and partial vision in her right during the attack.
Riverside County residents affected by the deadly shooting in Las Vegas were invited to meet for free with county mental health specialists at a trio of events across the county Wednesday.
On Thursday evening, Brian Pope, assistant principal at Bloomington High School, picked up a tiny orange goalie net at Richard Rollins Community Park in Grand Terrace, just outside Riverside. He remembered the Monday and Tuesday after the shooting vividly: Two of his teachers who had attended the concert were so traumatized he had to send them home.
"It was very surreal. It's hard to swallow," Pope, 35, said. He brings his kids to Las Vegas every summer.
They are already asking when the family will go back.
"I can't even fathom. What do we do?" Pope asked.
He remembers the 2015 attack in nearby San Bernardino that killed 14 people at a holiday party. "It's weird how a shooting a 3½- or four-hour drive hit more so from the one down the road."
Mother of three
Brice Ahlers walked up to his mother's white and teal casket Friday morning and stopped. Carefully, the 11-year-old placed an American flag folded into a triangle on top, with a white rose on either side. He sat back down and adjusted his tie from the front seat at Harvest Christian Fellowship in Riverside on Friday.
Hannah Ahlers was a 34-year-old mother of three. Before 10 a.m. Friday, the church had run out of the 400 printed programs for the service. Nine pages in the guest book were filled. Almost 1,000 people filled the pews.
Hannah met her husband, Brian, when she was 10 at Redlands Church of Christ. Years later, the family circled her one Fourth of July, with a sparkler in hand. With the white glow of the night around her, a young man knelt on one knee. Six months later, they said "I do." Hannah was just 17.
At the end of the service, Brice joined the pallbearers, his dad at his side. He grabbed the handle in front. As the men in the family followed, they huddled together as Hannah's casket was stowed in the back of a white hearse.
Brian Ahlers, his face bearded and his head bald, clutched his son's hands. Brice, wearing black sunglasses and holding tissues in his palm, leaned into his father's chest and cried. They watched the hearse drive away.
Following the service, a few of Hannah's closest friends stood in the parking lot sipping cans of beer and smoking cigarettes. Just two weeks ago, Chris Hopkins was at the Route 91 festival, enjoying country music and beer with Hannah and their friends.
"We're going back next weekend," he said. "It's what we feel we need to do."
A path to normalcy
Detective Jeffery Putnam stood outside City Hall on Thursday night, surveying the crowd. The Long Night of Arts & Innovation in downtown Riverside was well underway, featuring arts and science activities and live music.
It was the first large event in the city since the Oct. 1 mass shooting, with over 10,000 people expected. And the police department was prepared, always changing its procedures after tragic events, Putnam said. "We have a history of a lot of things spilling into our city."
Many people at the event had connections to shooting victims. Putnam's daughter went to school with Gomez, and many off-duty Riverside officers attended the concert. Jason McMillan, a Riverside County sheriff's deputy, remains hospitalized in Las Vegas, recovering from his gunshot wound.
"It sounds a little weird to say that we're used to this," Putnam said. "We run to the danger to see how we can stop it."
Aaron Martinez, a 25-year-old University of California, Riverside student, wearing a blue Earth Science shirt ,said some of his friends were at the Las Vegas concert.
"'Most of us are OK. We can't complain because some people aren't OK,'" he said they told him.
Several feet away, robots blinked Christmas lights and moved with the motion of a child's hand. Two boys pulled fingerprints off a Frisbee. Elizabeth Muglia, 30, watched her daughter, Nikki, make slime and squeeze the purple goo in between her fingers.
"It's sad," Muglia said. "But you can't be scared. You gotta keep living life."
Evil is temporary
Dana Gardner, of Grand Terrace, always put her kids before herself. Countless nights, she ate popcorn for dinner so her three babies would have a better meal to eat. She was excited to finally buy her kids a house to be raised in, rushing to scout out their rooms. Over the years, she never missed a soccer game, baseball game or ballerina recital, and wouldn't hesitate to smack them on the head with a spoon when they acted up.
On Saturday, at Sandals Church in Riverside, the community mourned the 52-year-old grandmother who worked for San Bernardino County for over two decades. She was a person who could talk to a group of doctors and have an expensive drink but then hang out in a bar and have a beer, many wrote in letters read at the service.
"Why didn't God stop the bullets?" Pastor Matt Brown asked. "It's in this event that we see the worst of humanity, and we see the best."
The church has handled at least three funerals for victims of the fatal mass shooting in Las Vegas. Brown urged the packed room to remember that evil is only temporary.
"Your love for her is more intense, it's more real," he said. "Because faith, hope and love live forever."
Contact Briana Erickson at berickson@reviewjournal.com or 702-387-5244. Follow @brianarerick on Twitter.
Hard-hit community
Seven people with ties to Riverside County, California, were among the 58 people killed in the Route 91 Harvest festival in Las Vegas on Oct. 1.
Hannah Ahlers, 34
Austin Davis, 29
Thomas Day Jr., 54
Dana Gardner, 52
Angela Gomez, 20
Pati Mestas, 67