Chief judge: Gonzalez stays on Las Vegas Sands case
February 17, 2016 - 7:18 pm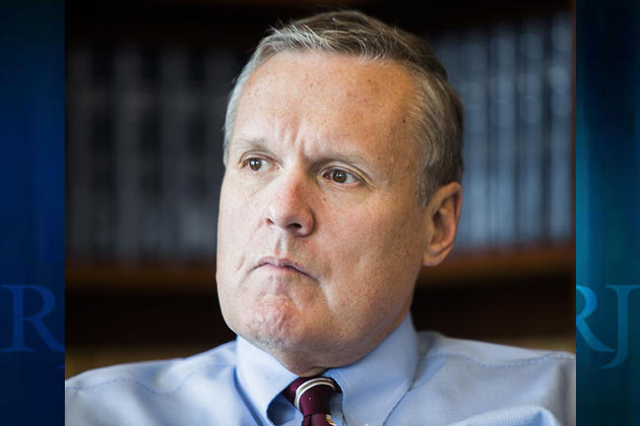 Clark County Chief District Judge David Barker ruled Wednesday that Las Vegas Sands has provided no new grounds to remove District Judge Elizabeth Gonzalez from a wrongful termination case against the company.
Barker denied a request in late January by Las Vegas Sands to disqualify Gonzalez, who has for five years presided over the lawsuit brought by former Sands China executive Steven Jacobs. In a five-page order filed Wednesday, Barker denied the company's request to reconsider his decision.
"This court thoroughly evaluated defendant's arguments and exhibits and found no evidence Judge Gonzalez has actual bias or implied bias in favor of or against any party to this action," Barker wrote.
Jacobs, former president and CEO of Sands China Ltd., sued shortly after he was fired in July 2010. Jacobs was the head of operations in China for about nine months before his termination, which he claims was a result of his attempts to quell illegal activities in the company's Macau casinos.
"I can only now wait for the claims that will be leveled against Judge Barker by Las Vegas Sands," said attorney Todd Bice, who represents Jacobs. "Any ruling that is adverse to them, they will then claim fault with the decision-maker."
Sheldon Adelson, chairman and CEO of Las Vegas Sands, and Sands China are also defendants in the case. Adelson testified last year that he had "at least 34 good reasons" for firing Jacobs. He claimed Jacobs made false allegations to blackmail the company.
Sands attorney Stephen Peek could not be reached for comment Wednesday, but Las Vegas Sands spokesman Ron Reese released the following statement: "We believe this is wrong and will ask the Nevada Supreme Court to review the matter."
Bice said Jacobs' deposition in the case, which is set to go to trial June 27, began Monday and is expected to last seven days.
Las Vegas Sands on Feb. 9 asked Barker to reconsider his first ruling, calling his denial premature.
"Defendant now claims it intended to present in a reply brief 'the history of uneven treatment under which the motion for disqualification must be considered,'" the chief judge wrote in Wednesday's order. "Defendant knew or should have known this history prior to filing its motion for disqualification of Judge Gonzalez and either neglected to include it or intentionally omitted it."
Barker further stated that the motion for reconsideration had identified no new issues of law or fact, "and the claimed 'history of uneven treatment' upon which defendant now alleges bias is a ground already rejected by the Nevada Supreme Court.
"Defendant has not demonstrated that this court's order was either clearly erroneous or a result of misapprehended or overlooked important facts," Barker wrote.
Las Vegas Sands' recent efforts to disqualify Gonzalez followed a Jan. 12 court hearing related to the deposition of Adelson's son-in-law Patrick Dumont, Las Vegas Sands vice president of finance and strategy. The deposition addressed issues related to the Adelson family's Dec. 10 purchase of the Las Vegas Review-Journal.
"The company has presented several substantial reasons why Judge Gonzalez should be removed from this case, including her personal dealings with the press and interest in pursuing inquiry into the purchase of the Review-Journal, which certainly give rise to a disqualifying appearance of partiality," Reese said Wednesday. "Our position on this point was supported by a respected judicial ethicist who relied on Nevada law to reach his conclusion — a conclusion Judge Barker did not consider or even acknowledge, or give us the right to discuss with him in an open hearing in court."
During the deposition, Dumont didn't answer questions about contact with Michael Schroeder, a Connecticut newspaper owner who was appointed manager of the Review-Journal after the Adelsons' purchase. One of Schroeder's Connecticut newspapers on Nov. 30 published a plagiarized, partially fabricated article critical of Gonzalez. The article was published about the same time that three Review-Journal reporters were ordered by GateHouse Media, the newspaper's former owner, to monitor Gonzalez and two other judges.
Gonzalez ruled that Dumont's lawyer had acted inappropriately under Nevada law when he directed his client not to say whether he had discussed Jacobs or the wrongful termination case with Schroeder. Dumont's deposition continued after the Jan. 12 hearing. His answers remain sealed.
In their original motion for disqualification, Las Vegas Sands lawyers argued that Gonzalez had participated in media coverage of the newspaper's purchase, raising doubts about her objectivity.
They later prepared a list of 12 points to support their bias claim. They argued, for instance, that she had made disparaging remarks about the defendants and had "insisted on ruling on the propriety of questions that were of personal interest to her but otherwise irrelevant to the proceedings."
Gonzalez submitted two recent declarations in which she denied a bias toward or prejudice against Las Vegas Sands. She acknowledged responding to two media contacts — one from the Review-Journal and one from Time magazine. Articles in both publications correctly reflect that she "did not discuss a particular litigant or case," she wrote.
Attorneys for Las Vegas Sands late Tuesday submitted the opinion of a Kentucky law professor in support of their request for reconsideration.
Leslie W. Abramson, a professor at the University of Louisville, reviewed several recent documents in the case at the defendants' request before concluding that Gonzalez should be disqualified "for the appearance of partiality."
"The documents themselves do not conclusively demonstrate a disqualifying personal bias," he wrote in a court filing.
"The Code of Judicial Conduct is just as concerned with the appearance of partiality as it is concerned with the fact of partiality," Abramson wrote. "Moreover, the appearance of partiality standard applies regardless of a judge's statements that she or he is not biased toward anyone in a case."
Contact reporter Carri Geer Thevenot at cgeer@reviewjournal.com or 702-384-8710. Find her on Twitter: @CarriGeer