City officials work to 'transform' downtown North Las Vegas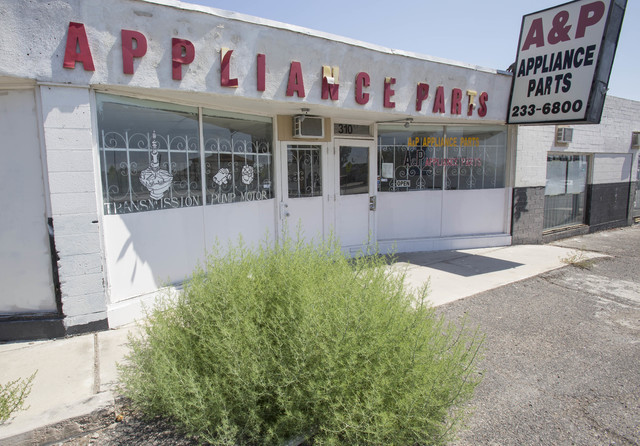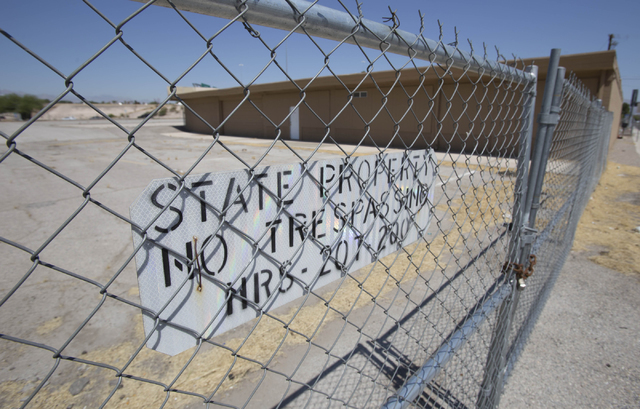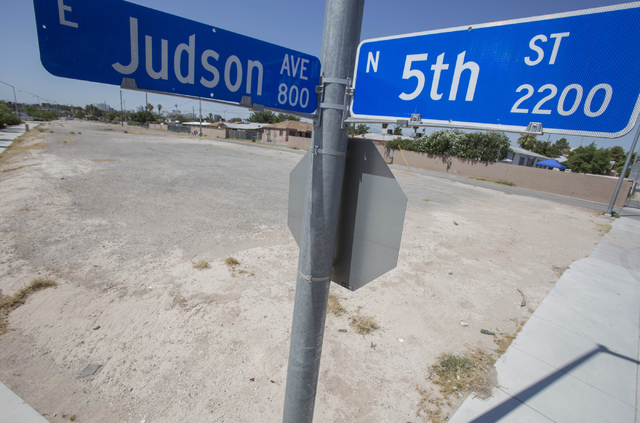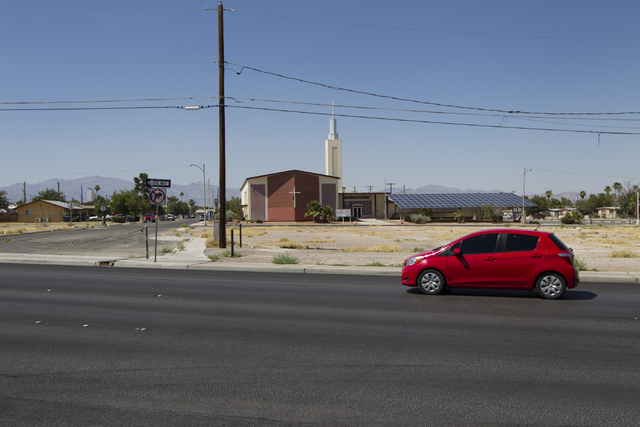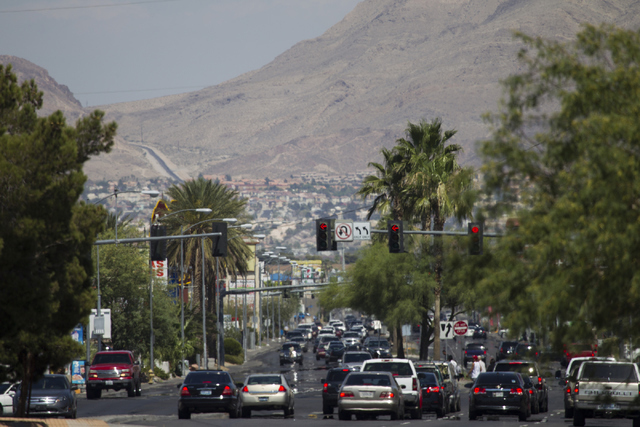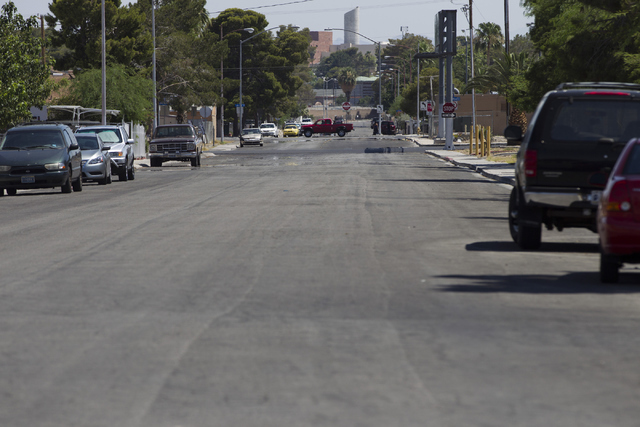 It's never too late to reinvent yourself, even in North Las Vegas.
The downtown area is on the brink of a transformation in this 70-year-old city, with help from a consultant who envisions a mix of new apartments, shops and restaurants lined by wide sidewalks along a renewed Lake Mead Boulevard.
Construction could start as soon as 15 months from now, setting a new tone for the city's gateway.
"If we're able to transform downtown as a desirable place for people to visit, we'll be able to shed some of the negative reputation and get businesses to invest here," said Councilman Isaac Barron, whose Ward 1 takes in the heavily Latino and working-class neighborhood.
"For us, this is not a job," Barron said. "It's part of our lives."
City officials hope that the busy boulevard, preliminarily dubbed as Lake Mead Village West, will serve as the spine for a pedestrian-friendly urban core, with the gentrification spreading more than 160 acres in an area roughly bound by Interstate 15, Las Vegas Boulevard, Tonopah Avenue and Judson Avenue.
It's too early to tell how much it will cost to complete the ambitious project, which is aimed at attracting young professionals who are seeking inexpensive homes as they start jobs in the coming years at Faraday, Hyperloop and other manufacturers moving into the Apex industrial complex about 13 miles north of downtown.
"We felt this was the time for North Las Vegas to rise up and take advantage of the momentum by making this a positive place to live and work, while providing the amenities that go along with that," said Gina Gavan, director of economic and business development for the city.
"We want to do it right, but the big key is to start," Gavan said. "We want to create a flexible plan that has room to evolve."
'EDGY AND EXCITING'
City officials have spent the past 10 months developing plans with Bunnyfish Studio, the architects who helped spearhead redevelopment in downtown Las Vegas.
By fall, a series of maps and 3-D models are expected to provide a clearer picture of the city's vision for downtown North Las Vegas.
Gavan said that the city is still drafting a list of incentives that might spur private developers into building on a 15-acre strip of city-owned property along Lake Mead Boulevard, between I-15 and Las Vegas Boulevard.
Part of that area includes Washington Continuation School, which the city purchased earlier this month for $260,000 from the Clark County School District. A community center, an art gallery or a local history museum are among the options under consideration for the shuttered campus, which was built in 1932 and listed on the National Register of Historic Places for its art deco-style architecture.
"The downtown area is so unappreciated now, but we see it as an open canvas," said Craig Palacios, a partner at Bunnyfish Studio, which was paid a $75,000 consulting fee by the city.
"It has an ethnic flair, with an edgy and exciting vibe," Palacios said. "We think it's the next big downtown where people can live, work and play. It's just a matter of figuring out what plan works best here."
BACK TO THE DRAWING BOARD
This isn't the first attempt to spruce up the area.
City officials drafted a master plan in February 2009 that called for building a 350,000-square-foot retail complex known as Las Flores, just outside downtown. The shopping center was supposed to appeal to the surrounding Latino community, spanning 30 acres across the street from the new, nine-story City Hall building.
After several stalls in construction, the $100 million plan failed to get off the ground.
But city officials haven't given up, saying the vacant land could still serve as an anchor in their downtown redevelopment plan. The property is up for sale and at least three developers have expressed an interest in buying it.
Two of the potential buyers would like to build a shopping center, while a third suggested a small soccer stadium that might house a minor-league team, Barron said.
"I don't think it's all going to happen overnight," Barron said. "It's going to take us awhile, but I think we're headed in the right direction."
Also near City Hall, four national retailers are poised to move alongside Conn's furniture store at the Fiesta Plaza shopping complex, Agora Realty & Management CEO Cary Lefton said.
While declining to name the new outlets, Lefton said he wanted to help beautify downtown by refurbishing the 200,000-square-foot Fiesta Plaza shortly after his company spent $12.95 million last year to purchase the property.
"No one wants to be the pioneer in a project like this, but the city is cleaning up the commercial corridors and fighting the stigma of a low-income neighborhood," Lefton said. "There are different rays of light with everyone working together to improve the area."
BITS OF BEAUTY
Many of houses in the downtown area were built between the 1930s and 1950s, making it a challenge to tamp down on blight and keep the structures up to code.
Although crime isn't necessarily higher than other areas of the city, the neighborhood has problems with vandalism that city crews work to repair daily.
"The neighborhood is rough, but it isn't dangerous," said Ray Yousef, a manager at the Knotty Pine Motel on Las Vegas Boulevard.
"It can definitely be controlled if better things come in, like what happened with downtown Las Vegas," Yousef said. "People want something to see, they want a reason to stay here."
Small signs of neighborhood beautification are already emerging. Nineteen traffic utility boxes were recently wrapped with glossy images of landscapes and children playing outdoors, under a $10,450 plan to deter graffiti.
By next year, crews are scheduled to widen sidewalks, install medians and add landscaping along Las Vegas Boulevard in an attempt to reduce traffic speeds between Tonopah and Carey avenues.
"Visually, I'd like to see North Las Vegas become brighter and have some aesthetics that will liven things up," said County Commissioner Lawrence Weekly, who lives in the city. "When the community starts seeing improvements in the urban core, they'll feel a sense of pride."
Contact Art Marroquin at amarroquin@reviewjournal.com or 702-383-0336. Follow @AMarroquin_LV on Twitter.