Clark County commissioners say no to rodeo horse tripping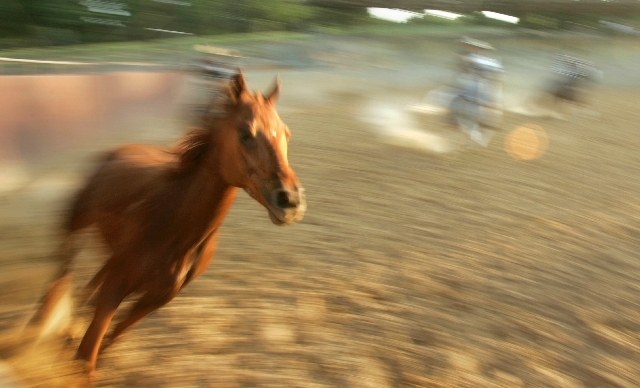 The Clark County law against the Mexican rodeo sport of "horse roping" stands.
County commissioners on Tuesday scrapped a proposal that would have allowed roping events that include the lassoing of horses by their legs.
The commission's 6-1 vote followed an outpouring of testimony from people who work with horses or consider themselves animal rights advocates and came despite concerns voiced by the Mexican Federation of Charreria.
The decision means that the county's ordinance outlawing the practice will remain in place, even if an event's goal is to not trip them and instead use a catch-and-release method.
Horse tripping, or roping the legs, can bring the same penalties as other animal-related violations of county code. A violator could be found guilty of a misdemeanor and fined or imprisoned, or pay a civil penalty, with fines ranging from $100 for the first offense to $500 for a third offense.
Commissioner Tom Collins cast the lone dissenting vote. He stressed that horse tripping isn't part of charreada events, which reflect the cultural heritage of rodeos in Mexico and roping horses by their legs.
"I have attended some of the Mexican rodeos. They have very expensive horses," he said, adding that the owners wouldn't want to hurt these horses.
The proposal would have mirrored a new state law that bans horse tripping, but allows local government entities to issue permits for events with horse roping.
Critics told commissioners that allowing charreada events would open the door for tripping, even if it's unintentional.
While not supportive of the changing the county's ordinance, Commissioner Chris Guinchigliani had introduced the measure as a possible compromise in light of the new state law and an upcoming event.
The World Series of Charreria Las Vegas 2013 is scheduled for Sept. 25-29 at South Point. The series has nine events, three that would have featured horse roping that cannot happen now. Legally, the rodeo can go on with the six other events that don't involve horse roping.
Alejandro Galindo Jimenez, the Nevada president of the Mexican Federation of Charreria, stressed that its own rules keep animal safety and welfare at the forefront. The events have welfare committees and rules against horse tripping.
It's unclear what the county's move will do to the event, which was estimated to draw some 10,000 to 20,000 people. But Galindo Jimenez said it won't be good.
"That means Las Vegas suffers a huge blow," he said.
Asked if a scaled-back event is possible, he said options need to be explored.
The organization's 3,500 members travel to Nye County to practice their events.
He said the misperception about the event was hurtful.
"The only thing American about American rodeo is 'American' in front of it because rodeo is Spanish for 'roundup,'" he said. "… One culture is able to rodeo but yet the other one can't."
Opponents of the county's change said horses can still be tripped at the events, regardless of whether there is intent.
Gina Greisen, president of Nevada Voters for Animals, told commissioners, "We say don't touch the ordinance. Don't allow the roping of the legs."
Mark Keyser, a horse trainer in Las Vegas, encouraged commissioners not to allow horse roping.
"I see the psychological damage that is done to these animals," he said.
After the meeting, he called the decision a "victory for horses."
He added: "Accidents happen, even when it's not intentional."
Contact reporter Ben Botkin at bbotkin@ reviewjournal.com or 702-405-9781. Follow him on Twitter @BenBotkin1.