Clark County OKs More Cops sales tax increase
September 1, 2015 - 5:11 pm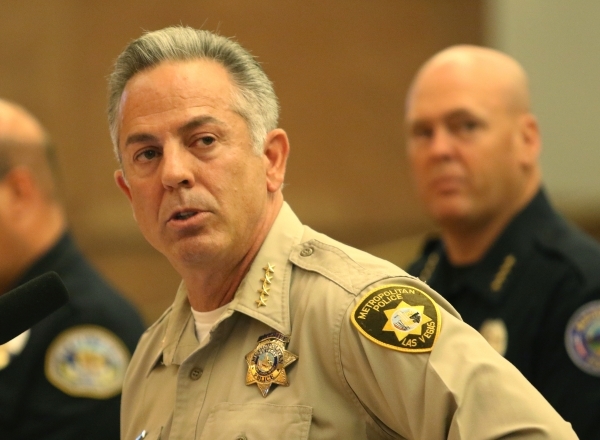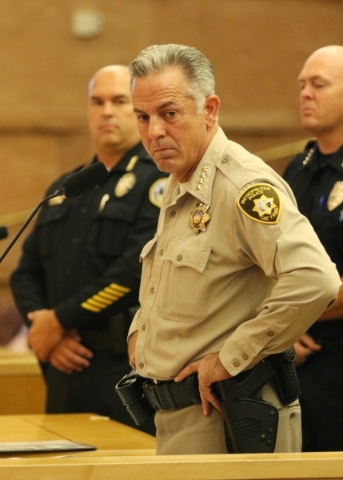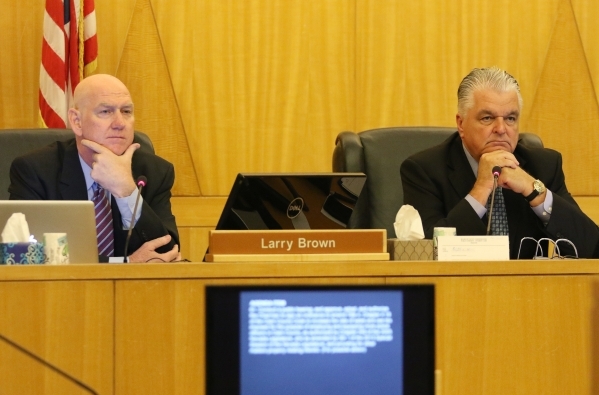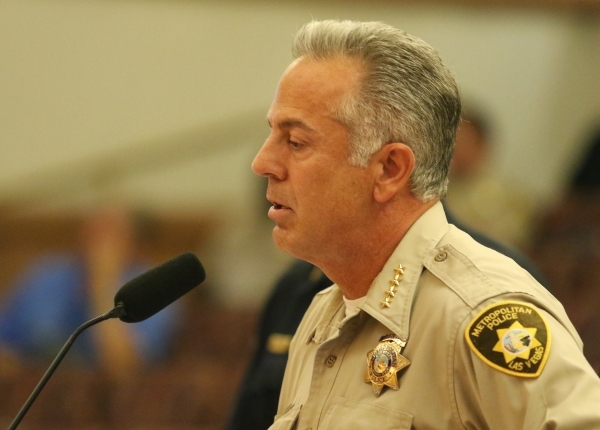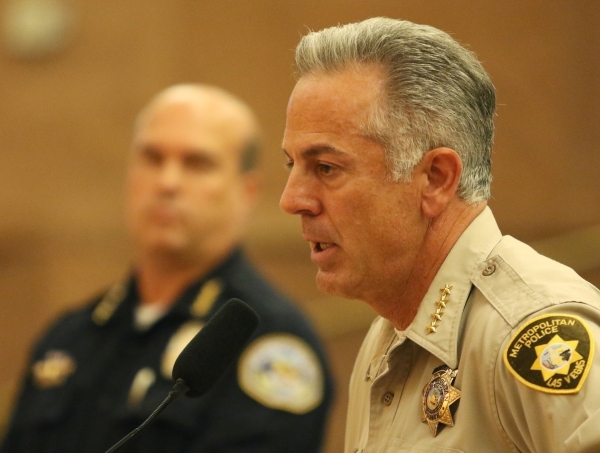 Be wary, bad guys. Your odds of getting arrested will increase next year.
More police officers will be put on the streets of Clark County in 2016 to patrol neighborhoods and deter crime.
County commissioners voted 6-1 Tuesday to enact a More Cops sales tax increase to pay for it all.
The growing police force won't just make arrests. County Sheriff Joe Lombardo said he expects Metro will start responding again to non-injury vehicle accidents starting in January. Metro stopped responding to non-injury accidents in March 2014, citing a lack of manpower.
The increase, which takes effect in January, adds a 0.05-percentage point increase to the county's sales tax rate, boosting it to 8.15 percent from 8.1. It is expected to generate about $19.4 million over each of the next 10 years, including $14.6 million annually for Metro.
Commissioner Chris Giunchigliani opposed the measure, saying the tax increase is too regressive, meaning it disproportionately impacts low-income residents. She said a broad-based revenue system is needed instead.
The revenue will go toward hiring more officers for Metro and police departments in Henderson, North Las Vegas, Mesquite and Boulder City.
Lombardo said the increase will allow Metro, which serves Las Vegas and unincorporated areas of the county, to hire an additional 133 police officers. All of these officers will be trained in academies and on board by the end of 2016, he said.
"In my opinion, there is nothing more important than public safety," Commissioner Larry Brown said.
Lombardo got the win during his first year as sheriff. His predecessor, Sheriff Doug Gillespie, failed to obtain the commission's approval.
"I believe it's a good compromise," Lombardo said after the vote, explaining that the county picked the least costly alternative that was available.
This increase is one-third of the full amount that the Legislature allowed the county to enact. It's the lowest tax increase proposal that commissioners have considered since taking up the issue two years ago.
Metro has about 2,600 officers and a ratio of about 1.75 officers for each 1,000 residents it serves. That's well below the national average of 2.18, the sheriff said. The increase will boost the officer-to-population ratio to 1.83 officers per 1,000. Those figures don't include tourists and other visitors.
County commissioners have struggled over the past two years to muster the five-vote supermajority needed to pass various versions of the More Cops sales tax increase. The Nevada Legislature in 2013 granted the county the authority to approve up to a 0.15 percentage point increase. The debate has centered on how high of a tax increase to pursue, along with whether to have a tax increase at all.
They made the decision Tuesday after hearing more than a hour of testimony for and against the tax increase.
Former Sheriff Bill Young encouraged commissioners to pass the increase. He discounted the argument that it's a regressive tax, saying crime impacts those living in tough neighborhoods the most.
This was the first time commission Chairman Steve Sisolak, a consistent "no" vote in the past, has supported the tax increase. Sisolak and Lombardo agreed that more work is needed to have a long-term revenue solution for law enforcement needs. Sisolak called it a "short-term fix."
It's also an early high-profile decision for Commissioner Marilyn Kirkpatrick, who was sworn in Tuesday. Gov. Brian Sandoval appointed Kirkpatrick, a former longtime state legislator, to replace Commissioner Tom Collins, who retired last month rather than finish out his third term.
Collins had voted against a smaller tax increase in October 2013, helping kill that measure. He then unsuccessfully proposed a higher 0.15 percentage point increase, saying the full amount was needed.
Ben Botkin can be reached at bbotkin@reviewjournal.com or 702-387-2904. Find him on Twitter: @BenBotkin1
At a glance
Start date: The More Cops sales tax increase will take effect on Jan. 1, 2016.
Increase: It will raise the sales tax rate for retail purchases in Clark County to 8.15 percent from 8.1 percent.
Cost to consumers: Under the county's new tax rate, a $100 purchase will cost buyers $8.15 total in taxes. That's an increase of 5 cents on the purchase.
Related
Clark County Commission rejects More Cops sales tax hike
Gillespie offers More Cops tax option to County Commission
County Commission tables More Cops; Collins still pushing tax hike
Sheriff argues more crime justifies 'More Cops'
County commissioners delay vote on More Cops sales tax hike
More Cops sales tax proposals rejected
Police seek sales tax boost to hire more cops