Clark County traffic deaths down, pedestrian deaths up in 2017
January 4, 2018 - 5:35 pm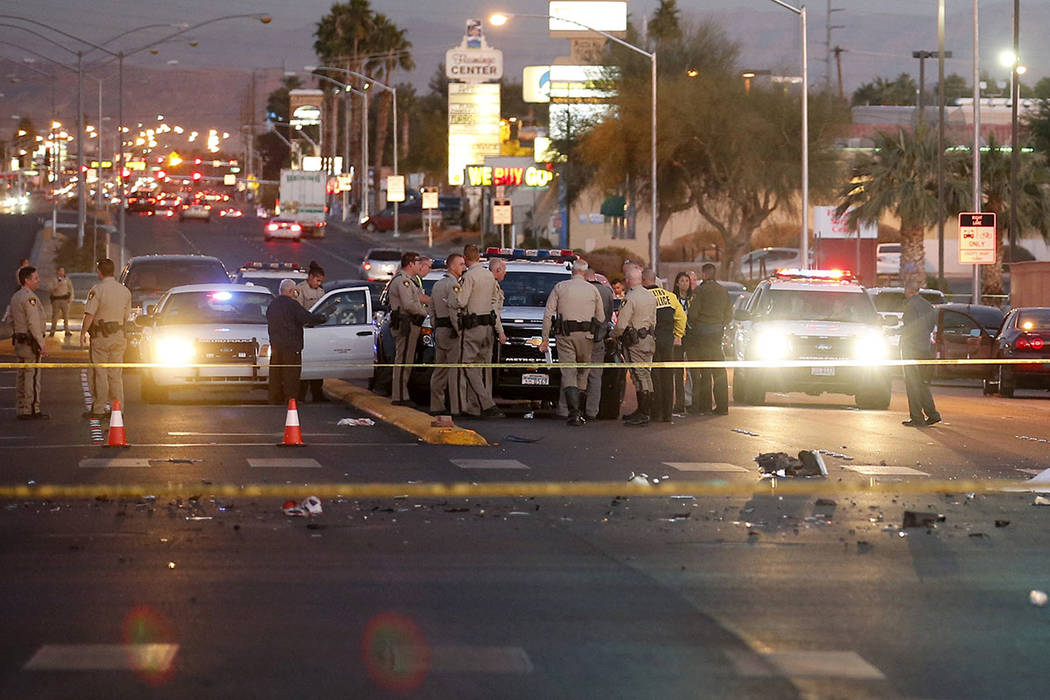 Pedestrian fatalities hit an all-time high in Clark County in 2017, but all other traffic-related deaths declined from a year earlier, according to preliminary data issued Thursday by the state.
There were 206 crash fatalities reported countywide last year, down from 217 deaths in 2016, according to the state Office of Traffic Safety and the Nevada Department of Transportation.
"I want to believe our public awareness and outreach campaigns, along with law enforcement efforts, are working to save lives in Nevada," Transportation Department spokesman Tony Illia said. "But realistically, this is also the second full year that Uber and Lyft have operated in Clark County, so maybe there is something there."
Eighty drivers or passengers were killed in crashes last year, down from 98 vehicle occupants who died countywide in 2016, state officials said. Thirty-five of those who died last year were not wearing seat belts.
A record-setting 78 pedestrians were fatally struck by vehicles in 2017, up from 57 killed a year earlier in Clark County and surpassing the region's previous all-time high of 60 deaths reported in 2015.
Bicyclists accounted for seven fatalities, up from five deaths reported in 2016. Thirty-seven motorcyclists were killed last year, down from 49 fatalities reported countywide in 2016.
Preliminary figures also show 194 vehicle crashes were reported in Clark County last year, down from 201 in 2016. Thirty-one of those were alcohol-related accidents, down from 45 reported in 2016.
Across Nevada, 303 crash fatalities were reported last year, down from 329 last year.
"Every Nevada roadway death is a tragedy resulting in a loved one not coming home," Transportation Department Director Rudy Malfabon said in a prepared statement.
"Transportation and safety agencies statewide continue working every day to save lives on Nevada roads," Malfabon said. "But, we also remind every driver, every pedestrian, every bicyclist and motorcyclist to always share the road."
The department started a program 11 years ago known as Zero Fatalities, which aims to eliminate death on the state's roads.
Zero may be ambitious, but the agency's more immediate goal is to see yearly declines reaching 195 fatalities statewide by 2030 — exactly half of the 390 traffic-related deaths reported in 2008.
"If zero is the only acceptable number for losing family and friends, then it is the only acceptable number for all of us," Amy Davey, administrator for the state Office of Traffic Safety, said in a prepared statement.
Contact Art Marroquin at amarroquin@reviewjournal.com or 702-383-0336. Find @AMarroquin_LV on Twitter.