Climbers celebrate 'rope brotherhood' at Red Rock Canyon
March 17, 2018 - 11:28 pm
Updated March 18, 2018 - 7:01 pm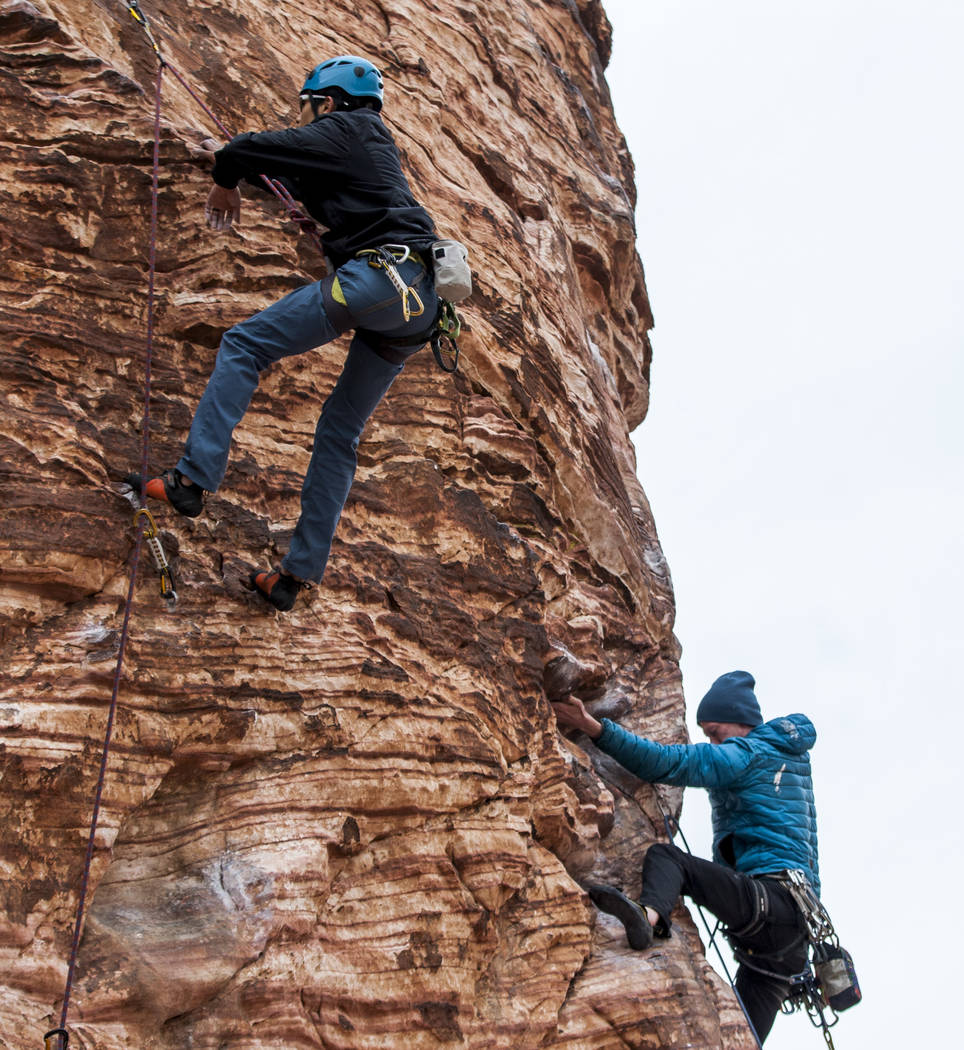 Paul Fish was just 16 when he was introduced to the white-knuckle world of rock climbing.
He hated every big-name sport in the book, but to his surprise, every pull that day on the side of Mount Diablo in Northern California was invigorating and exciting — intimate even, Fish said.
Now 58, looking back, the longtime climber said he never imagined that he would go on to create Red Rock Rendezvous, one of the largest climbing festivals in the United States.
"I've been climbing ever since. I'm not a great climber, but I just love it," he said Saturday, the second day of the festival at Red Rock Canyon National Conservation Area. "That partnership with the rope, the brotherhood with the rope, is a really powerful thing."
Now in its 15th year, the weekend-long festival attracted some 900 climbers from across the country — all of them clad in multicolored climbing shoes.
The annual festival offers beginner and intermediate climbing clinics, outdoor activities and social events.
"You will learn everything it takes to be a safe and proficient climber," Fish explained. "If you attend all three days, the intent is that you can leave and be able to go out and climb with your friends and family and be a partner to people out there on the rocks, not a liability."
But most importantly, Fish said, the festival brings new and experienced climbers together, including Alex Honnold, the only person to have free-soloed El Capitan in Yosemite National Park.
"It's a chance for you, or me or for anybody else to mix it up with some of the best-known names in climbing and find out that they're regular people just like us," Fish said. "You know, get a sense of what it's like to be around people who are world-class athletes and climbers."
After completing a nearly three-hour Saturday morning clinic, Bruce and Lynette Alber said that they keep coming back, in part, to ascend alongside renowned climbers.
The couple's climbing journey began more than seven years ago in Washington state, where they live. But every March for the last three years, the two have returned to the Las Vegas canyon painted in different shades of red.
"We call this summer camp for adults," 64-year-old Bruce Alber said, laughing. "And there are some world-class climbers that sometimes teach the classes, and that's really the fun part."
Standing next to her husband and climbing partner Saturday afternoon, Lynette Alber nodded in agreement.
"And it's such a totally different landscape," the 61-year-old climber added. "It's really pretty to climb in an area like this."
The winds whipping through Red Rock could be heard whistling outside Fish's cozy RV on Saturday afternoon. Smiling, Fish said that he hoped to host this event "for as long as I can."
"Some people use yoga to get in touch with their inner selves. To me, climbing is a sport where you have to be here and now, and you have to be very aware of your surroundings," he explained. "It brings you as close to the rock and the land as you can get because any moment is an intimate relationship with the rock, and I just love that part of climbing."
Contact Rio Lacanlale at rlacanlale@reviewjournal.com or 702-383-0381. Follow @riolacanlale on Twitter.