Collins apologizes for comments made during Bundy clash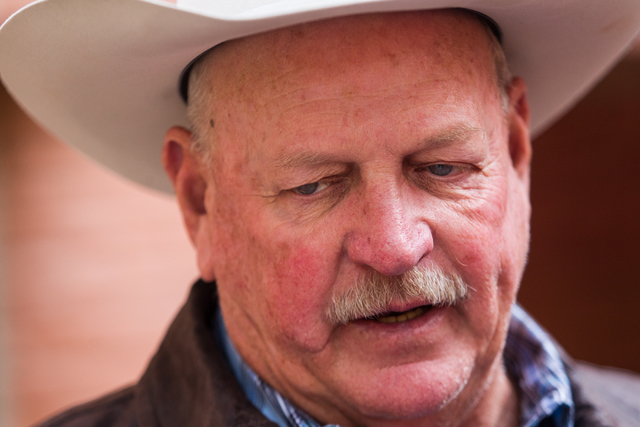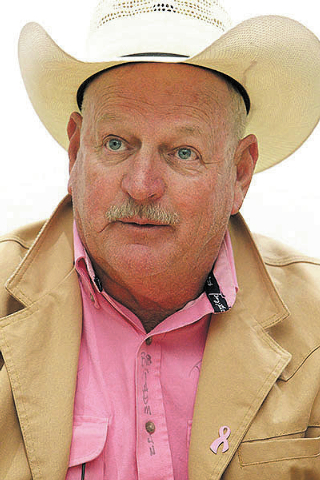 After Clark County Commissioner Tom Collins delivered an eight-minute apology to his fellow commissioners in a public meeting Tuesday, Chairman Steve Sisolak walked over, shook his hand and slapped his arm in a friendly fashion.
In a remarkable soliloquy of self-confession Collins had just said, "I've been in a downward spiral for a couple of years, I admit it. I've done some rude things and some not pleasant things, and real friends come talk to me. A lot of it is when there's sarcasm or trying to turn pain to humor, however you want to take it. I have not treated my colleagues the way I should have."
He apologized to them.
But a few hours later, Sisolak ordered staff to pass out two papers to all the commissioners, saying only that they were "related to the workplace."
Clearly they were targeting Collins. One was the state law about the procedure to remove a civil officer for excessive use of intoxicants or controlled substances. The other was the county's substance abuse policy.
"I offered peace this morning. I have no comment," a subdued Collins said after the meeting ended.
Although he knew one agenda item might include a discussion of commissioners' decorum, he admitted he was surprised that Sisolak decided to pass out information about removing elected officials for alcohol abuse.
First thing in the morning, Collins sought to calm things down with his apology to the other commissioners, but he also said his original comments to a county commissioner in Utah had been twisted.
"I did not say the things that were sent out to the media; I certainly did not say them the way they were stated," Collins said, blaming his sarcasm and humor for being misunderstood.
He said that as soon as he got off the phone with Darin Bushman, a Paiute County commissioner, he called Sheriff Doug Gillespie "and expressed concerns about people coming in heavily armed (to Clark County)."
Federal officials started to remove Cliven Bundy's cattle because he stopped paying grazing fees 20 years ago. Then out-of-state armed supporters arrived to support Bundy. The confrontation lasted about a week but defused Saturday when the BLM released the cattle.
Bushman had called Collins about the Bureau of Land Management roundup, and afterward Bushman put a post on Facebook stating that Collins said people from Utah are "inbred bastards" and if they come to Clark County to support Bundy they "better have funeral plans."
"I'm sorry about the way I've spoken about some folks," Collins said Tuesday, adding he never intended to "insult folks in Utah."
But he reiterated his basic belief that when Bundy stopped paying grazing fees 20 years ago, he "began breaking the law."
"While I'm sorry I've offended some people I was told were coming down here with loaded guns, my intention has always been a peaceful resolution," Collins said.
Collins also blamed his sarcasm and humor for causing problems with other commissioners.
As he spoke, Commissioners Sisolak, Susan Brager and Mary Beth Scow gave him their full attention. Commissioners Larry Brown and Lawrence Weekly barely looked at him.
Sisolak said he appreciated Collins' "heartfelt comments. I hope this is the first step toward moving forward as a group."
Brown said Collins' "comments earlier reminded me of the Tom Collins of old, a very caring and very giving person."
"But that's not the person that's been among us the past few years. We've suffered from comments that were malicious and an embarrassment as a whole."
Brown said people at the Las Vegas Convention and Visitors Authority, where Collins is the board chairman, "have spoken to me about what can be done. There's nothing the commission can do to sanction, censure or remove a fellow commissioner."
Brown mentioned that Collins had referred to demons he'd been fighting the past few years. "I truly wish the words spoken this morning turn into action."
Collins said nothing in response to his colleagues' comments.
But he said in an interview after the meeting that he has received threats on his life regarding the Bundy standoff.
"I hope they're joking," he said seriously, noting that he was shocked by the venomous outbursts on social media — Twitter and Facebook.
Meanwhile, the public comment segment of Tuesday's meeting was dominated by Bundy sympathizers, who condemned all the commissioners for not showing leadership in the Bundy situation and not being visible at the standoff site.
Then the commissioners were all invited to a party at the Bundy ranch on Friday night.
"There will be militia there with guns, but they won't be shooting at you," the woman inviting them said.
Voters in North Las Vegas have long known Collins was a drinker. When he was running for the Assembly in 1992 he had had a DUI arrest and two battery convictions on his record, and still was elected repeatedly.
He shot a tree at his North Las Vegas home on July 3, 2012, and police said "alcohol was involved." Collins pleaded no contest to disturbing the peace. Voters returned him to the County Commission in November.
If he had been convicted of an alcohol- or drug-related gross misdemeanor charge, the commissioner could have been removed from office.
The "cowboy commissioner" is termed out when his term ends in 2016. After a brief flirtation with a run for lieutenant governor as a Democrat, he didn't file to run for any office this year.
Contact Jane Ann Morrison at jmorrison@reviewjournal.com or 702-383-0275.