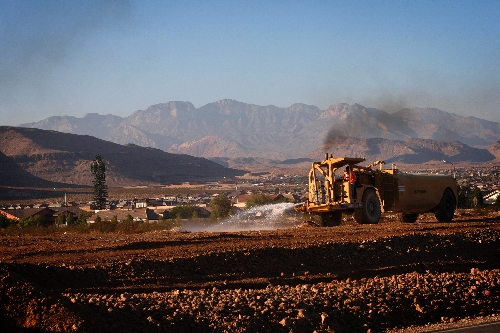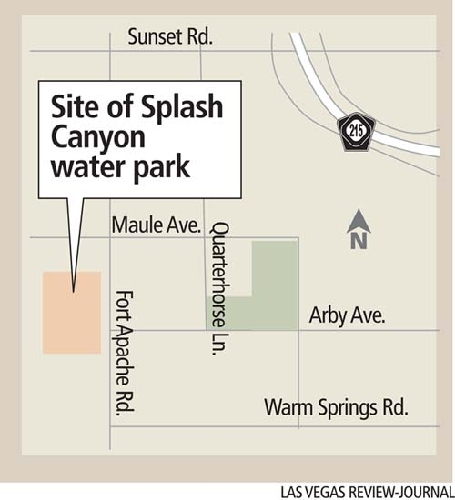 A third-generation Las Vegan, Roger Bulloch recognized that local families were left high and dry when Wet 'n Wild water park closed in 2004. He saw the need for another family-oriented attraction.
Bulloch and his joint venture business partners held a groundbreaking ceremony Monday for the 25-acre Splash Canyon Waterpark on Fort Apache Road in southwest Las Vegas Valley. It's scheduled to open by Memorial Day.
Developers have begun construction on the $18 million project, a public-private partnership between landowner Howard Hughes Corp., Clark County, SPB Partners and Dallas-based Harvest Family Entertainment.
The Clark County Commission approved the project in June. It's expected to create 200 to 300 construction jobs and 500 jobs for seasonal employees.
Though Wet 'n Wild was built in 1984 as a tourist attraction on the Strip,
80 percent of its customers were locals, Bulloch said.
"What can we do to pull families together? That's what drew us to this project," the co-founder and managing principal of SPB Partners said. "It's a water park, but for me, it's a deeper meaning. It's a family venue for the community and an opportunity for our youths."
Monday's groundbreaking culminated two years of intense work and the investment of millions of dollars in design, engineering and legal costs, Bulloch said. He also negotiated with a New York investment group about turning the former Scandia family fun park into a water park, but the investors decided it wasn't the highest and best use for the land.
Splash Canyon's first phase includes 20 slides, a surfable wave pool, 1,000-foot lazy river, water play structure, toddler pool, group picnic area, private cabanas and food outlets. Design and engineering is under way for the second phase, which will expand Splash Canyon to 40 acres.
Wet 'n Wild was teen-focused, said David Busch, president of Harvest Family Entertainment, which operates five water parks in Texas. Splash Canyon is family-focused.
"We'll have thrill rides, but we're a little more conservative on swimwear, and there will be no alcohol allowed," Busch said. "We want to take care of families."
Harvest has developed 23 water parks in the United States, South Pacific and China. It took two years of "grinding, grinding, grinding" to bring all the parties together for Splash Canyon, Busch said.
"We've had funding in place for a while, but it takes time to get everything lined up," he said. "We've been trying to get here for years because we know there's pent-up demand."
Busch projects 300,000 annual attendance at Splash Canyon, compared with about 500,000 at Wet 'n Wild.
He is expecting to have 50 percent of park admissions sold before it opens. His staff already is calling on schools, churches and corporations for group sales and special events.
Season passes are being offered at a $99 introductory rate, a savings of $40. Daily admission is $30 for adults, $22 for children under 48 inches.
SPB signed a long-term lease with Hughes Corp. for the land, which was originally designated as a community park. Hughes will develop an adjacent community park with an aquatic center as part of the site's master plan.
"Splash Canyon is a welcome and highly anticipated amenity for residents of the entire valley," Hughes spokesman Tom Warden said.
"The project will undoubtedly be a gathering place for residents of all ages who enjoy water sports, outdoor recreational activity, family play time and social interaction with friends and neighbors."
Contact reporter Hubble Smith at hsmith@reviewjournal.com or 702-383-0491.