Controversial 'manager' of Review-Journal parent company removed from job
January 4, 2016 - 5:28 pm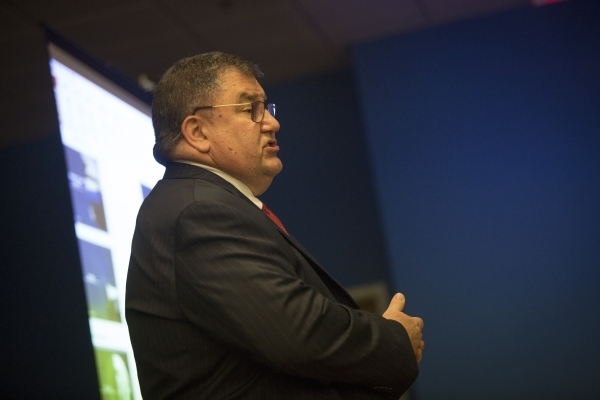 The Connecticut newspaper publisher at the center of a national media-ethics firestorm is no longer managing the Las Vegas Review-Journal or its parent company.
Michael Edward Schroeder has left his position as manager of the Review-Journal, as well as manager of News + Media Capital Group LLC, the Delaware company that bought the RJ for $140 million on Dec. 10.
Schroeder, who was introduced to RJ staffers as the newspaper's new "manager" the day the sale closed, "will have no role whatsoever with regard to the paper," said Mark Fabiani, a spokesman for the family of Sheldon Adelson, which owns News + Media.
Fabiani said he couldn't say "exactly when" Schroeder left, but he said he believed it was around Dec. 28 — about a week after the RJ published a report looking into Schroeder's role in a story that questioned the fairness of a Las Vegas judge presiding over an Adelson case.
RJ Publisher Jason Taylor welcomed news of Schroeder's departure.
Schroeder "was not going to perform any duties essential to the paper's operation," he said.
It was a quick end to a short, controversial relationship.
Schroeder's involvement became public at the Dec. 10 RJ staff meeting where the paper's sale was announced. At the meeting, he refused to identify the owners of News + Media, telling employees only that the owners "want you to focus on your jobs…and don't worry about who they are."
Schroeder's comments were later removed from an RJ article about the sale without consultation with the author or other news personnel.
The spotlight on Schroeder intensified on Dec. 18, when the RJ revealed that GateHouse Media, which bought the RJ in March before flipping it to the Adelson family, had without explanation ordered RJ staffers to monitor the activities of three judges in Las Vegas.
The RJ noted that a story critical of District Court Judge Elizabeth Gonzalez' handling of a wrongful termination case involving Adelson had appeared in Schroeder's New Britain (Conn.) Herald on Nov. 30. The story carried the byline of Edward Clarkin, and included made-up quotes and plagiarized passages.
Nationwide searches by multiple news organizations have turned up no writers named Edward Clarkin, though Michael Schroeder's middle name is Edward, and his mother's maiden name was Clarkin.
Schroeder has refused to comment on the Gonzalez story and did not return a call seeking comment for this story.
Taylor said he became "very concerned" last week about the Clarkin issue, which has received widespread national media criticism.
"I didn't want any tie between that scandal and this newspaper," Taylor said. "I didn't want anyone to think that (Schroeder) would be attached in any way to our newsroom. I don't want our peers in journalism or members of the public to feel like our journalism has been compromised."
Taylor said Fabiani told him just before Christmas that the decision had already been made to release Schroeder.
Fabiani wouldn't comment on ethical questions swirling around Schroeder.
"I don't want to get into the reason for it," he said when asked if the ethics scandal played a role. "It just seemed like the right thing to do under the circumstances. I'll leave it at that."
"Right now, the people running (the RJ) are the people who have been running the paper — New Media and GateHouse. That has not changed," Fabiani added.
Though the Adelson family now owns the RJ, GateHouse has an ongoing agreement to manage the paper's day-to-day operations.
It's not clear how Schroeder, who owns a small suburban chain of papers near Hartford, Conn., came to be designated as manager of the RJ, which is one of the 25 largest dailies in the nation by circulation, at just under 200,000 readers.
But Schroeder has ties to the Adelson family. He partnered with Boston venture capitalist Russel Pergament in 2008 to launch free daily newspaper BostonNow. Pergament is also a founder of the Jewish News Service, a startup nonprofit organization that received $900,000 in donations from the Adelson Family Foundation in 2013. JNS also distributes content from Adelson's Israel Hayom daily in Tel Aviv to media in the U.S.
Schroeder reportedly was brought on as a "figurehead" by the Adelson family, who believed he had the acumen to help run the paper. One of Schroeder's initial tasks was to review the paper's quarterly financials.
Contact Jennifer Robison at jrobison@reviewjournal.com. Follow @_JRobison on Twitter.