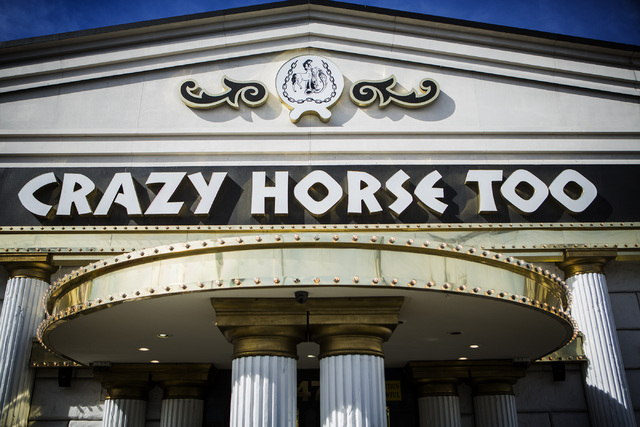 A federal appeals court has overturned a ruling that allowed the new owner of the Crazy Horse Too to use the strip club's name.
Michael Galam, the new owner, could not use the term "crazy horse" when he reopened the business in May 2013 because the owners of another Las Vegas strip club, Crazy Horse III Gentleman's Club, had filed a lawsuit that claimed the legal rights to the term belonged to them.
So Galam reopened the club at 2476 Industrial Road, near Sahara Avenue, under the name The Horse Gentleman's Club.
But in February, U.S. District Judge James Mahan withdrew a preliminary injunction that prohibited Galam from using "crazy horse" in the club's name. Mahan said new evidence had surfaced that showed Galam purchased the rights to the term when he bought the troubled property.
Russell Road Food and Beverage, a company that does business as the Crazy Horse III, then appealed Mahan's decision to the 9th U.S. Circuit Court of Appeals in San Francisco.
On Monday, a three-judge panel reversed Mahan's ruling and sent the case back for further proceedings to determine whether Galam has "some other basis for claiming ownership of the trademark and, if so, whether the trademark was abandoned by the United States" before Galam acquired it.
Lawyer Puoy Premsrirut, who represents the Crazy Horse III, called the decision a "substantial victory" for her client.
"It has always been our position that Galam's group did not acquire any trademark rights through the foreclosure sale, and now we know that the 9th Circuit sees it that way as well," she said.
Galam could not be reached for comment Tuesday.
Rick Rizzolo, longtime former owner of the Crazy Horse Too, was forced out in 2006 after he pleaded guilty in a decade-long racketeering investigation.
The government seized the club in 2007 while Rizzolo was in federal prison and ultimately shut it down until Galam acquired it. Premsrirut said her client contends that the "crazy horse" trademark was abandoned after the government closed the club.
During its heyday under Rizzolo's ownership, the club catered to mobsters, celebrities and politicians.
Contact reporter Carri Geer Thevenot at cgeer@reviewjournal.com or 702-384-8710. Find her on Twitter: @CarriGeer.