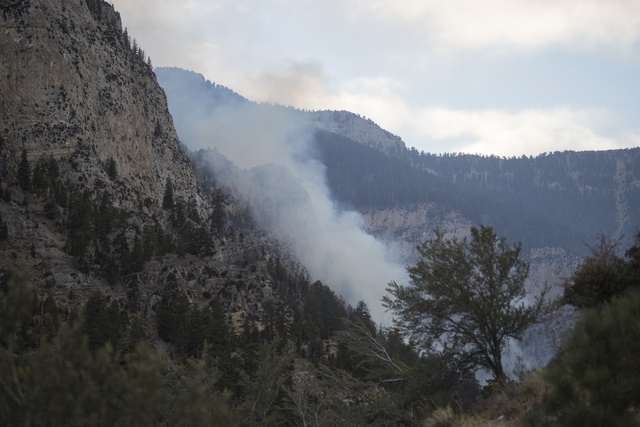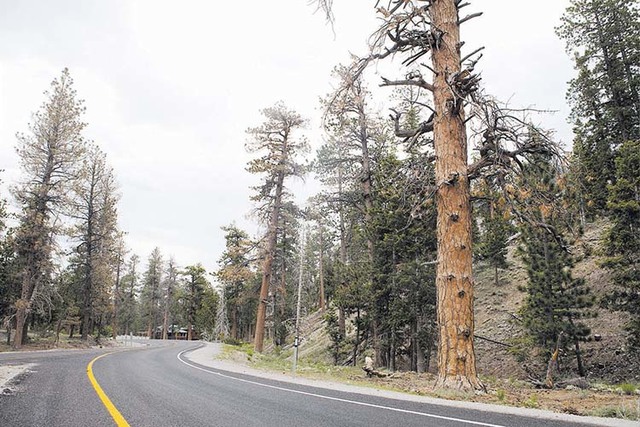 Crews were battling a 7- to 8-acre wildfire Friday near Big Falls in Kyle Canyon, which is about a mile and a half from the canyon community on Mount Charleston.
The fire started about 2 p.m. Friday, and because of its proximity to the mountain community, U.S. Forest Service spokesman Ray Johnson said, "We're taking extra precautions."
"They're concerned about protection for residents," he said.
Despite strong winds Friday afternoon in the valley, which create ideal conditions for a fire to spread, Johnson said the area of the canyon where the flames are is fairly sheltered from the wind.
He added that temperatures in Kyle Canyon late Friday are expected to be in the 30s, which will help choke out the blaze.
As of 10 p.m. the fire was 0 percent contained. Crews with the U.S. Forest Service, the Bureau of Land Management, the Clark County Fire Department, the Mount Charleston Fire Protection District and volunteers were working the fire.
Johnson said there was no estimate as to when flames would be out, but said it "certainly" wouldn't be by the end of the night.
The Big Falls and Mary Jane Falls hiking trails are closed to the public.
Contact Rachel Crosby at rcrosby@reviewjournal.com or 702-387-5290. Follow @rachelacrosby on Twitter.
RELATED
Impact of Carpenter 1 fire still felt in Mount Charleston
3 years after fire, 2 more Mount Charleston trails set for repairs
Volunteers repair fire-damaged Mount Charleston trail
New wildfire burning near Mary Jane Falls on Mount Charleston