Crowd gathers to mourn high school student who was 'always smiling'
Updated May 22, 2023 - 7:35 pm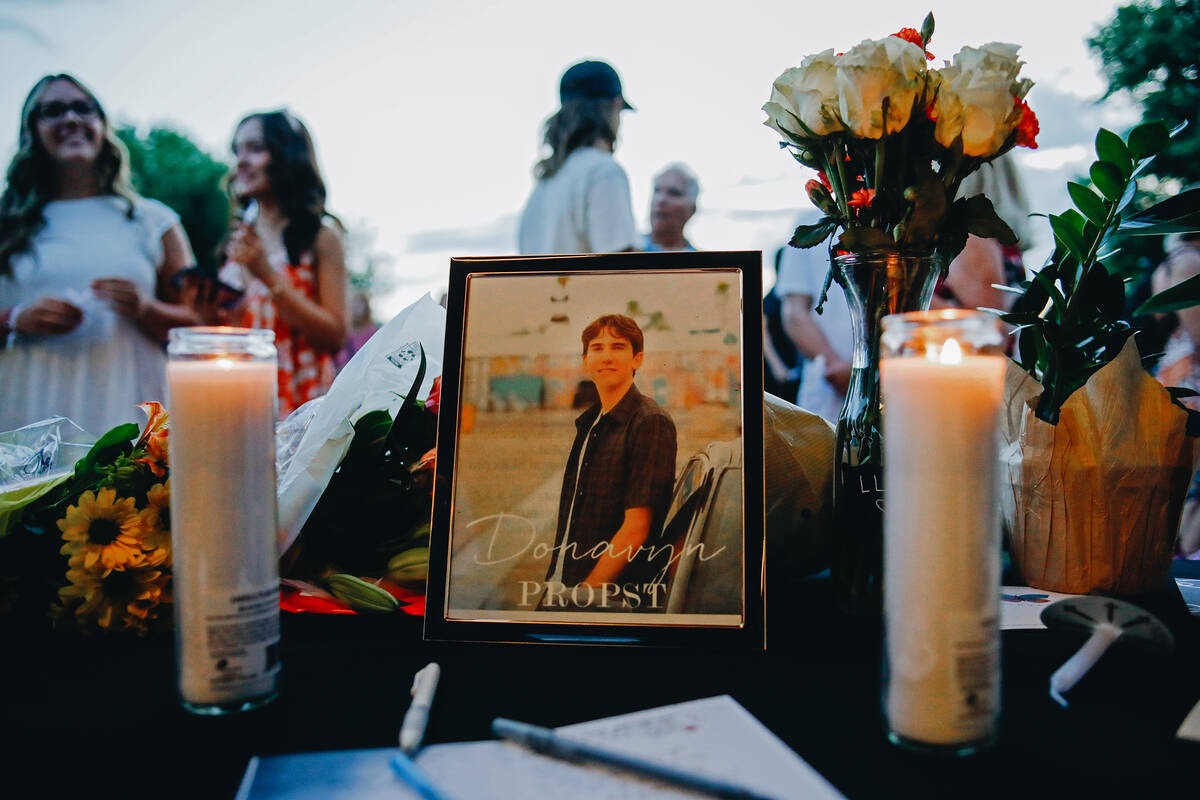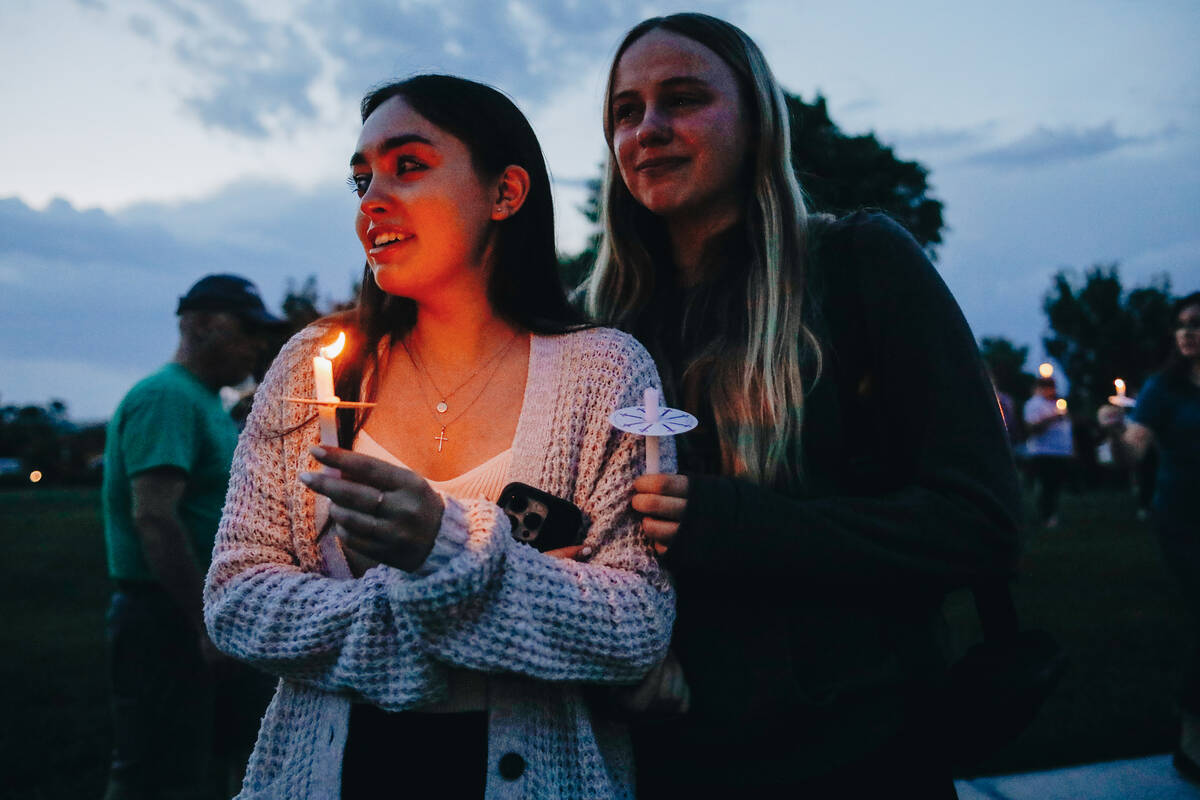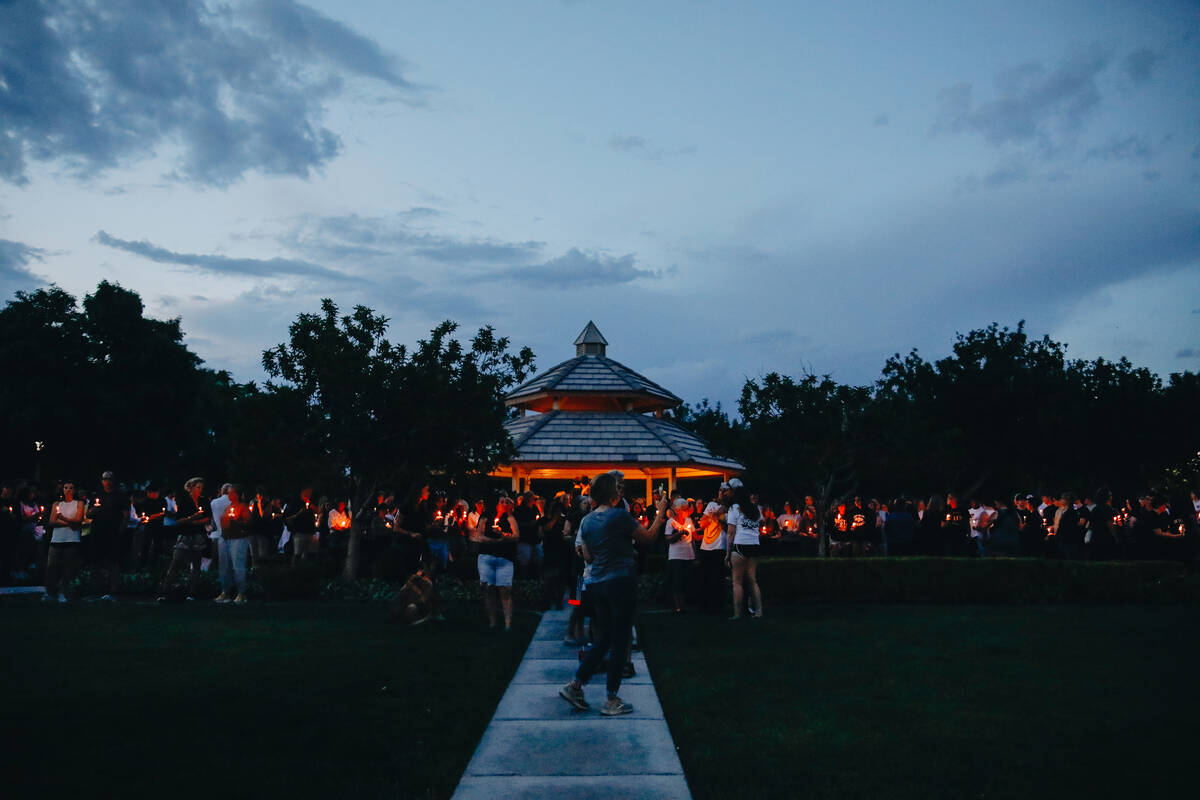 Three dozen motorcycles roared as they circled a northwest Las Vegas community park on Sunday night. A crowd of more than 200 people held candles glowing in the night as the motorcycles rode past.
All were there to honor the memory of a 17-year-old boy with an ever-present smile who died too soon.
The candlelight vigil for the Faith Lutheran High School senior Donavyn Propst took place just two days after Propst died in a motorcycle crash Friday afternoon. He would have graduated high school a week later.
Propst lost control of his motorcycle near Grand Montecito Parkway and Deer Springs Way, and died later at University Medical Center, Las Vegas police said.
Hours after his death, the principal of Faith Lutheran High School emailed the Summerlin school's community to let them know what happened.
The school held multiple grief-sessions for students with counselors on Saturday, with plans to continue the sessions weekly throughout the summer, said Courtney Burns, director of counseling at Faith Lutheran.
"He was the kid that was always smiling," Burns said of Propst. "It's horrible. Kids aren't supposed to die in high school."
Carla O'Connell, lead organizer of the vigil, said Propst's neighbors coordinated with Faith Lutheran and the Vegas Elite Riders motorcycle group to put together the event.
Vegas Elite Riders, the largest Facebook group for motorcyclists in Nevada, has more than 9,500 local members, including Propst's parents, according to Damon Schuetze, one of the group's founders.
Schuetze said the group regularly holds ride-by events for fallen riders.
Donavyn Propst's mother thanked the group for showing their support by riding around the vigil and thanked everyone for supporting her son.
"To the motorcyclists, thank you so much for coming by. He loved that bike, and he and I just love how you guys live free," Julie Propst said through tears. "I'm just so grateful that he's had so much support and he was loved, and he was a great kid."
As she spoke, many in the crowd could be heard sobbing or sniffling as they held their candles.
Julie Propst, who wore her son's yellow smiley face shirt, said she was surprised by how many people came out to the vigil at the park near Elkhorn Road and Tenaya Way.
So, too, was her son's friend, 18-year-old Gray Ryan.
"There's been a lot of love, even from people I've never even met before," he said.
Ryan described Propst as "just a happy kid," describing his friend as shy at first, but very funny and fun-loving once you got to know him.
Many others at the vigil characterized Propst as happy and fun-loving. They also talked about his wide grin. His father, Don Propst, said his son always wore a smile on his face.
"That kid doesn't have a mean bone in his body and has never been mad a day in his life," Don Propst said. "He was always smiling, he was a good boy. That's my son."
Contact Mark Credico at mcredico@reviewjournal.com. Follow him on Twitter @MarkCredicoII.