Cuffed fugitive told police he hid key in rear end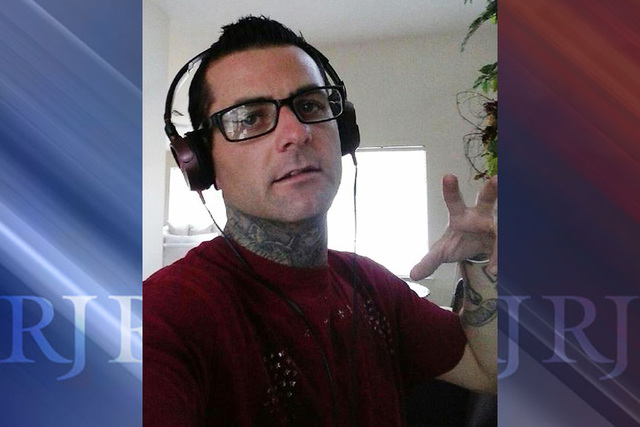 The key to freedom is sometimes hidden.
Las Vegas police arrested California fugitive Nicholas Boland twice last week. The 30-year-old man was wanted in connection with a kidnapping case by the San Bernardino Sheriff's Department.
But in Las Vegas, you could call it the case of the hidden key.
Metro detectives caught up to Boland about 5:30 p.m. May 20 in a residential neighborhood south of the intersection of Arville Street and Sahara Avenue.
The pair of officers cuffed Boland, according to his arrest report, but he had a complaint: The handcuffs were too tight.
One of the detectives loosened the cuffs, the arrest report said, then slapped on a second pair before putting him in the front seat of his duty vehicle.
During the drive to Clark County Detention Center, the report said, the detective noticed Boland fidgeting in his seat. Boland then reached down and unlatched his seat belt. The detective slammed the car into park.
He reached for Boland's arms and grabbed the chain connecting the handcuffs, only to watch the cuffs slip off Boland's wrists, the report said. Boland opened the door and took off down Charleston Boulevard.
And like that, he disappeared.
But only briefly.
About 7:15 p.m., a caller reported someone suspicious at the University of Nevada, Las Vegas Dental School at 1001 Shadow Lane, near Charleston. The description matched that of Boland, according to the report.
Detectives arrived at the school soon after and went to the roof, the report said. Looking through a skylight, they spotted Boland inside, hiding in a hole near the ceiling.
Realizing he was caught, the report said, Boland came down and was arrested again.
Boland said he was having trouble breathing, and it appeared that he had urinated in his pants, according to the report. A Las Vegas Fire Department medic checked Boland out and said he didn't need hospital care.
This time police cuffed his hands and tied his feet together, the report said. Officers put Boland in the back of a regular Metro patrol vehicle and took him to jail.
During the short ride downtown, the report said, Boland told detectives how he unlocked the handcuffs.
Sort of.
First, police said, he told them he found the key on the seat of the detective's car. Then he changed his story.
Boland, a detective said in the report, told police he keeps a key in his rectum.
That day, the report said, he used it to set himself free.
"In retrospect, it appears to me that Boland intended to attempt to escape if the opportunity presented itself," the detective wrote.
Boland remained in Clark County Detention Center as of Thursday, while California authorities await his extradition.
Police made no mention of finding the key.
Contact reporter Colton Lochhead at clochhead@reviewjournal.com or 702-383-4638. Find him on Twitter: @ColtonLochhead