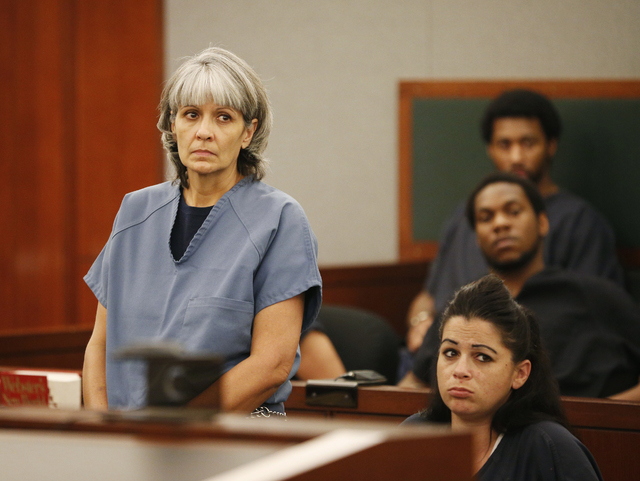 LAS VEGAS — A Las Vegas woman's bid to get out of prison and into gambling addiction treatment has become a fight over whether she can be freed to house arrest until the state Supreme Court decides if she's eligible for placement in a court diversion program.
Jerry Nann Meador has remained in prison and in legal limbo since June 24, when her felony theft conviction was overturned. Now, Clark County Judge Jessie Walsh is due to hear arguments on Monday in Las Vegas about Meador's custody status.
Defense attorneys Ross Goodman and Dayvid Figler argue that prosecutors are punishing Meador by appealing the conviction ruling to the state Supreme Court and then pushing to keep her behind bars until there's a decision.
Prosecutor Jay P. Raman said there's no way Meador can ever repay the more than $500,000 she siphoned from the plumbing company where she kept the books for decades.
"She stole far more than she needed to cover her problem gambling. That's a fact," said Raman, the chief deputy Clark County district attorney fighting to keep Meador behind bars.
In court filings, Raman asks the judge to set bail for Meador at $542,971.62 cash — the amount that Raman said Meador pleaded guilty to stealing from Rakeman Plumbing over the years.
Rhonda Hawley, wife of second-generation plumbing firm owner Aaron Hawley, said she believes the North Las Vegas firm lost more than $1 million. She expressed frustration that her family has to relive the pain caused by deception of a trusted employee and close friend who she said never displayed signs of gambling addiction before she was arrested in 2012.
"It was wrong. It still affects everyone," Rhonda Hawley said. "The reality is we're not going to get restitution. She is where she needs to be. There is no gambling in prison."
Meador, 53, who uses the name Nann, was sentenced in January 2014 to four to 10 years in prison after pleading guilty to felony theft. Figler and Goodman filed documents last year seeking the diversion program, arguing that her previous lawyer overlooked a chance to invoke the 2009 law.
Based in part on a clinical psychologist's April 2015 diagnosis that Meador had a gambling disorder, Walsh undid Meador's conviction to allow time for a hearing to establish whether Meador is eligible for treatment and restitution. The ruling didn't vacate Meador's guilty plea.
Figler and Carol O'Hare, executive director of the Nevada Council on Problem Gambling, cast Meador as the third person in Las Vegas to successfully invoke a 2009 state law that allows judges to sentence nonviolent problem gamblers to treatment and a restitution plan instead of prison.
"I think people are starting to ask the question now because they realize this option exists," said O'Hare, who was a key proponent of the measure when it passed the Legislature. She called it impossible to measure a gambling addiction by the amount of money lost.
"The real difficulty is everybody just sees the money," she said. "They don't see what happens in the life of the problem gambler. The money can be tracked and counted and proved. But money does not define the addiction. It is a consequence of the addiction."
O'Hare said the law was written to require an assessment by a qualified and credentialed mental health professional to determine that a defendant is a gambling addict.
Goodman said the judge has evidence that Meador was diagnosed as a problem gambler.