Dad relives night son died on US 95 in tearful jailhouse interview
August 24, 2018 - 5:55 am
Updated August 24, 2018 - 6:07 pm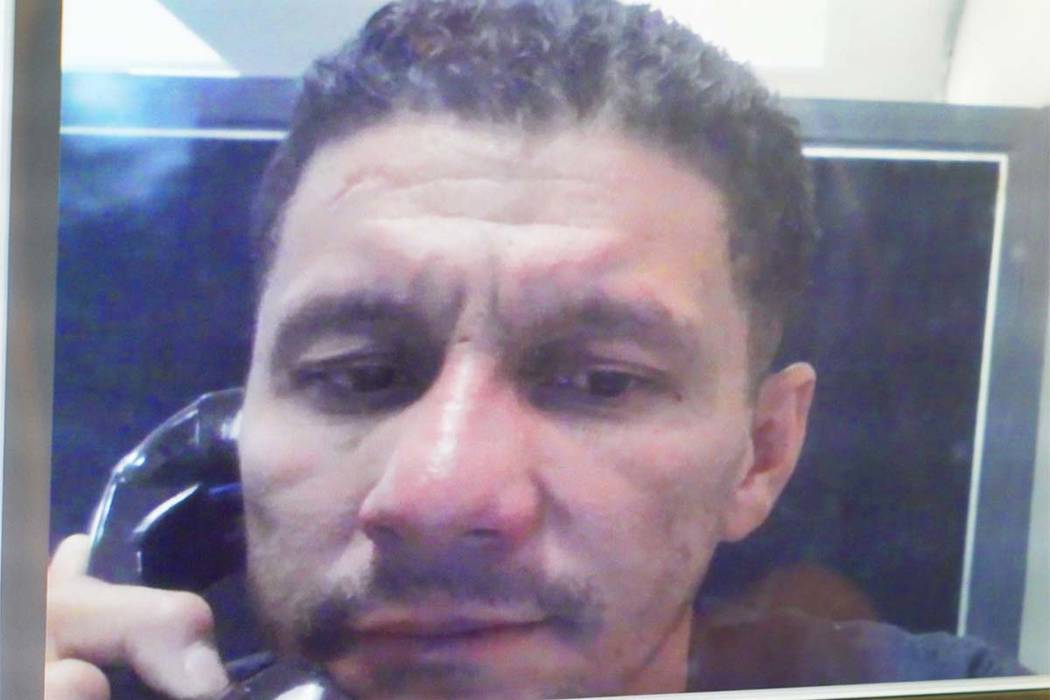 Even the promise of a long-awaited iPhone couldn't draw a smile from Silas Anorve on Monday evening.
His father, Ezequiel Anorve-Serrano, said the lack of reaction was uncanny from his usually happy-go-lucky son.
Still, he never would have expected that less than an hour later, the boy would be dead, Anorve-Serrano, 38, said through tears from a Clark County Detention Center cell late Thursday.
Anorve was killed Monday when he was hit by a car on U.S. Highway 95 between Decatur and Jones boulevards, the Nevada Highway Patrol confirmed. The Clark County coroner has not yet ruled on the manner of death in the case.
But Anorve-Serrano said his son jumped from the family's car just about one-quarter of a mile from their planned exit. His wife, Felicia Samano, 43, was driving Anorve and his older brother, 16-year-old Ezekiel Anorve, back home after a jail visit with their dad.
Anorve had been stressed — enough to leave school early Monday, though it would set him back in his two advanced placement courses, Anorve-Serrano said. He was enrolled in ninth grade at Bonanza High School, the dad said, though Clark County School District spokesman David Roddy has declined to confirm the boy's enrollment.
Anorve-Serrano, who is undocumented, was arrested Aug. 17 on a felony charge of battery with a deadly weapon and was being kept in jail on an immigration hold, court records showed.
His neighbor said Anorve-Serrano stabbed him in the left forearm during a fight on that date, according to the inmate's arrest report.
When police began circling Anorve-Serrano's house to arrest him, he exited and surrendered peacefully to officers, the report said. A knife with dried blood on it was found in Anorve-Serrano's home, and dried blood was on the inside of his right wrist "which did not appear to be his," according to the report.
Anorve-Serrano told police, "I had to do what I had to do to protect my family," but he declined to answer any questions without an attorney, according to the report.
His attorney could not be reached for comment Friday afternoon.
The possibility that Anorve-Serrano could be shipped back to Mexico weighed heavily on his son, the man said on Thursday.
"I said, 'Listen, I'm going to be out of here soon,'" Anorve-Serrano recalled. "I know he was stressed."
He thinks it's the worry about his potential deportation that led the 14-year-old to quietly unbuckle his seat belt as his mom zoomed down the highway, open the driver's side back door and throw himself into oncoming traffic.
Samano hit the brakes and watched in disbelief as her elder son ran for his baby brother — without checking for cars — and lifted his bloodied body, said Anorve-Serrano, who learned the details of the incident through phone conversations with his wife. Anorve was pronounced dead at the scene, and the car that struck him fled.
"I could've lost my whole family," Anorve-Serrano said through tears. "Over an ICE (U.S. Immigration and Customs Enforcement) immigration thing."
Anorve-Serrano said he'll miss his son's personality. He was well-mannered, kind and smart, he said — a bookworm who gobbled down a novel a week and the kind of kid who preferred homework over video games.
Though Samano didn't respond to requests for comment, she posted videos and photos of her son on her Facebook page, sharing messages like, "You leave a crack in my heart so deep nothing will ever fill it."
A preliminary hearing in Anorve-Serrano's case is scheduled for Sept. 5, five days after his son's funeral. He hopes that sharing his story in the news could help him find a way to attend the burial.
"It's tearing me apart," he said. "I wanted to see his little face before he goes in the ground."
Contact Jessie Bekker at jbekker@reviewjournal.com or 702-380-4563. Follow @jessiebekks on Twitter. Staff writer Katelyn Newberg contributed to this report.
Family raising funeral funds
A GoFundMe has been established to fundraise for funeral costs for Silas Anorve. As of Friday night, more than $5,600 had been raised of the family's $20,000 goal.
The campaign can be found at https://www.gofundme.com/burial-of-silas.