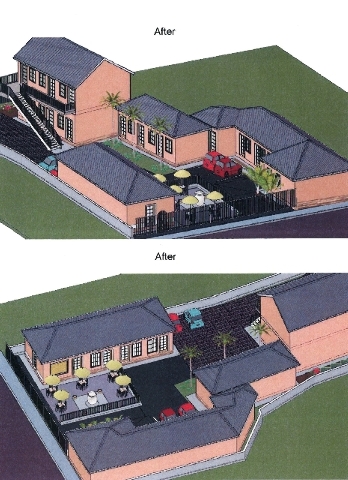 A developer with a growing portfolio downtown is turning his attention to an overlooked section of Fremont Street.
On Wednesday the Las Vegas City Council approved up to $150,000 in grants to help Kamran Foulad renovate three dilapidated buildings between Bruce Street and Eastern Avenue.
That section of the street is significant because it is beyond the downtown core where the Downtown Project, a private venture backed by Zappos CEO Tony Hsieh, is investing about $350 million in real estate, technology and other ventures.
"We believed in downtown since the early 1990s," Foulad told the council. "My vision is it is going to come back."
Foulad is investing more than $650,000 in the projects, which include renovation of two rundown, empty motels and a commercial building that could house a small grocery store.
The public money comes from programs created through the city's redevelopment agency, which sets aside matching grants to help people improve older buildings.
The two motels are at 1808 and 1919 Fremont, and the commercial building, a 30,000-square-foot space that already is home to a 2,000-square-foot auto repair business, is at 2101 Fremont.
Foulad said the motels, which were built long before the area became a haven for crime, homelessness and vandalism, have suffered with the decline of downtown.
"The railing and the stairs were stolen," he said of one of the motels. "Every item of metal in that building was stolen."
The commercial building is also in poor repair, he said. "It is very rough inside the building; all the concrete inside has to be removed," he said.
The motel renovations will include facade upgrades, a new pool, a cafe and other improvements to make the properties suitable for seniors and tourists, Foulad said.
The commercial building could include a grocery store, gym and steel fabricating facility, he said.
Councilman Bob Coffin, who represents the area, said Foulad is representative of investors who are working to improve downtown without the same fanfare as Hsieh, who has attracted national attention for his efforts.
"This should put the lie to a lot of talk around downtown there is only one investor in downtown Las Vegas," Coffin said. "This is going to make a major impact on the city of Las Vegas."
Contact reporter Benjamin Spillman at bspillman@ reviewjournal.com or 702-383-0285. Follow him on Twitter @BenSpillman702.