Dog dies, four people displaced in pair of fires
October 26, 2014 - 9:01 pm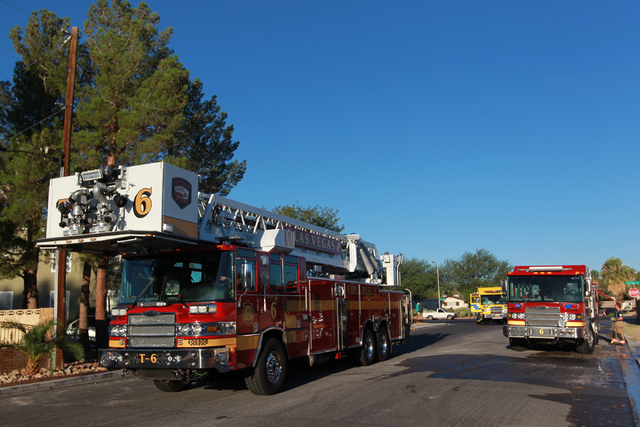 Two weekend house fires that displaced four people and killed a dog were likely caused by electrical issues, Las Vegas Fire and Rescue said on Sunday.
Neighbors called firefighters to a blaze at a home that was unoccupied at the time near Rainbow Boulevard and Alta Drive, Saturday night shortly before 9 p.m.
Firefighters forced themselves into the smoke-filled home and found a dead dog upstairs, the fire department said. They later determined that the fire came from a void area between the two floors and that it was possibly caused by faulty electric wiring.
The home's two occupants, who arrived home later in the evening, were being helped by the Red Cross, the fire department said. The estimated damage from that blaze was $85,000 and it is still being investigated.
Firefighters were called to a home near Alta Drive and Valley View Boulevard about 1:20 p.m. on Sunday after an occupant noticed smoke pouring out of the attic, the fire department said, adding that they promptly extinguished a small fire.
The home's residents later told firefighters that the air conditioner had recently been turning on and off by itself. The fire was likely caused by electrical problems, too, the fire department said.
Damages from that fire were estimated at $50,000 and the home's two residents were also displaced.
Electrical fires is the second leading cause of fires in the valley and causes more damage than all other fires combined, fire department spokesman Tim Szymanski said.
Contact Ricardo Torres at rtorres@reviewjournal.com and 702-383-0381. Find him on Twitter: @rickytwrites.