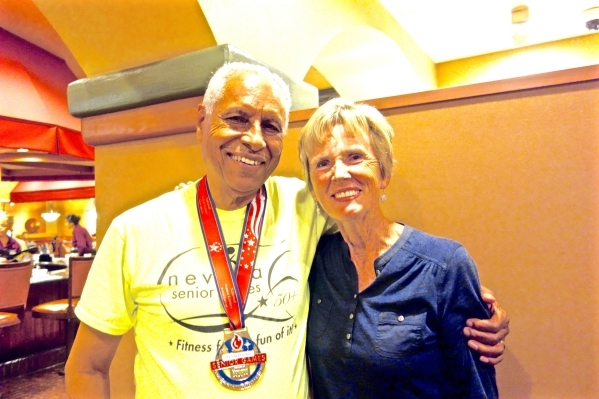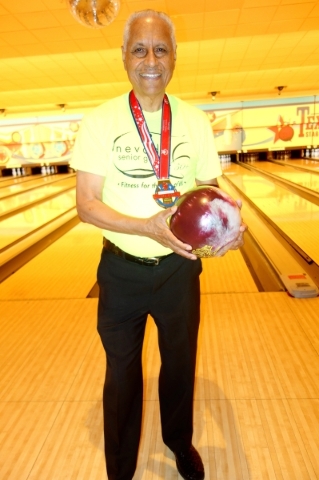 Athletic competition. It's for young people, right?
Not necessarily.
Talk with 78-year-old Jerry Lindsay of North Las Vegas or 75-year-old Nedra Paschal of Henderson. You'll hear them talk proudly about the athletic medals they've earned as participants in the Nevada Senior Games, which offers athletic competitions for athletes age 50 or older.
Lindsay, a retired California postal employee, is a Nevada Senior Games board member and a bowler. He bowls four or five times a week at Texas Station, 2101 Texas Star Lane, and enters numerous bowling tournaments. Recently, he and his partner, Winnie Thierry, finished second in mixed doubles for his age group in the National Senior Games.
Paschal, games director of Nevada Senior Games, is a retired California math teacher and former women's badminton and volleyball coach. These days, she plays tennis and badminton, boasting recent national silver and bronze medals in badminton.
"The theme of the senior games is 'fitness for the fun of it,' and those are the right words," Lindsay said. "We have real competition in 18 different sports, but we also have lots of fun, meet great people, and yes, we get our exercise."
In 2007, Lindsay was attending an acting class at a local community center when he saw a flier about the games.
"I've always been interested in track and field, and thought, 'I can do that,' " he said.
Lindsay entered the Nevada Senior Games as a runner, and in his age group the first year, he finished second in the 50-yard dash and first in the 100-yard dash.
Though an injury ultimately ended his running career, Lindsay and his wife, Nannette, had joined the bowling league at Second Baptist Church, 500 Madison Ave., a year earlier. The couple ultimately became senior games bowling competitors, and both scored well enough in local contests to be eligible for the national competition. (Lindsay also stuck with the acting thing, and when the credits roll in the film "What Happens in Vegas," he is listed as the preacher conducting the wedding ceremony.)
Paschal first heard of the senior games when, as a retiree, she was in New Mexico caring for her mother and occasionally playing tennis. A tennis partner told her about the games and invited her to compete. Later, living permanently in Las Vegas, she continued participating both in tennis and badminton. Paschal said, in some ways, she is making up for lost time.
"When I was growing up, girls had very little opportunity to participate in competitive sports, and frankly, I do like competition," she said.
Paschal has two children and four grandchildren, and when she is asked what her family thinks of "grandma" competing for medals, she said simply, "I hope they are proud."
Lindsay added that one of his nine grandchildren has become an excellent bowler — with grandpa's help and encouragement, of course.
A former board member for Nevada Senior Games, Paschal recently resigned her position to become games director. She supervises a group of volunteer coordinators for each sport. They typically are participants who take care of competition details and answer questions from newcomers and other participants.
One of the coordinators is Martha Watson, former Olympic runner, long jumper and member of the USA Track & Field Hall of Fame. Watson is coordinator for the track & field Senior Games competition.
Spectators are welcome to watch the various competitions, though Lindsay noted that, in the past, most of the spectators have been friends and family.
In past years, the games have attracted about 1,000 seniors, though Paschal added, "We have room for many more."
Competition is scheduled from Sept. 21 through Oct. 11, depending on the competition. Every participant signs an injury waiver, and the cost to register for the games is $35, with each individual sport charging an additional fee, typically from $2 to $10.
"And," added Lindsay, "every person who enters gets their own T-shirt; what's not to like?"
Winners in the various competitions receive medals. The top three finishers in the "even" year competitions (that is, next year) will be eligible for the National Senior Games Association competitions.
"The winners this year," said Lindsay, "simply have Nevada bragging rights … plus their first-, second- or third-place medals and that gorgeous T-shirt."
Visit nevadaseniorgames.com and click on "Sports Flyers & Coordinators" for participation information. Individual sports are listed; click on one to find a list of times, dates and locations for competitions, as well as the name and phone number of the coordinator.
Nevada Senior Games registration
Sept. 14 – Dance, Pistol Shoot, Tennis, Weightlifting/Fitness
Sept. 21 – Archery, Bowling, Cycling, Pickleball, Racquetball, Swimming, Table Tennis, Track & Field, Trap Shooting
Sept. 28 – Badminton, Basketball Skills, Golf, Shuffleboard, Walk-a-Thon
To register, visit nevada.fusesport.com.
For more information, visit Nevada Senior Games or contact Brenda Talley at 702-242-1590 or nevadaseniorgames@earthlink.net