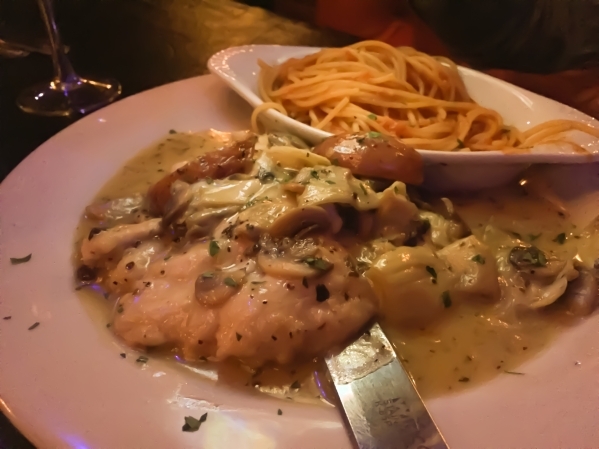 If you've ever wanted to dine with big shots Lucky Luciano, Bugsy Siegel and Moe Dalitz, Capo's Restaurant & Speakeasy is the place to do so.
Owned by mob-era enthusiast Nico Santucci, the eatery at 5675 W. Sahara Ave. re-creates a posh atmosphere complete with dim lighting, deep red booths, mugshots of Las Vegas mobsters and, of course, a secret entrance. One step inside, and you'll feel as if you've been teleported into a 1940s underground speakeasy.
That is, if you can convince the doorman to let you in. (Hint: You'll need a password.)
Santucci, a Chicago transplant, also incorporates Al Capone's secret sauces into his dishes after purchasing the recipes from Capone's grandnephew. Appetizers include Genovese Calamari (fried and sauteed with peppers and lemon juice in a secret sauce) or Ma's Meat Balls & Peppers (homemade Italian meatballs served with a secret sauce and sauteed peppers).
Entrees feature "Made-Man" pasta dishes, such as Fredo's Wise Guy Alfredo (fettuccine pasta with cream, butter, imported baby Parmesan, pecorino and Romano cheese) and The Chef Sleeps with Fishes (jumbo shrimp, sundried tomatoes and prosciutto tossed in a garlic cream sauce over fettuccine).
House specialties include Capo's Parmigiana (breaded chicken, veal or eggplant topped with Capone Family Secret Sauce and mozzarella) and Mad Dog Marsala (chicken or veal sauteed with Marsala wine, demi-glace, mushrooms and rosemary with a touch of cream). Each is also served with your choice of soup or salad and a side of spaghetti, vegetables, mushroom risotto or garlic mashed potatoes.
Most dishes range from $18.95 to $26.95.
Throughout the course of dinner, the restaurant hosts live entertainment. While the meals are a little pricey, it's well worth the money. You're not just paying for food; you're paying for an experience.
Capo's Restaurant and Speakeasy is open from 11 a.m. to 10 p.m. Sunday through Thursday and 11 a.m. to 11 p.m. Friday and Saturday. Happy hour is from 5 to 7 p.m. daily.
Reservations are not required, but you'll be happy you made one. Visit caposrestaurant.com or call 702-364-2276.
Capo's Restaurant & Speakeasy
5675 W. Sahara Ave.
Open: 11 a.m. to 10 p.m. Sunday through Thursday; 11 a.m. to 11 p.m. Friday and Saturday; happy hour, 5-7 p.m. daily
702-364-2276
caposrestaurant.com