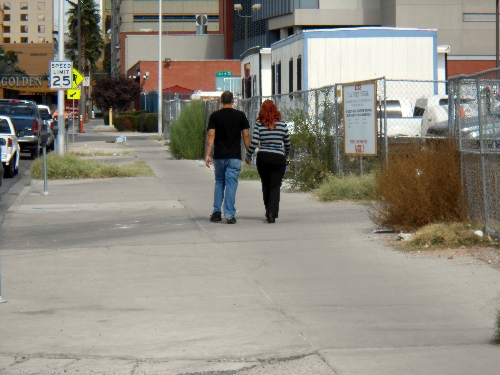 The city of Las Vegas and the Regional Transportation Commission of Southern Nevada struck a deal last month bringing more than $5 million to downtown with the intention of improving pedestrian and bicycle travel in the area.
The improvements to parts of First Street, between Hoover and Bridger avenues, and along Garces Avenue, between Main and Sixth streets, are set to include the implementation of bicycle lanes, sidewalk widening, streetlighting, landscaping and signs. There is not yet a time line for the project.
The city is putting up nearly $1 million in addition to the nearly $5 million in Federal Transit Administration grant funds from the Regional Transportation Commission.
However, many feel that the project only scratches the surface.
"It's one thing to create a bike lane. It's another to maintain it," Las Vegas City Councilman Bob Coffin of Ward 3 said. "People can lobby hard enough for a bike lane and they might get one, but there is no money to maintain it."
These issues are just the beginning of a much larger problem, according to Coffin.
"We just don't have the money to maintain our current infrastructure," he said. "We have an aging infrastructure that, on the books, looks like billions of dollars (in repairs)."
Community activist and Ward 3 resident Martin Dean Dupalo spent three months walking the neighborhoods around his home documenting the poor conditions of sidewalks in certain areas of wards 3 and 5.
Dupalo said he found more than 12 miles of nonexistent or intermittent sidewalk and more than 400 curbs not in compliance with federal Americans with Disabilities Act regulations.
"The sidewalks seem to just stop and start randomly," Dupalo said. "Sometimes there's sidewalk, sometimes there's dirt. Often, there's no ramp on the corners for wheelchairs and strollers to get up. Utility poles choke the sidewalks that are there and make them too narrow for wheelchairs and people with walkers. It's a mine field out there."
Dupalo said he estimates that 10,000 to 12,000 people with disabilities live in wards 3 and 5 , and he believes city officials are turning a blind eye to the problem of pedestrian safety.
"There is a difference between being unable to maintain and completely neglecting it," he said. "This is a basic need, but it's not a sexy project that politicians can put their name on."
Many of the neighborhoods in these wards are some of the oldest in the city and predate the Americans with Disabilities Act.
"So, although (the sidewalks) do not meet the standards, they are not required to," city spokesman Jace Radke said in an email. "The city does replace older sidewalks as funding becomes available and coincides with work (of) other roadway projects."
The Americans with Disabilities Act website states, "There is no 'grandfather' clause in the ADA. However, the law is flexible. … while public entities that have less than 50 employees are not required to comply with limited sections of the Department of Justice's regulations, such as maintaining self-evaluations on file for three years and designating a grievance procedure for ADA complaints, no general exemption applies. All public entities, regardless of size, must comply with Title II's requirements …"
In other words, the law requires that the city have a plan to address those areas.
Another side of the problem is motorists who drive too fast on roads engineered for high speed, according to Erin Breen, director of the Safe Community Partnership at the University of Nevada, Las Vegas .
Areas such as Maryland Parkway near the university campus, 4505 S. Maryland Parkway, have a posted speed limit of 35 mph, Breen said, but factors such as the comfortable width of lanes make speeding easier.
"The roads aren't engineered for 30 (mph), they're engineered for 45 (mph)," Breen said, citing the wide streets, long distances without traffic lights and relatively flat geography.
"It's a true enforcement issue," she said. "We just don't have the officers."
Breen said pedestrian safety has improved over the years, so much so that some may feel the job is done. "A lot has been done for pedestrian safety, but the question we need to keep asking ourselves is, 'What more can be done?' " she said.
There is a need for continued construction of pedestrian amenities such as mid-block crosswalks, Breen added.
Still, Coffin said pedestrian and bicyclist access and ease of travel would be more of a priority if the funds were available.
"We're happy that any money can be spent, but it's not enough," he said. "It is very frustrating."
Another problem facing downtown residents is the lack of personal amenities such as groceries, said Sam Cherry, owner of Resnick's Grocery , 900 Las Vegas Blvd. South, meaning people are forced to walk longer distances.
"I live downtown, and since Day One it has been a concern about where to get those personal amenities," Cherry said.
The nearest grocery stores are one to two miles outside of the area, and "that's not in the spirit of a true downtown," he said.
Resnick's Grocery, which opened nearly two years ago, has tried to "fill that gap," according to Cherry.
Contact Paradise/Downtown View reporter Nolan Lister at nlister@viewnews.com or 702-383-0492.