Co-owner's cancer battle inspires antique-selling Rebar in downtown Las Vegas
September 19, 2016 - 5:00 am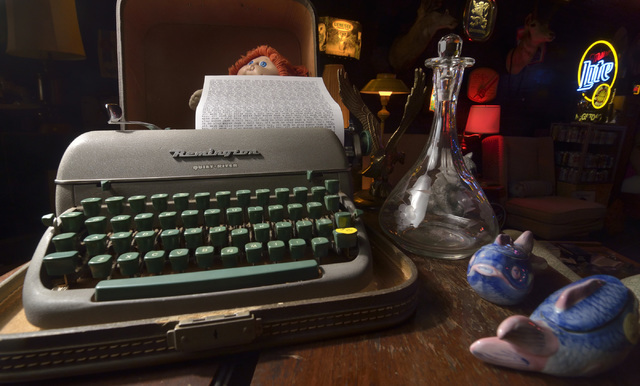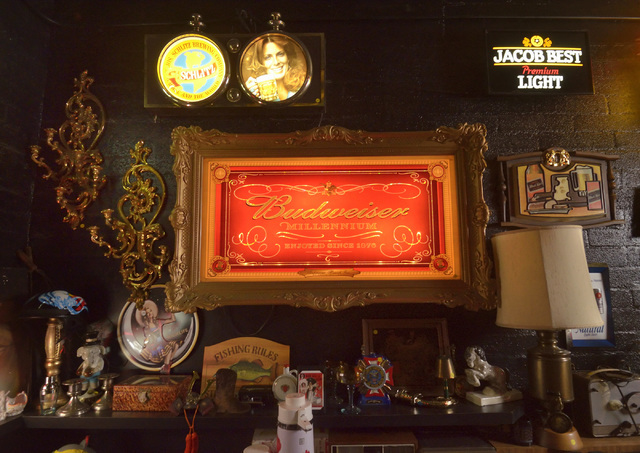 Derek Stonebarger has been involved in a lot of ventures over the years with varying levels of success, but when he was diagnosed with cancer, he decided that it was time to buckle down and open his dream business.
The result is one of the odder combinations in the Las Vegas Valley: Rebar, a bar and antique store, which opened at 1225 S. Main St. on June 16.
"After I got a clean bill of health, I took everything that I could find, every dollar that I had left, and said, 'I'm going to try this idea,' " Stonebarger said. "Now is the time. I'm not going to wait any more."
Actually, he didn't wait for the clean bill of health. He signed the lease and began working on Rebar in the middle of chemotherapy.
"He was pretty much skin and bones for most of the hard construction," said attorney Charles Vlasic, one of Stonebarger's partners in the project. "He was puking into a garbage can and jackhammering at the same time. He's kind of an animal."
Stonebarger, his wife, Dorian, and Vlasic — along with his wife, Sarah, and Vlasic's fellow attorney, John P. Witucki — are the partners on the project, but they are not in the shadows. They pitch in when they can, and Vlasic did all of the welding work and a lot of the heavy labor during the build-out.
"I'd work as an attorney until 7 (p.m.) and then go pick up my kid from daycare," Vlasic said. "Then I'd come in and do construction from 8 to midnight or later and on the weekends."
He was having a drink with Stonebarger when he told him about Rebar.
"Derek and I have been friends for years, and his best ideas come when he's having a drink," Vlasic said. "Derek's the guy with the vision, so I stay out of his way for that part of it."
Some of the visions and projects Stonebarger has had, and been involved in, include Theatre 7, a live theater and indie film outlet in the Arts District; the Vegas Indie Film Fest!; organizing several annual 48 Hour Film Project competitions; "Pawn Stars Live," a parody of the "Pawn Stars" TV show done in cooperation with the staff of the Gold & Silver Pawn Shop; the refurbishing and relaunch of Atomic Liquors; and a film production company.
He said that all of them did well enough, but he was looking for more.
"The production company did all right; it paid the bills," Stonebarger said. "Theatre 7 did all right, but we just kind of broke even on it. Atomic was a huge success, but I only had a small part of that and I had to sell that to pay for my surgery."
He had always been prone to cold sores, so he didn't think much of one on his lip that was particularly persistent. After more than a year, he decided to have it checked out and was diagnosed with skin cancer.
"No big deal," Stonebarger said. "I had it cut out. A few months later, in February of 2015, I had a lump in my throat, and I joked with my wife, 'Probably the skin cancer jumped into my lymph nodes.' I didn't even know what I was talking about, but that's what it was. Nobody wants to learn about cancer until they got it or someone they know has it. Then you become an expert and read all about it."
He underwent aggressive treatment to attack the cancer, starting with surgery and continuing to simultaneous chemotherapy and radiation treatments. He didn't think his chances were good.
"Honestly, I checked out," he said. "I didn't think I had a chance, but I fought with all my will and physical being and it worked. I got a clean bill of health (in May) saying all of my cancer is in remission."
By that time, he was well underway on getting the permits and doing the construction on Rebar. Initially, Stonebarger planned to sell just wine and beer but discovered that beer and wine licenses are unavailable in the area, so the plans changed to be a full bar. Gathering the antiques to sell were, by far, the easiest part of the proposition.
"I've flipped stuff since I was 14," Stonebarger said. "I used to buy and sell cars. Before there was Craigslist, I used the classifieds. I've always used it as a hobby and for supplemental income."
This explains why it was no problem for him to fill a wall with cuckoo clocks and antique beer steins. He recently purchased a collection of 200 beer-themed T-shirts, and the focus of his more recent purchases have been beer- and bar-related items. There are still quite a few oddities around Rebar, including slot machines turned into tables, taxidermy, a NASCAR tire table, classic bike parts and several death masks, including one of Napoleon. Everything is for sale.
Stonebarger feels that surviving cancer has made him more of a risk-taker and has made him more up front with people. He feels that Rebar is a more calculated risk than some of his other projects, in part because he and his partners carefully picked the location.
"I believe the location is ground zero for the future of Las Vegas," Stonebarger said. "Five years from now, this is going to be the best place. After the city puts in $70 million on the the street, making it one way and beautifying it, I believe all of the parades will run down Main Street. It will be a street that the city can be proud of."
Stonebarger has a lot of plans for Rebar, including adding a high-end hot dog cooker and fixing up the large parking lot in the rear so it can be used both for customer parking or special events. He plans to bring his Vegas Indie Film Fest! back in November and host it in the open-air space. He hopes to someday take the concept to other cities.
"I went from almost dying and being a pretty unlucky guy to being the most happy and lucky guy on the planet," Stonebarger said. "How many people can say that?"
Rebar is open from 4 p.m. to 1 a.m. Tuesday and Wednesday; 4 p.m. to 2 a.m. Thursday; 4 p.m. to 3 a.m. Friday; and 2 p.m. to 3 a.m. Saturday. Call 702-349-2283 or visit facebook.com/rebarlv.
To reach East Valley View reporter F. Andrew Taylor, email ataylor@viewnews.com or call 702-380-4532.
Rebar
Address: 1225 S. Main St.
Hours: Tuesday and Wednesday, 4 p.m. to 1 a.m.; Thursday, 4 p.m. to 2 a.m.; Friday, 4 p.m. to 3 a.m.; and Saturday, 2 p.m. to 3 a.m.
Information: 702-349-2283; facebook.com/rebarlv