Downtown Neighborhood News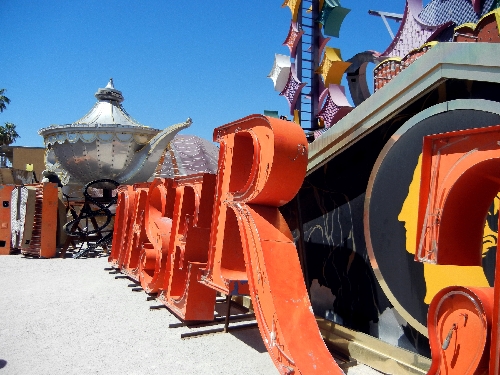 LIED DISCOVERY CHILDREN'S MUSEUM FINALIST IN TOYOTA 100 CARS FOR GOOD
Lied Discovery Children's Museum, 833 Las Vegas Blvd. North, is one of 500 finalists in Toyota's 100 Cars for Good program, which will award vehicles to 100 nonprofit organizations based on votes from the public.
The program, which began May 9, showcases five nonprofits each day at facebook.com/toyota. Visitors to the page can vote once a day. The museum is scheduled to be highlighted Saturday .
Should the museum win a vehicle, it will be used to expand the House Calls Outreach Program, which provides interactive health and science education in Southern Nevada classrooms.
For more information about the museum, visit ldcm.org or call 382-3445.
See snakes at Springs Preserve
"Venom!," a new live animal show, is scheduled to run at 11 a.m. and 1 p.m. daily through Aug. 14 at the Springs Preserve, 333 S. Valley View Blvd.
The rotating lineup of reptiles to be featured includes rattlesnakes, the desert night snake, gopher snakes and a Gila monster. Animals will be separated from the audience by an enclosure for safety purposes.
For more information, visit springspreserve.org or call 822-8722.
Capture DOWNTOWN! photography COMPETITION ANNOUNCED
Professional and amateur photographers older than 21 are invited to participate in Capture Downtown! — a photography competition sponsored by the city of Las Vegas, the Downtown Las Vegas Alliance, Symphony Park and the Las Vegas Review-Journal.
Entry categories include Lifestyle: depicting everyday life/work/play in downtown Las Vegas, Stars: interesting people who live/work downtown, and Icons: to include downtown landmarks, neon signs and historic buildings.
There will be first-, second- and third-place winners in each category. Winners are to be announced in October during the Symphony Park Lecture at the Historic Fifth Street School, 401 S. Fourth St. A People's Choice Award also will be given, and the entry photos will be hosted on lvrj.com from Sept. 1 through Sept. 22 for voting.
Prizes include gift certificates from downtown retailers and hotels, downtown merchandise and more. Entry deadline is Aug. 15. All entries must be submitted digitally to downtownlasvegasalliance.com/captureddowntown.
DOT EXHIBIT up AT BRETT WESLEY GALLERY
Local artist Kevin Chupik is scheduled to unveil a series of paintings in his second solo show at the Brett Wesley Gallery, 1112 S. Casino Center Blvd. The exhibit is set to run through July 30 and is free to the public. Chupik uses carefully painted dots and dashes to explore the formal elements of design and the resultant larger images and symbolism of the human female form and exotic plumed birds.
For more information, visit brettwesleygallery.com or call 433-4433. Gallery hours are noon to 6 p.m. Tuesday through Saturday and by appointment.
DULA GYM TO OFFER SPORTS CLASSES
Table tennis is scheduled from 9 a.m. to noon on Tuesdays and Thursdays at Dula Gym, 441 E. Bonanza Road. Pickle ball is scheduled from 9 to 11:30 a.m. Mondays, Wednesdays and Fridays. The gym offers open table tennis and pickle ball, volleyball and basketball leagues and basic computer skills classes. Call 229-6307 for information and registration.
Exploring Trees EXHIBIT on display
AT SPRINGS PRESERVE through Sept. 5
The "Exploring Trees Inside and Out" exhibit is scheduled to run through Sept. 5 at the Springs Preserve, 333 S. Valley View Blvd. For more information, visit springspreserve.org or call 822-8722.
REGISTER FOR SUMMER CAMPS
AT LIED DISCOVERY CHILDREN'S MUSEUM
The Lied Discovery Children's Museum, 833 Las Vegas Blvd. North, is offering weekly camp programs for children 6 to 12. Sessions are available from 9 a.m. to noon or 1 to 4 p.m. through Aug. 15.
Camp prices are $155 per week for museum members and $180 per week for nonmembers. For camp schedules, details and registration, visit ldcm.org or call 382-5437.
LOCAL YMCA TO PARTICIPATE
IN NATIONAL SCHOOL LUNCH PROGRAM
The Bill & Lillie Heinrich YMCA, 4141 Meadows Lane, is participating in the National School Lunch Program, a federally assisted meal program providing nutritionally balanced, low-cost or free lunches to students.
Children 2 to 18 can receive a free lunch at the Heinrich location from
11:30 a.m. to 1 p.m. Monday through Friday through Aug. 26.
For more information, call 877-9622.
CHARLESTON HEIGHTS ARTS CENTER SCHEDULES COMMUNITY EVENTS
Have an evening of international fun learning Armenian, Bulgarian, Israeli, Arabic, Macedonian, Russian, Greek, Turkish, Chinese and Serbian folk dances at Ethnic Express International Folk Dancing, scheduled from
6:30 to 8:45 p.m. Wednesdays at the Charleston Heights Arts Center, 800 S. Brush St. There is no need to bring a partner. Admission is $4 per person per week, payable at the door. For more information, call 229-6383.
Register for Summer Youth Dance Camp beginning Wednesday. The camp is scheduled from 9:30 a.m. to 1 p.m. Wednesday through Saturday, through July 30. Classes are in ballet technique, modern, lyrical, jazz, contemporary jazz, Pilates and more for two groups: intermediate and intermediate/advanced dancers. For more information, call 229-6383 or visit artslasvegas.org.
Smokey bear exhibit on display
at lied discovery children's museum
"Smokey Bear & Woodsey Owl: Home Sweet Home" is scheduled to be on display through Sept. 25 in the Cultural Gallery at the Lied Discovery Children's Museum, 833 Las Vegas Blvd. North.
The exhibit was developed by the Betty Brinn Children's Museum in collaboration with the U.S. Forest Service to spread the messages of wildfire prevention and wildlife conservation.
For more information, visit ldcm.org or call 382-3445.
TRIFECTA cooks up PANCAKE show
Artists Todd VonBastiaans and Bryan McCarthy teamed up for "Todd + Bryan's Pancake Bed (and Breakfast)," an exhibit scheduled to run through July 29 at Trifecta Gallery, 107 E. Charleston Blvd., inside the Arts Factory.
The pancakes in the exhibit are made from photo-optimized recycle fabric, stuffed with what feels like real pancakes. Some are edged with fur. For more information, visit trifectagallery.com or call 366-7001.
'IN AND OUT OF WHACK' on display
AT CONTEMPORARY ARTS CENTER
Artists Deborah Karpman and Kimberly Hennessy's exhibit "In and Out of Whack," is scheduled to run through Aug. 13 at the Contemporary Arts Center, inside the Arts Factory, 107 E. Charleston Blvd. The show's images are created by "fastidiously cutting up old manuals and guidebooks and then carefully arranging the snippets onto the backs of vintage wallpaper." For more information about the exhibit or the center, visit lasvegascac.org.
HISPANIC MUSEUM OF NEVADA SCHEDULED TO HOST DAY CAMP AT COMMUNITY CENTER
The Hispanic Museum of Nevada is scheduled to host the Institute of Culture Day Camp at the East Las Vegas Community/Senior Center, 250 N. Eastern Ave., Monday through July 22. The $50 camp fee includes lunch, cooking classes, dancing, presentations and arts and crafts.
For more information, visit hispanicmuseumnv.com, call 773-2203 or email hispanicmuseumnv@
hotmail.com.
KLEVEN CONTEMPORARY shows works
of Krystal Ramirez
The "Disintegration" exhibit, new works by artist Krystal Ramirez, is scheduled through July 29 at Kleven Contemporary, 520 E. Fremont St., inside the Emergency Arts building. The show focuses on a "simpler reality," one without social media, phones and Internet dating. A closing reception is scheduled for 6 to 9 p.m. July 29.