East valley locals flock to Wetlands Park to escape Las Vegas Strip's glitz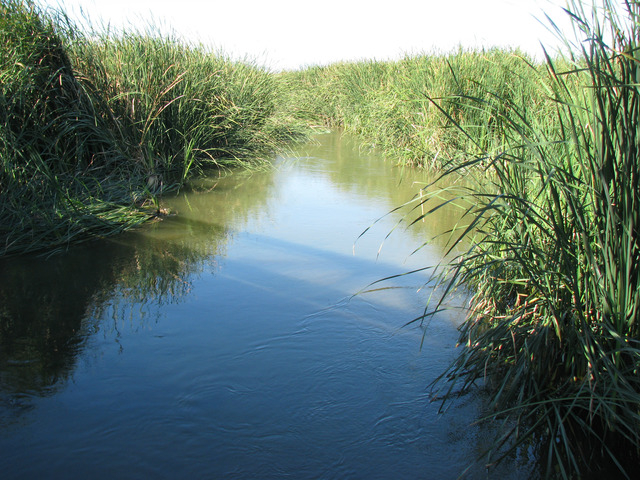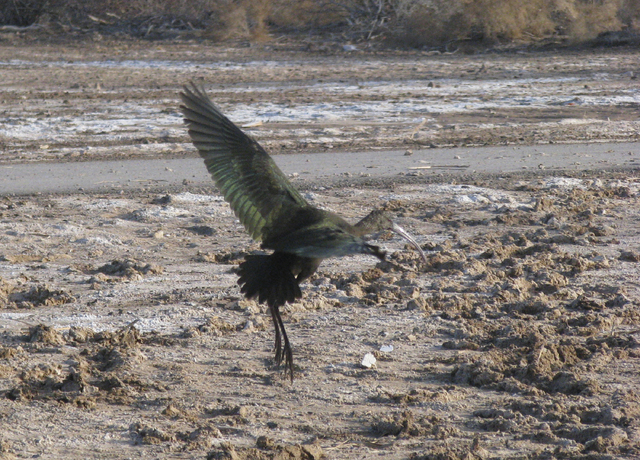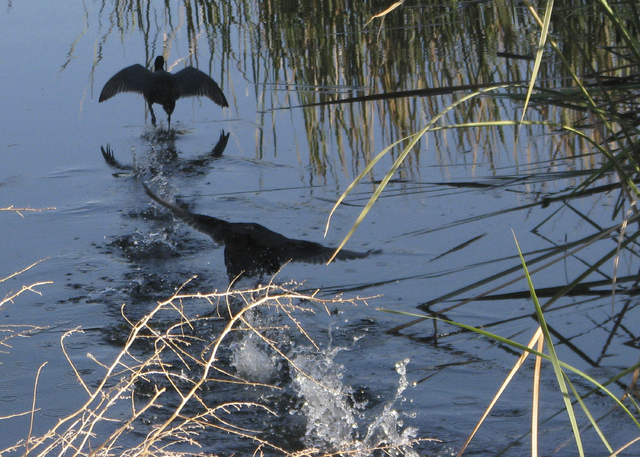 For tourists, Las Vegas is a narrow swath of hotels in the middle of the valley and legends of 50 years past. For locals, it is a multifaceted community with a little of everything and a lot of heart.
Locals know the places that don't feel like "Vegas" are some of the parts that make the valley special.
CLARK COUNTY WETLANDS PARK
Any list of unexpected places in Las Vegas has to put Clark County Wetlands Park, 7050 Wetlands Park Lane, near the top. The park features miles of green wetlands clustered along the edge of the Las Vegas Wash. It is home to a wide variety of wildlife, including rabbits, coyotes, beavers, raccoons and many surprising species of birds, particularly waterfowl. Herons, seagulls and ibises are frequently seen there. It's an odd sight to see a group of pelicans soaring over hard-packed caliche and creosote spiraling toward a ribbon of green.
The designers of the park utilized naturally occurring plant life and unnatural runoff to create a place that feels like a natural oasis but is in fact engineered to return life to an area that had seen the worst end of development.
The wash has run through the area for thousands of years. It was once a swampy area downstream from the constantly flowing spring that also created and nurtured the meadows in the middle of the valley that gives Las Vegas its name. When the spring stopped flowing around 50 years ago, the water running down the wash became more sporadic, coming from runoff from houses and commercial properties or in great bursts during rainstorms.
Instead of slow water creating a marsh, fast water was carving canyons up to 40 feet deep.
"A lot of that happened after the washes were made into concrete channels," said Elizabeth Bickmore, senior program administrator at the Wetlands Park. "It protects homes in the valley, but it does move the water down here faster."
By the time the park was proposed, efforts were already underway to slow the water with weirs. Much of the area around the visitor center was an unofficial dumping ground, created by people who didn't want to take their large trash and derelict vehicles farther west to the dump. A massive cleanup and engineering project re-created a semblance of the wetlands that had always been there.
The park features miles of wide trails. The score or so of weirs have created ponds of varying sizes that draw wildlife. The green speck among the taupe landscape attracts migratory birds from thousands of miles away.
Visitors can easily spend a day in the park and never see any sign of a casino or anything else people associate with Las Vegas.
"It's a unique place in the valley," Bickmore said. "Water has always drawn people. People have been traveling to the area that is now the park for thousands of years. We still get new people here who are surprised when they see it."
Wetlands Park is open daily from dawn to dusk, with trailheads open from 6 a.m. to 11 p.m. The Nature Center and Exhibit Hall is open from 9 a.m. to 4 p.m. Admission is free.
Visit tinyurl.com/hrz6gsd or call 702-455-7522.
NELLIS BOULEVARD
On the opposite end of the spectrum from the semi-natural beauty of Wetlands Park is Nellis Boulevard. The 9-mile stretch was initially developed as a cut-off road, connecting several smaller sections to create a route from Arizona to Nellis Air Force Base that bypassed downtown Las Vegas and, perhaps not coincidentally, the infamous Roxie's brothel.
Much of the road is like a time capsule of small-town, light-industrial business. It is nearly devoid of the glitz and glitter that people associate with Las Vegas. Mixed in among the businesses that were too small for the thoroughfare that is Boulder Highway are small car dealerships, mom-and-pop auto repair shops, taco shops, payday loan operations and some of the oldest bars and restaurants in the valley, mostly unchanged from the day they were built 50 years ago.
No one would call it a beautiful street, but it is an elegantly functional one, filling a need for niche commerce and shopping in a part of Las Vegas often ignored by developers.
It is also home to several unusual businesses, such as Bahnna's, 1235 N. Nellis Blvd., which has been at the same location for more than 30 years. It's just a typical battery, golf cart and exotic bird store. It recently added a website for Big Bird Farm, a name that is more descriptive of one part of the business than the family name, but it still remains a small, family-owned operation. Visit lasvegasbirdfarm.com.
Old-school bars can be found on Nellis Boulevard, such as Buck's Tavern, which is decorated with lightly stained wood, several large, mounted deer heads and other hunting paraphernalia. If it weren't for the slot machines, it might easily be in any rural community near a forest or mountains suitable for hunting and trapping.
John Henry Hoffmann, 92, has lived up the hill from Nellis Boulevard with his wife, Gloria, for over 30 years, and he's noted that sometimes you can get a pretty good meal at a local tavern like Buck's, and he's had a few good ones there over the years.
"I counted them one day, and there are about 27 restaurants on Nellis Boulevard between Stewart (Avenue) and Charleston (Boulevard)," he said. "It's loaded with restaurants, and you can get just about any kind of food you want there. If Gloria and I find we don't have time to cook something, we know we can find something quick down there."
One thing Hoffmann won't do, however, is drive on Nellis Boulevard.
"It's gotten too busy over the years," he said. "I've got a bunch of back routes for getting north and south before I cut over to it."
The area is still home to several ranches, and it isn't unusual to see people traveling down the side streets in the area on horseback. On one memorable occasion, two men were spotted holding the reins of a third man's horse while he went into a convenience store to buy beer, which the three shared while riding off into the sunset.
To reach East Valley View reporter F. Andrew Taylor, email ataylor@viewnews.com or call 702-380-4532.
Fremont Street
Parts of Fremont street look like Las Vegas, but it's the Las Vegas of the '50s and '60s when small, classically designed midcentury modern motels were sprinkled among the emerging resort-casinos. Many of those old motels are shuttered or falling into disrepair, but the ones closest to the Fremont Street Experience have mostly been bought by the Downtown Project or are in the midst of renovations.
Several new businesses have opened in the area between Downtown Container Park and Maryland Parkway, including 11th Street Records, one of the few places to buy vinyl records in town, and The Writer's Block, an independent bookstore specializing in a small but elite selection of books and nurturing the written word and writers. And Atomic Liquors is part of a movement in the valley to restore former dives and rundown properties from Las Vegas' Rat Pack heyday while modernizing key elements to make the buildings and businesses work with modern technology and lifestyles.