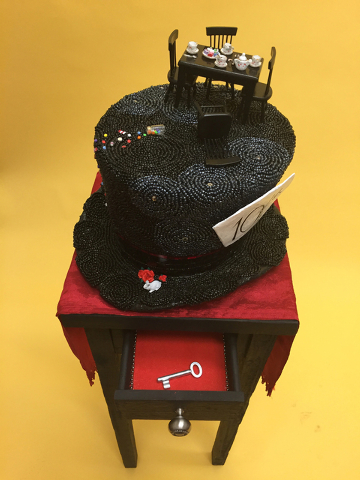 The First Friday arts festival is scheduled from 5 to 11 p.m. Dec. 5 at venues throughout the 18b Arts District in downtown Las Vegas, near the intersection of Charleston Boulevard and Main Street. Admission is free. Street parking usually fills up quickly, but there are nearby lots with paid parking, including Symphony Park, which charges $3. A shuttle to the festival is available. Live entertainment, artists' booths, food vendors and more are planned.
The event features several special areas, including a KidZone; Green Street, which focuses on environmentally friendly products and practices; The Hub Stage; and Shuffle Zone, which showcases a variety of artists.
This month, First Friday's theme is Roundup, which ties in to the National Finals Rodeo's arrival in town and encourages First Friday to look back on 2014 and round up its highlights from the year. Events and activities are slated to include mechanical goat roping by Three Amigos Super Goat Roping and agricultural and 4-H activities by the University of Nevada Cooperative Extension, including sheep, goats, calves and chickens.
The Kids and Art group is set to adorn doors and barrels with local artists. The work is set to be auctioned off to raise funds for charity. The event is also set to include Western and cowboy poetry and a LED truck display featuring rodeo highlights and bloopers.
For information on shuttle services, artists, music and more, visit firstfridaylasvegas.com.
Preview Thursday also is planned from 6 to 9 p.m. Dec. 4, offering a more low-key opportunity to see many of the galleries and shows before the crowds.
Galleries planning to participate in December's First Friday include:
THE ARTS FACTORY, 107 E. CHARLESTON BLVD.
— The Jerry Misko Gallery, featuring works by Misko. Visit jerrymisko.com.
— EKlectica Gallery, offering new works by the gallery's collective, including watercolors by Bill Fravel, mixed media by Debbe Sussman and contemporary abstracts by James Donahue.
— Jana's Red Room, showing small works by local artists, including featured artists Chris Seckler and Jennifer Barreras. Visit janasredroom.com or call 702-454-3709.
— Q. Wang Gallery, displaying works by Wang.
— R Space, featuring a group show by all of the gallery's artists. Visit facebook.com/rspacestudio or call 858-733-2135.
— Sin City Gallery, showing the exhibit "Enigma," a photo collage by Anthony Bondi. Visit sincitygallery.com or call 702-608-2461.
— The Trifecta Gallery, featuring work by Wendy Kveck. Visit trifectagallery.com or call 702-845-7907.
— Peace N Art Studio, offering the exhibit "Vintage Urban Space," new works by Alexander Huerta.
— Eden Art Studio and Gallery, displaying the exhibit "Pieces of Humanity," a show benefiting the Nevada Homeless Alliance and Awakenings, which serve homeless youths in Southern Nevada. Visit tinyurl.com/edenartstudio.
OTHER LOCATIONS
— Reclaimed Art Suppliez, 1114 S. Casino Center Blvd., showing live art demonstrations and work by local artists. Visit reclaimedart.org or call 702-241-8926.
— Clay Arts Vegas, 1511 S. Main St., displaying the exhibit "Dreams" Work in a variety of media by the group Spirit of Art and small works in ceramics by various artists. Visit clayartsvegas.com or call 702-375-4147.
— Downtown Spaces, 1800 Industrial Road, offering events from 6 to 11 p.m., including a reception for new tenant Brazen Architecture Inc; Skin City Body Painting's reception for the "Down the Rabbit Hole" exhibit, featuring more than 40 artists; SolSis Gallery/EQLD Creations Art Studio's sneak preview of new Christmas-themed art by Miguel Rodriguez; Wasteland Gallery's group art show; Spectral Gallery's holiday sale, featuring art, T-shirts and more; Urizen Gallery's display of new work by Kortnie and Benito Colon-Contreras; Ortego's Juniper Art Gallery's holiday sale, offering 30 percent off all art; and live music.