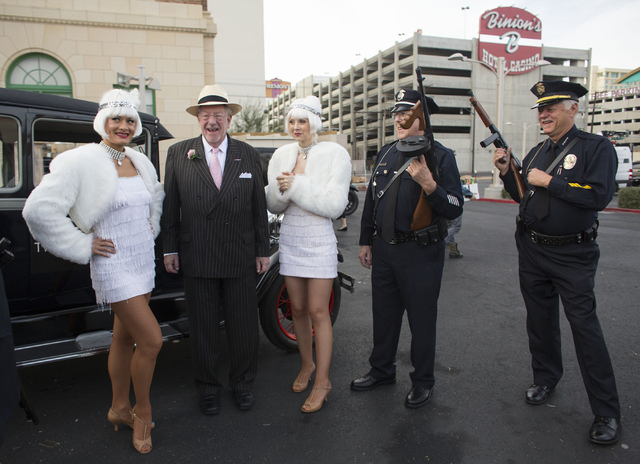 Cocktail crawl is a nod to Repeal Day
Tuesday is Repeal Day, the 84th anniversary of the repeal of Prohibition, but the downtown bar community will celebrate Saturday. Take a bar crawl of Freedom Beat at Downtown Grand, Triple George Grill, Bin 702, Parlour Bar at El Cortez, The Kitchen at Atomic and Oscar's Steakhouse at the Plaza, where each team will offer a Prohibition-era specialty cocktail for $5. Then vote for your favorite through the Mob Museum website, and on Tuesday, the winner will be named Boss of the Bar. Maps of the crawl are available at the museum and at themobmuseum.org. Videos of the participating bartenders explaining their drinks will be posted on its Facebook page.
This road trip feels like going home
Chef Scott Commings will host the next installment of his Culinary Road Trip dinner series Friday at Freedom Beat in the Downtown Grand. Instead of a geographic location, he'll offer guests a nostalgic trip home home for the holidays. The meal, limited to 40 people, will include dishes such as butternut squash soup, stuffed clams, bacon lardons and béchamel, slow-roasted porchetta and a yule log. Tickets are $50 and available at the door.
Toyboxx celebrates its third birthday
Toyboxx LV will host a third birthday party from 7-9 p.m. Friday at the Hardhat Lounge, 1675 Industrial Road. The evening will feature "titillating trivia, radical readings and maybe even a drink special or two." Miranda Glamour will host, and author and UNLV professor Lynn Comella will be among the speakers.
Have brunch, pictures with Santa
The first of two Brunch with Santa events will be from 10 a.m. to 1 p.m. Saturday at Downtown Container Park at Fremont and 7th streets. (The second will be at the same time on Dec. 9.) In addition to an all-you-can-eat brunch, guests can make hot chocolate, decorate a holiday cookie and sit for pictures with Santa. Tickets are $30, plus $15 for unlimited mimosas, $15 for kids under 12, and available through downtowncontainerpark.com.
Philharmonic to put on pair of shows
The Las Vegas Philharmonic has a pair of holiday performances scheduled for Saturday in Reynolds Hall at The Smith Center for the Performing Arts. The 2 p.m. matinee will be its annual "Home for the Holidays" show. Performances will include Anderson's "A Christmas Festival," selections from Tchaikovsky's "Nutcracker" and Clint Holmes narrating "Peter and the Wolf." At 7:30 p.m., the Philharmonic will perform "A Baroque Holiday," with a program including Part I of Handel's "Messiah." thesmithcenter.com
Have an item for Downtown Lowdown? Contact Al Mancini at amancini@reviewjournal.com.