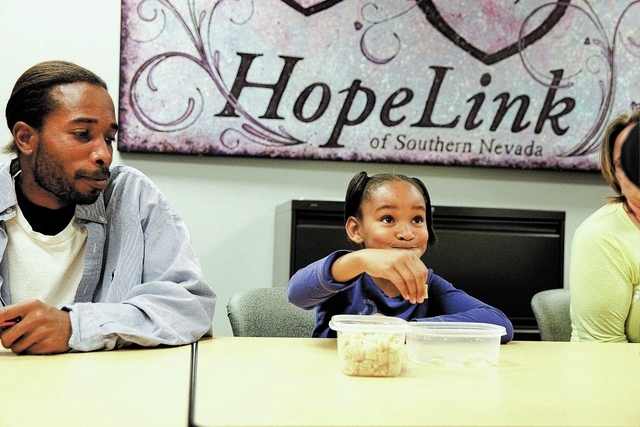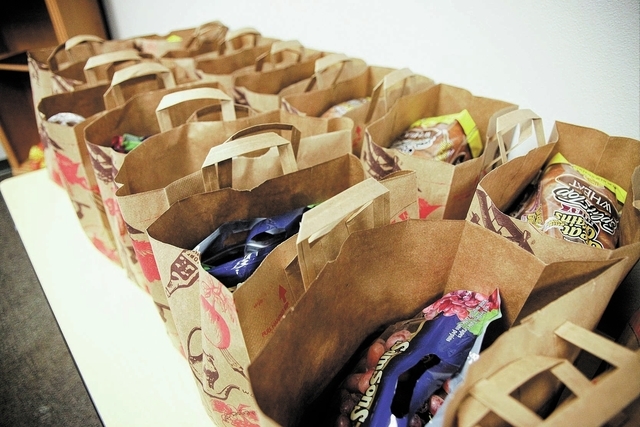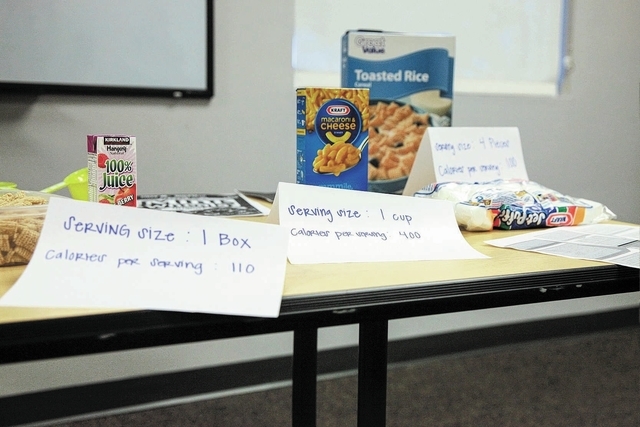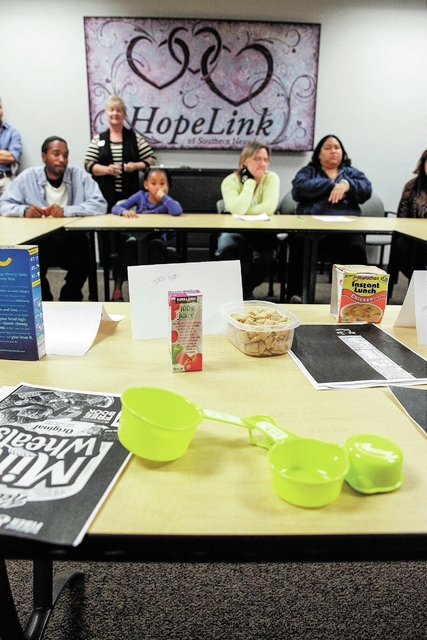 Local family resource centers across the valley have come together to fight food insecurity in Clark County.
The program the agencies have developed takes residents through an extensive process that teaches them important skills to help them transform their lives.
"We are giving them a map," said Karen Kyger, executive director for HopeLink of Southern Nevada, a Henderson-based resource center. "By the end of the program, they are able to go forward. We believe in giving a hand up."
For years, resource centers such as HopeLink, 178 Westminster Way; East Valley Family Services, 1800 E. Sahara Ave.; Olive Crest, 4285 N. Rancho Drive; and Boys & Girls Clubs of Southern Nevada's West Las Vegas location, 2850 Lindell Road; have opened up to the community to assist with resources from job and educational referrals to housing, transportation or food assistance.
Each agency caters to people in certain ZIP codes and areas of town.
Since no agency can handle the issues of the valley on its own, the organizations united to apply for a grant from Nevada's Department of Health and Human Services to focus on recurring byproducts of poverty such as food insecurity.
Kyger said Nevada is ranked 18th nationally in food insecurities.
"And this is for all ages," she said. "There are a huge amount of seniors who need help."
The grant allows the organizations to collaborate efforts and take families through an extensive training.
"In a nutshell, we work toward getting families on their feet," said Alicia Davisson, the executive director of East Valley Family Services. "We teach them how to work with a budget and make better decisions."
With funding, each agency has selected 10 families to go through a 10-week program.
The first cycle is ongoing.
The grant the organizations received, which was more than $300,000, is for two years and is expected to allow the centers to cycle in more families every 10 weeks.
During the program, participants have access to different foods, take classes on nutrition and how to prepare foods and learn the importance of shopping effectively on a budget.
Tandra Pula, who has a family of five, is one of the 10 selected to go through the program.
"We have always tried to be mindful on how to eat healthier," she said. "This program helps us do better."
Davisson said the organization's hope is that people become less dependent on food pantries.
"Not that there is anything wrong with food pantries," she said. "We are just teaching them to fish."
Andrea Michaels, director of client services with HopeLink, said the first group of people was overwhelmed with the amount of food it got.
"It was several hundred dollars worth of food," she said. "They had 10 to 12 grocery bags when they walked out of here of fresh vegetables, produce, meats, salt, pepper, soy sauce."
Kyger said families were introduced to items they had never cooked with before.
"I had one lady say she was scared to death because she had never made zucchini before," Kyger said. "They were amazed how they turned out. They were also amazed at the low cost of these meals and the different ways they can feed their families."
In weekly meetings, she added, families were given recipes to learn creative ways to cook meals and taught about the importance of things such as couponing.
"We want them to master coupons," Kyger said.
Pula said she has also learned how to price match.
She added that many families rely on prepackaged products or canned vegetables because they feel it is more cost-effective.
"But it's much more expensive," she said. "We are taking families back to the basics."
Nikkolas Jones, along with his daughter, said the program has helped him learn.
"This has been a blessing," he said. "It definitely teaches us to eat healthier."
He said without HopeLink, he would probably still be relying on fast food and quick meals to feed his family.
Kyger said families that were enrolled in Supplemental Nutrition Assistance Program, known as food stamps, would receive benefits at the first of the month but were out of food by the third week.
"This educational component teaches them how to make it work," she said.
This method not only helps families facing food insecurities stretch the budget but aids in the fight against obesity, which can lead to other costly health problems such as diabetes.
In addition to dealing with food, the training requires families to enroll children in free lunch programs, gets them to sign up for food stamps — if they haven't already — and helps with job referrals or any other paperwork that could help improve their quality of life.
Kyger said a lot of families don't realize they are eligible for the free or reduced lunch programs or food stamps so they don't apply.
"Many are overwhelmed because they don't understand the process," she said.
The resource centers help navigate them through paperwork.
Participants also meet with caseworkers on an individual bases to help determine a plan to get on their feet, whether it is addressing finances or education.
"Families let us in every aspect of their homes," said Angela Phillips, program manager of Olive Crest. "We look at the tools that could help them become self-sufficient. A lot of families want to make a change. They never had someone to teach them, and they are willing to learn."
The agencies are already screening applicants for the next cycle.
For more information on HopeLink, visit link2hope.org or call 702-566-0576.
For more information on Easy Valley Family Services, visit eastvalleyfamilyservices.org or call 702-631-7098.
For more information on Olive Crest, visit olivecrest.org or call 702-685-3459.
For more information on Boys & Girls Clubs West Las Vegas, call 702-932-1880.
Contact Henderson/Anthem View reporter Michael Lyle at mlyle@viewnews.com or 702-387-5201.