Have more than milk with that cookie at Gimme Some Sugar
November 30, 2013 - 3:50 pm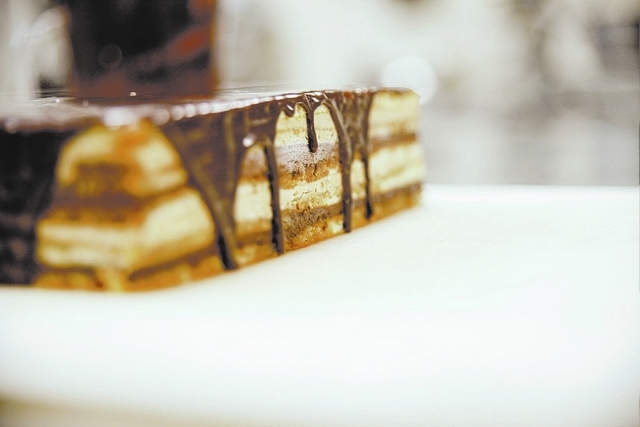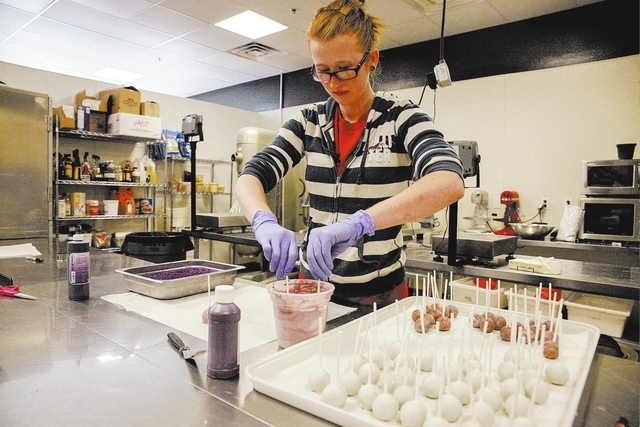 After four years of catering to Las Vegas residents' sweet tooth, Gimme Some Sugar Bake Shoppe is expanding its business model to open a wine and dessert bar in Henderson.
Whether it's with peanut butter and jelly macarons or chocolate brownies, owners Kristen LoVullo and Ashley Mastowski have been working to find the right beverages that pair with their pastries.
"It has been fun trying out different combinations," LoVullo said. "There is nothing like our brownie with a glass of red wine."
Just in time for Black Friday shopping, Gimme Some Sugar Bake Shoppe, 19 S. Stephanie St., is scheduled to open Nov. 29 in its new 1,400-square-foot facility.
The space, LoVullo said, can seat more than 50 people and could be used for anything from cocktail parties and corporate events to bridal showers and birthday parties.
Like their desserts and wines, LoVullo and Mastowski turned out to be a perfect pairing.
As a pastry chef at the Bellagio, LoVullo was the creative force and Mastowski, who has a background in business and marketing, had the entrepreneurial spirit.
They had been friends throughout college and stayed in touch after Mastowski moved to Arizona.
Occasionally, they would banter about having their own company.
During a girls' weekend to Disneyland, they kept talking about opening their own business.
But this time, it was more than typical talk. They were whipping up a plan.
They registered the business in February 2009 and by August, it was up and running.
LoVullo quit her job.
"I even convinced (Mastowski) to move up here," she added.
Coming up with a name was easy.
"Gimme Some Sugar was always a name that stuck," LoVullo said. "I didn't want my name in it. I didn't want Cakes By Kristen or something like that. However, I get quite a few cat calls (with Gimme Some Sugar) from the delivery people because of it."
Finding clients was the next challenge.
"It was scary," LoVullo said.
But the company was able to spread the word about its creations.
From wedding cakes to special events, the business took on new clients and even found its niche market making desserts for the nightclub industry.
"It fits our style," Mastowski said. "It allows us to really show our pieces off."
The company also sells pastries to various restaurants around town.
"You have probably had us and not even known," Mastowski added.
Both put in long hours trying to make the business grow.
"Nothing like working a 28-hour day," LoVullo said. "I'd rather work 100 hours a week for myself than 40 hours a week for someone else," she said.
It paid off, Mastowski said. Within two years, they were ready for their own space.
"It definitely increased our overhead," she said. "It was time. We were growing so fast."
They originally wanted a smaller space. But after discovering their current facility and seeing the size of the walk-in refrigerators, they decided to get the space.
The company cranked out cakes and other items as LoVullo ran the kitchen and Mastowski ran the business side.
Another two years went by, and they had another idea to have a spot where people could sit down and enjoy their pastries.
"It's done in so many places," LoVullo said. "New York does it. California does it. There is no place like that here."
After many discussions, the team purchased the space next door and began renovations.
The menu is designed to complement all tastes, whether people are adventurous foodies or enjoy the basics.
"A lot of our creations are inspired by childhood favorites," LoVullo said.
That includes things such as peanut butter and jelly or s'mores macarons.
"I grew up on s'mores," LoVullo said.
Seeing a rising trend in macarons, one of the planned highlights in the new shop is a macaron bar.
"Macarons are going to replace cupcakes soon (as a favorite dessert)," she said. "We make them oversized. We aren't messing around."
Even though they are scheduled to open soon, the team is already plotting its next steps, which includes looking at another location in the future.
"It could be downtown or maybe Summerlin," LoVullo said.
Gimme Some Sugar is open from 11 a.m. to 10 p.m. Tuesday and Wednesday, 11 a.m. to midnight Thursday through Saturday and 11 a.m. to 5 p.m. Sunday. It's closed Monday.
For more information, visit gimmesomesugarlv.com.
Contact Henderson/Anthem View reporter Michael Lyle at mlyle@viewnews.com or 702-387-5201.