Innovation district could make downtown Las Vegas a tech hub
February 1, 2017 - 10:42 pm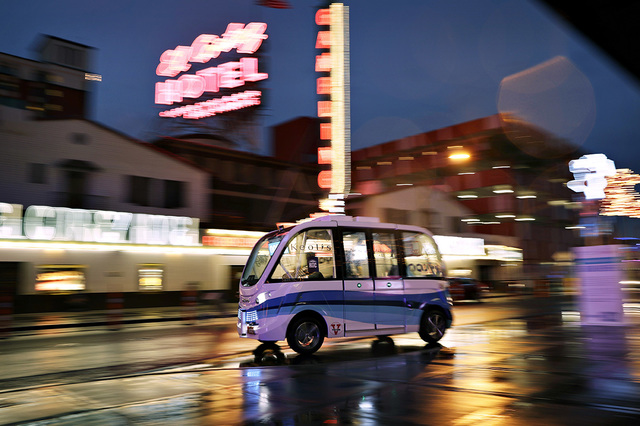 Dumpsters that signal when they're full and using a web application to reserve a parking space are among the ideas a team of city workers has pursued since a broad swath of downtown Las Vegas was designated an innovation district a year ago.
Information Technology Director Michael Sherwood assured the City Council that the technological advancements he and Public Works Director David Bowers previewed Wednesday aren't pipe dreams — many are within weeks or months of testing or launching.
"We're building a foundation for these technologies to come into our city," Sherwood said.
The city is beefing up its infrastructure, which includes 125 miles of fiber optic cable, a wireless network and a GPS base station network.
Traffic-signal optimization, control boxes at intersections to better communicate with autonomous vehicles and video analytics to do pedestrian, bicycle and vehicle counts, search for a missing child and identifying a backpack left on a sidewalk are also among the city's efforts.
Another focus of the innovation district is becoming a testing area for new technology, like last month's downtown test launch of French company Navya's autonomous electric shuttle.
Marketing the city's innovation efforts, and companies testing their technology in Las Vegas, is another focus.
"It went national, it went international," Bowers said of news coverage about the autonomous shuttle's 10 days operating downtown. "There were a lot of articles written on this, so it was amazing what it brought in."
A new section of the city's website dedicated to innovation and marketing the city to companies that might want to partner in the future, is expected to launch in the next month or two, Sherwood said.
Mayor Carolyn Goodman suggested the innovation district should be touted at McCarran International Airport to capture the attention of tourists.
"For young people coming in — millennials — this is what they want," Goodman said.
The city's information technology department unveiled its plans in December for an Amazon Echo application, a voice-controlled artificial intelligence speaker named Alexa, as part of a broader effort to allow residents to access city services in new ways.
At last month's Consumer Electronics Show "Smart Cities Hackathon," one team combined city public works data and the Amazon Echo technology to identify in real-time if street lights are functional, pull that data and produce a report.
That kind of information can help the city make better decisions about "where we deploy our limited workforce," City Manager Betsy Fretwell said.
The hope is to replicate that with similar events and work with council members to use data and technology to address problems in their wards, Fretwell said.
Contact Jamie Munks at jmunks@reviewjournal.com or 702-383-0340. Follow @JamieMunksRJ on Twitter.