K9 protective vests far from reality with weight, breathability and mobility issues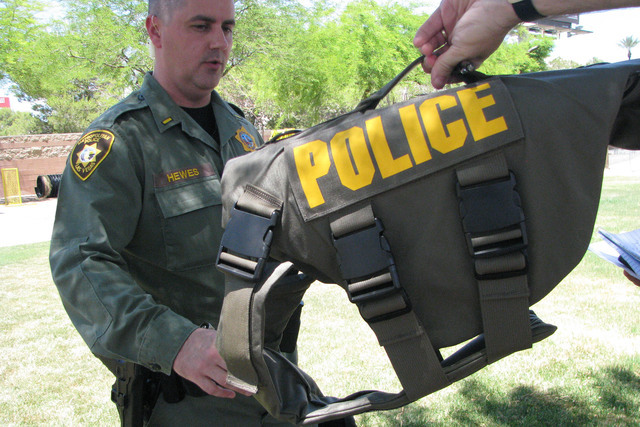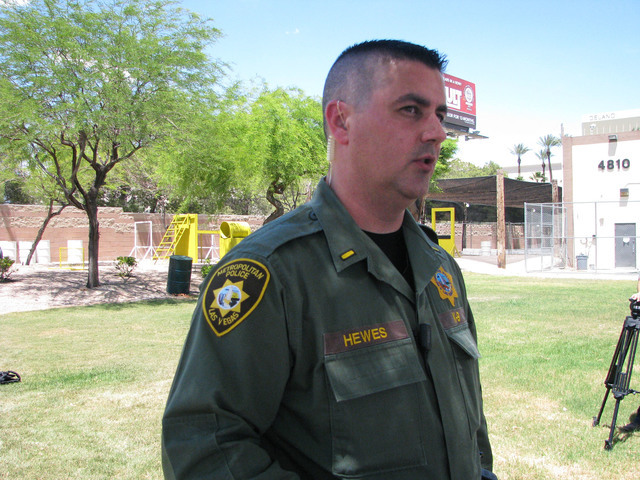 The March 31 shooting death of Metropolitan Police Department patrol dog Nicky made many in the Las Vegas Valley ask why the dog was not wearing a bulletproof vest. Some people even organized and donated money to acquire vests for the department's 19 patrol dogs. While Metro officials appreciate and understand the sentiment, they said the right vest for the job doesn't exist.
"Right now, we don't have a vest that we have found that suits our needs for continued use," said Lt. Jeff Hewes, Metro's K-9 section commander.
Most of the vests Metro has looked at weigh about 5 pounds and are made of Kevlar and other materials that don't breathe well, if at all. Even the best-cut vests inhibit the dog's movement to some extent, making the animal run slower and jump shorter. Plus, every inch of material that is removed to increase the ease of movement is an inch that doesn't provide protection from projectiles.
"Putting a vest on a dog inhibits their body's ability to regulate heat, to a certain degree," Hewes said. "Even without the vest, on a hot day, they might be able to hit (search) maybe 3 yards before the dog needs a break."
Hewes also noted concern about the long-term effects wearing a 5-pound vest might have on a dog's joints.
At a press conference on May 19, Hewes showed two models of vests that the department had been considering. Both are around 2 feet long and weigh around 5 pounds. Neither was quite what the department was looking for.
"We do have another vest on loan that we are evaluating," Hewes said. "I'll do anything to increase the safety of our dogs."
Hewes expressed gratitude over the community's interest and support and added that many — not only in the community but across the country — had reached out and asked how they could help and how they could donate money for vests. More than $4,000 was donated to Metro and the nonprofit Friends for the Las Vegas Police Department K-9s.
State Sen. Mark Manendo of District 21 spearheaded a separate fundraising effort. Rather than go through a crowdfunding site, he teamed with Erin Breen of the nonprofit Nevada Injury Prevention to collect donations.
"We just wanted to do something for a good cause in Nicky's memory," Manendo said. "We wanted to help out in any way we can. If they want to use the money for training or to help replace Nicky, that's fine. One way or another, the money will go for the dogs."
Hewes noted that bulletproof police dog vests cost $700 to $2,000 each but that the issue wasn't the cost but the effectiveness.
"I have no doubt that if we find the right vest, we'll be able to find the money for them," he said. "It's a matter of finding one that will work for this climate."
To reach East Valley View reporter F. Andrew Taylor, email ataylor@viewnews.com or call 702-380-4532.
RELATED
K9 Nicky was shot, killed by police
Suspect in Las Vegas shooting, which claimed life of K9 Nicky, dies from wounds
K9 Nicky, killed in the line of duty, laid to rest in Las Vegas
Nicky is not the first Las Vegas Metro K-9 to be killed in the line of duty