Las Vegas Book Briefs for Feb. 19-25, 2015
February 23, 2015 - 1:42 pm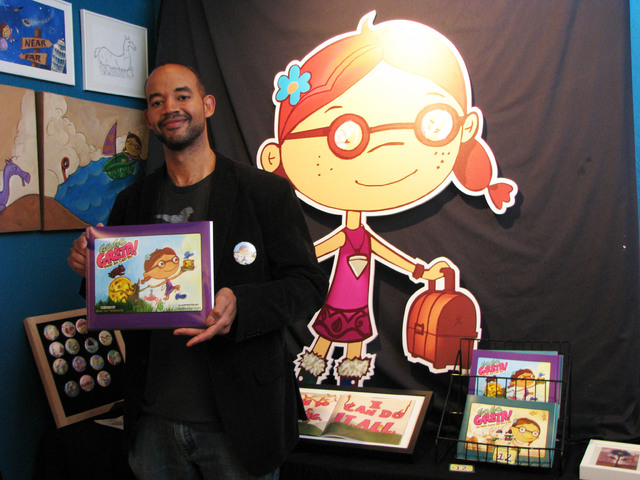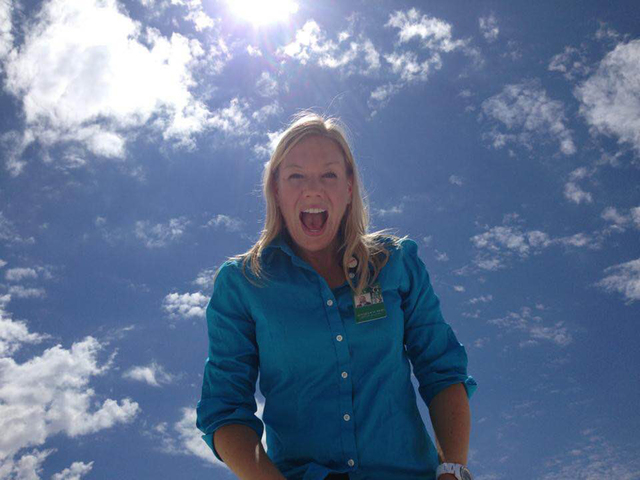 HEIDI KYSER TO SPEAK TO WRITERS GROUP
Heidi Kyser is scheduled to speak on launching a freelance writing career during a meeting of the Las Vegas Writers Group scheduled for 7 p.m. Feb. 19 at the Tap House, 5589 W. Charleston Blvd. Kyser is a staff writer for Nevada Public Radio's Desert Companion magazine, but from 2010 to 2012, she made her living as a freelancer. A $5 meeting fee is charged. For more information, visit meetup.com/las-vegas-writers.
S.P. GROGAN TO LAUNCH TIKI NOIR NOVEL
Local author and Las Vegas Arts Commission chairman S.P. Grogan is slated to launch his new tiki noir novel, "Atomic Dreams at the Red Tiki Lounge," from 6 to 9 p.m. Feb. 19 at The Writer's Block, 1020 Fremont St. The book, featuring cover art by Brad "Tiki Shark" Parker, is a historic action romance set in 1946 Honolulu. Atomic Liquors, 917 Fremont St., is set to offer retro Tiki cocktails found in Grogan's novel Feb. 19-21. For more information, visit spgrogan.com.
BLACK MOUNTAIN INSTITUTE PLANS LITERARY EVENTS
Literary events planned for the Black Mountain Institute's 2015 winter and spring season include "The Miniature Wife and Other Stories" author Manuel Gonzales speaking at 7 p.m. Feb. 19 at the Greenspun Hall Auditorium at UNLV, 4505 S. Maryland Parkway; Jamaica Kincaid and Caryl Phillips in a discussion titled Crossing the Black Atlantic on how each examines the Caribbean diaspora, the history of the Atlantic slave trade and questions of racial and national identity in their work at 7 p.m. March 19 in the Philip J. Cohen Theatre in the UNLV Student Union; poet, editor, painter and filmmaker Richard Siken speaking at 7 p.m. April 30 in the Greenspun Hall Auditorium; and Easy Rawlins mysteries series author Walter Mosley delivering a Jim Rogers Contrarian Lecture on higher education at 7 p.m. May 7 in the Student Union Ballroom.
For more information, visit blackmountianinstitute.org.
AUTHOR PLANS BOOK EVENT AT HOFBRAUHAUS
"Tales From The Silver State II" author Barb Wolfe plans to offer autographed copies of her book from 4 to 7 p.m. Feb. 20 at Hofbrauhaus Las Vegas, 4510 Paradise Road. A cash bar and free refreshments are planned Books will be $10.
LOVE FOR LITERACY FESTIVAL SLATED FOR FEB. 21
The third annual Love for Literacy Festival is slated for 10 a.m. Feb. 21 at the West Las Vegas Library, 951 W. Lake Mead Blvd. Launched by local author and gallery owner Dana Satterwhite and artist and illustrator Joseph Watson, the event is designed to get kids excited about literacy, writing and illustration. For more information or to sign up as a volunteer or sponsor, visit loveforliteracylv.com.
AUTHOR/SCREENWRITER PLANS BOOK EVENT
A book signing for "Edison's Alley," book two in Neal Shusterman's Accelerati Trilogy written with Eric Elfman, is scheduled at 6 p.m. Feb. 20 at the 2191 N. Rainbow Blvd. Barnes & Noble. Shusterman created scripts for the "Goosebumps" and "Animorphs" television series and wrote the Disney Channel original movie "Pixel Perfect." For more on the author, visit storyman.com.
BOOK LAUNCH SLATED FOR 'NAUGHTY GIRL'S GUIDE TO LAS VEGAS'
Sienna Sinclaire plans a book launch party for her "Naughty Girl's Guide to Las Vegas" at 9 p.m. Feb. 20 at Sapphire Gentlemen's Club, 3025 S. Industrial Road. Sinclaire is also the author of the "Naughty Girl's Guide to Los Angeles." For more information about the guide books, visit naughtytravelguide.com.
WOMEN'S RESEARCH INSTITUTE TO HOST BOOK DISCUSSION
UNLV historians, archivists and some of the subjects of "Changing the Game: Women at Work in Las Vegas, 1940-1990," a book by Women's Research Institute of Nevada director Joanne Goodwin, are scheduled to participate in a free panel discussion at 1 p.m. Feb. 21 in UNLV's Lied Library, 4505 S. Maryland Parkway.
Parking on campus is free on Saturdays. Admission is free, but space is limited, and those wishing to attend are asked to RSVP at 702-895-2277 or library.unlv.edu/wrin-rsvp.
SIGNING SLATED FOR 'ERDEN FLAME OF THE CREATOR'
Phillip Cook plans to sign his book "Erden Flame of the Creator" at 1 p.m. Feb. 21 at the 567 N. Stephanie St. Barnes & Noble.
ANNIE MEADOWS PLANS BOOK RELEASE EVENT
Singer and songwriter Annie Meadows' book "Homer The Library Mouse" is set to be released with an event from 2 to 4 p.m. Feb. 22 at the 567 N. Stephanie St. Barnes & Noble. The book, the fifth in her series for children, teaches readers to never give up their hopes and keep on dreaming. For more information, visit anniemeadows.com.
ROBYN CARR TO RELEASE 'ONE WISH'
Henderson best-selling romance novelist Robyn Carr is slated to release "One Wish," the newest book in her Thunder Point series, Feb. 24. Carr also plans to re-release her 2006 novel "Never Too Late" March 31. For more information, visit robyncarr.com.
DOCTOR PLANS SIGNING FOR RUNNING BOOK
Dr. Donald A Ozello DC of Championship Chiropractic plans to speak and sign copies of his book "Running: Maximize Performance & Minimize Injuries" at 5 p.m. Feb. 24 at Whole Foods Market, 7250 W. Lake Mead Blvd.
BANK TEAMS WITH BOOKSTORES FOR SCHOOL DONATIONS
Jydstrup, Paradise, Dailey and Watson elementary schools were among the recipients of 65,000 new books distributed to more than 33 schools in four states thanks to a holiday book drive launched by City National Bank and Barnes & Noble. For more information about the bank's literacy efforts, visit readingisthewayup.org.
HIKING AUTHOR PLANS PRESENTATION
Branch Whitney, author of "Hiking Las Vegas," plans to share his expertise at 6 p.m. Feb. 25 at the Centennial Hills Library, 6711 N. Buffalo Drive. For more information, visit lvccld.org.
'WESTSIDE SCHOOL ALUMNI STORIES' AUTHOR TO SPEAK
Author Brenda Williams plans to talk about her book "Westside School Alumni Stories: Our School, Our Community, Our Time (1923-1967)," a collection of firsthand experiences and photographs from former students, teachers and employees of the historic school, from 1 to 3:30 p.m. Feb. 28 at the West Las Vegas Library, 951 W. Lake Mead Blvd. Williams is slated to be joined by several contributors, including co-author Tisha Harris. For more information, visit lvccld.org.
'TUSKEGEE LOVE LETTERS' BRINGS BOOK TO THE STAGE
Based on a book by Kim Russell, the play "Tuskegee Love Letters" is slated to be presented at 7 p.m. Feb. 28 at the West Charleston Library, 6301 W. Charleston Blvd., followed by a book signing and discussion. For more information, visit lvccld.org.
SIGNING SET FOR FRONTIER NOVEL
Robert Lee Murphy is set to sign copies of his historical frontier novel "Eagle Talons, The Iron Horse Chronicles — Book One" from 1 to 3 p.m. Feb. 28 at the 567 N. Stephanie St. Barnes & Noble. For more information, visit robertleemurphy.net.
AUTHOR TO TEACH WRITERS TO REVISE
Moriah Densley, author of the Rougemont historical romance series, is set to present a program titled How To Revise Like a Pro during a meeting of the Las Vegas Romance Writers scheduled from 10 a.m. to noon March 21 at the Green Valley Library, 2797 N. Green Valley Parkway. For more on the event, visit lvrwa.org.
MAC KING TO SWAP SHOW TICKETS FOR BOOK DONATIONS
Comedy magician Mac King is offering incentives to encourage book donations throughout February for his annual Magical Literacy Tour. This year's partners include the YMCA of Southern Nevada, The Toy Box in Downtown Summerlin, Egg Works and Egg & I restaurants and Splashville.
Donate three or more new or gently used books and get a free pair of tickets to the Mac King Comedy Magic Show at Harrah's Las Vegas. Drop off books at any area YMCA and get a free one-week family pass. Visit lasvegasymca.org for locations. Drop books off at The Toy Box, 1980 Festival Plaza Drive., No. 175, and receive 15 percent off any one regular-price item. Drop books off at Splashville, a paint-your-own pottery shop at 9700 W. Tropicana Ave., and get 20 percent off any purchase. Drop books off at any Egg Works or Egg & I restaurant and get half off a second entree. For locations, visit theeggworks.com. Books can also be turned in at Preferred Public Relations, 2630 S. Jones Blvd. King plans to distribute books to children in at-risk schools during Nevada Reading Week, March 2-6. For more information, visit facebook.com/mackingshow.
NEVADA STATE MUSEUM COLLECTING PHOTOS FOR BOOK ABOUT THE HISTORY OF NORTH LAS VEGAS
The Nevada State Museum is looking for photos for a book about the history of North Las Vegas.
Photos are sought that document regular life and special events, from family barbecues to award ceremonies, or show what the city looked like back in the day. Photographs from the 1930s and 1940s are of particular interest.
Museum professionals are set to scan photographs, and the originals will remain with the donors.
For more information, call Crystal R. Van Dee at 702-822-8751.
POETS CAN SEEK FEEDBACK AT 5/5+
Poets are invited to share original work for five minutes followed by attendees offering comments for five minutes during 5/5+, a workshop series put on by Nick Marco, Lana Hanson and Lee Mallory, scheduled every two weeks at BooksorBooks, 3460 E. Sunset Road, Suite R. The next session is planned from 3 to 5 p.m. Feb. 28. For more information, call 702-754-5971, email jtjmarco@live.com, raisewomenup@gmail.com or leewmallory3@gmail.com or search for 5/5+ on Facebook.
POP-UP POETRY SERIES SLATED
The Las Vegas Poets Organization, in conjunction with Nevada Humanities, plans to present a monthly series in the 18b Las Vegas Arts District every First Friday at the Nevada Humanities offices at Art Square, 1017 S. First St. Each month featured poets are to be scheduled to present a reading from their works at 7 p.m. Next up are James Joseph Brown, Gregory Robinson and Joan Robinson on March 6. For more information, visit lasvegaspoets.org.
FREE CREATIVE WRITING WORKSHOPS PLANNED AT LIBRARY
A free Creative Writing @ Your Library series is scheduled from 10 to 11:30 a.m. on the second and fourth Tuesdays of the month at the Gibson Library, 100 W. Lake Mead Parkway. Writers 18 or older are encouraged to participate and share.
Members of the Henderson Writers' Group are slated to facilitate workshop sessions on a variety of topics, including poetry on Feb. 24, novels and short stories on March 24, memoirs on April 14, screenwriting on April 28, editing your own work on May 12 and publishing options on May 26.
For more information, visit mypubliclibrary.com.
The Henderson Writers' Group also plans to host its 2015 Las Vegas Writer's Conference April 23-25 at Sam's Town, 5111 Boulder Highway. For more information, visit lasvegaswritersconference.com.
UNLV WRITERS WELCOME ALL TO NEON LIT
Neon Lit, a public reading featuring writers from UNLV's Master of Fine Arts and Ph.D. writing programs, is scheduled the fourth Friday of most months at The Writer's Block, 1020 Fremont St., No. 100. For more information, visit neonlit.org.
AUTHOR JENNIFER DEBS PLANS SESSION
Jennifer Debs plans an author session at 2:30 p.m. March 8 at the Sahara West Library, 9600 W. Sahara Ave.
Debs is the author of author of "Back in Two Weeks," about her experiences in the Air Force and being deployed overseas.
For more information, call Marcela Chiarandini at 702-507-3631.
DATES SELECTED FOR 2015 VEGAS VALLEY BOOK FESTIVAL
The 2015 Vegas Valley Book Festival is set for Oct. 15-17. Authors and volunteers interested in participating can register at vegasvalleybookfestival.org/2015-interest-form. Submissions will be taken through March 31. For more information, visit vegasvalleybookfestival.com.
SCIENCE FICTION AND FANTASY GROUP UNDERWAY IN LIBRARY
Readers, writers and editors of science fiction and fantasy are invited to check out a new group scheduled to meet at 2 p.m. Saturdays in meeting room two at the Green Valley Library, 2797 N. Green Valley Parkway. For more information, call 702-334-0204.
BARNES & NOBLE TO HOST WRITING GROUP
The 2191 N. Rainbow Blvd. Barnes & Noble plans to host a writing critique group at 5:15 p.m. the fourth Monday of each month. The group is limited to the first 20 participants per meeting. Sign up at meetup.com/las-vegas-creative-writing-class.
ALIANTE LIBRARY TO HOST WRITERS CLUB
The Aliante Library Writers Club is scheduled to meet from 5:30 to 7:30 p.m. the first and third Tuesday of each month at the Aliante Library, 2400 W. Deer Springs Way. For more information, email facilitator Glory Wade at glorywadewriter@gmail.com.
SHARE POEMS AT HUMAN EXPERIENCE
Polish up a poem or two and try them out at Human Experience, a free spoken word event scheduled from 7 to 9 p.m. Mondays in The Beat Coffeehouse inside Emergency Arts, 520 Fremont St. For more information, visit lasvegaspoets.org.
ARTS CENTER TO HOST POETS CORNER
The West Las Vegas Arts Center, 947 W. Lake Mead Blvd., plans to host poets corner readings with Keith Brantley at 7 p.m. the first and third Friday of each month. For more information, call the center at 702-229-4800.
LIBRARY CAN BENEFIT FROM AMAZON PURCHASES
At no cost to you, purchases made at amazon.com can help the Las Vegas-Clark County Library District. The district benefits not only when you buy books but also movies, CDs, electronics, appliances and more. To start, visit wowbrary.org/lasvegas and the online retailer will donate roughly 7.5 percent of your purchases to the district.
For more information, email ask@lvccld.org or call the Virtual Library section at 702-507-6300.
FREE READ TO ME PROGRAM OFFERED
Celebrity storytellers Oscar Goodman, Rita Rudner, Clint Holmes, Terry Fator, Carrot Top, The Scintas and others have donated their talents to the Clark County Education Association Community Foundation's Read To Me program. Children can view more than 15 videos of celebrities reading books on the website at readtomelv.com. Stories also can be accessed by calling 702-240-2665. Both databases are frequently updated with fresh stories. Parents and teachers can download lesson plans for each book on the website.
HENDERSON WRITERS GROUP MEETINGS SET
The Henderson Writers Group plans to meet from 6:30 to 8:45 p.m. Mondays in Room C-2 at Community Lutheran Church, 3720 E. Tropicana Ave. Meetings are typically canceled on holidays. For more information, visit hendersonwritersgroup.
MEMOIR-WRITING WORKSHOPS SLATED
An ongoing series of free four-week memoir-writing workshops is scheduled at noon Wednesdays and 10 a.m. Fridays at the Las Vegas FamilySearch Library, 509 S. Ninth St. Four-week sessions are set to begin the first week of every month. For more information, call 702-382-9695.
ACCESS RECORDED BOOK PROGRAMS ONLINE
Too busy to get out to book programs? The Las Vegas-Clark County Library District posts videos and podcasts of many of its programs online. Selections available include: "An Afternoon with Tony Curtis," John L. Smith's presentation "Amelia's Long Journey: The Challenge of Writing What You Know," "Batman" movie producer Michael Uslan's presentation at the 2009 Vegas Valley Comic Book Festival, Jami Carpenter's "ABCs of Editing" workshop and Brian Rouff's "Getting Published: A Long Strange Trip." To access the programs, visit lvccld.org, select "Books, Movies & More" and then "Video and Podcasts."
The Black Mountain Institute has offered recordings of its programming since 2006. To access recordings of a gamut of writers from E.L. Doctorow to Alissa Nutting, visit blackmountaininstitute.org and select "multimedia."