Las Vegas camp for children with sight disabilities lets them have summer fun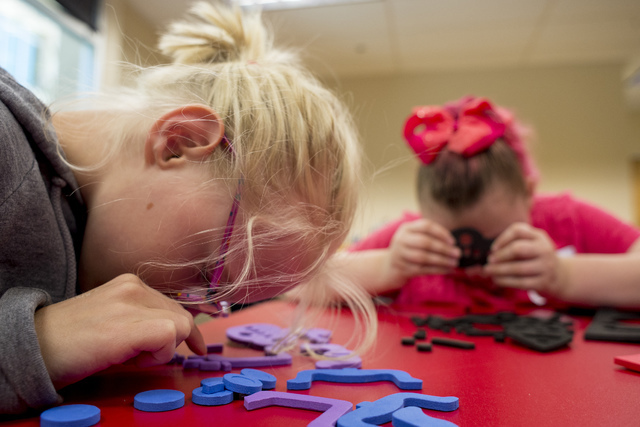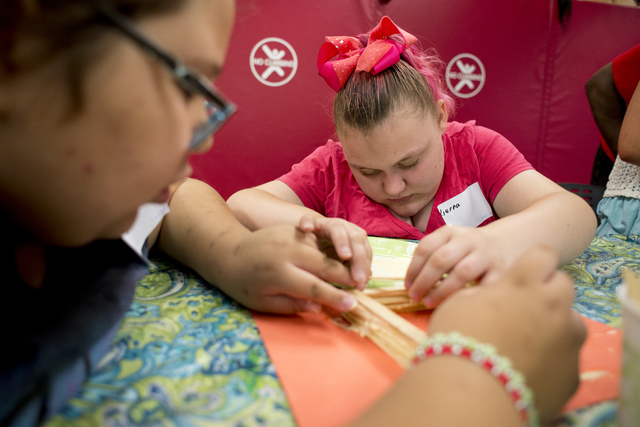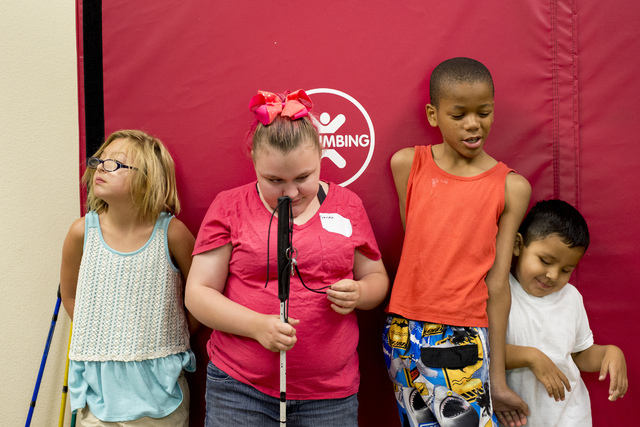 Working together, Christian Lowe and Kristlynn Allison dipped Popsicle sticks into a plate of liquid glue.
"We're making a four-story castle!" Kristlynn, 8, cheered, as she lifted the stick in the air before carefully placing it on the small square structure they were making.
At the Nevada Blind Children's Foundation office, a group of kids are spending their summer together, doing activities with other kids with vision disabilities.
"Our motto here is 'All things. Do all things," said Emily Smith, executive director of the foundation. "It's about making sure they have what their sighted peers have."
The day camps run for one week for two weeks of the summer, from 9 a.m. to 4 p.m. daily. The camp works with parents, offering early bird dropoff as early as 7:30 a.m. and night owl pickup as late as 5 p.m. It debuted last year and started up again as a way to offer children with visual impairments a traditional summer.
The camp offers the youths a place to be with other kids who use canes and where their vision impairments are normal. They go on field trips, work on projects, and play adjusted sports, like human foosball, where the campers line up on a field, with PVC pipes by their sides, and play with a ball that jingles.
On a recent Thursday morning, the younger campers worked on their Popsicle towers. The ninth-through-12th grade kids were at Opportunity Village as part of their leadership training, helping its clients prepare for their Christmas show.
Within the walls of the office, the children worked in teams to construct a tower that would hold up a cup of water. Duo Christian and Kristlynn got a little carried away, using up their 50 Popsicle sticks before making the ceiling. But they used a few more to finish it off.
"Enjoy the glue, Peri!" Christian teased, poking a volunteer's arm with a finger coated in glue.
Christian, who also goes by his camp name, "Captain L," is a regular at the foundation's office. He'll be attending middle school next school year, but it's not something he wanted to think about during summer vacation.
"The only days that are important to me are Wednesdays and Fridays," he said. "I love the days we have field trips!"
In the background, Kidzbop versions of pop songs played. Christian sang along, noting that the kids sounded nothing like the artists.
His sister, Katana Overby, is a counselor for the camp. She said her younger brother's personality is unique.
The 18-year-old, who has no vision in her left eye, said she loves working with the kids, especially at a camp where their disabilities don't stop them from having fun.
"They all have smiles on their faces. They're all happy. And that makes me happy," she said.
Smith said the camp offers an alternative summer camp for kids who otherwise wouldn't be able to attend summer camps.
"This is a great opportunity for our kids to come together and find that comfort. It's important that they have what every other sighted kid has," she said. "Without this, the chances are, they're sitting at home alone."
Along a wall, a board lists the jobs of the campers. There's an attendance taker and a clean-up captain, all of which are important to help teach the campers skills they will one day use for their jobs, Smith said.
"For the kids who can, there should be no reason they won't," she said.
After a short break, as the Popsicle towers dried, the kids began making monster bugs out of foam pieces.
Paul Hernandez, whose camp name is "The Riddler," made a foam green cricket with red eyes. He said he enjoyed the field trip days as well.
For one field trip, the group visited Lake Mead, where they learned about plants and animals. Paul said he learned about a plant with leaves that smelled of rain when crushed.
"I thought it was cool," the 11-year-old said, adding that he enjoys the smell of rain.
Around noon, the anticipated "water time" arrived. It was a chance for the campers to douse their counselors in water, one they took a great pleasure in.
"I don't like getting wet, but I liked getting other people wet," Paul said with a grin.
"Hey Smiley, are you read to get soaked?" Christian asked camp counselor Herald Hicks, whose camp name is "Smiley." He smiled, despite Christian's threat.
"No, I'm not ready, but let's go," he said, already accepting his fate.
Out in the parking lot, the kids and counselors armed themselves with water guns that doubled as canes.
As soon as the go ahead was given, shrieks of joy filled the air as jets of water drenched campers and counselors alike.
The campers were ruthless, and by the end of it, the counselors were soaked from head to toe.
Alexis Hilpipre, 29, who was a camp counselor last summer, returned as assistant camp director.
"It's just incredible to see how happy these kids are," she said. "They can all come together, and they have all these experiences."
On the first day, Hilpipre said the campers are shy. But by day two, they all jump in on activities.
Earlier in the week, they worked in teams as they created an environment for their "rabbits," which they created out of washcloths. The habitats were constructed out of recycled boxes and cans, and the goal was to create a home for the rabbit that would survive rain and sunshine.
Activities range from arts and crafts to STEM-based, Smith said. The loss of sight may set the kids back, but the foundation works to help them.
"We are it for the kids," Smith said. "This is their only option." Nevada is one of a few states that doesn't have a school for blind children. "If it's out there for us to do, we're gonna do it."
The camp costs $50 a week per camper and offers financial aid. Call the foundation at 702-735-6223 or visit nvblindchildren.org.
Contact Melissa Gomez at mgomez@reviewjournal.com or at 702-383-0278. Follow her on Twitter @melissagomez004.
Nevada Blind Children's Foundation Summer Camp
The camp costs $50 a week per camper and offers financial aid.
Call the foundation at 702-735-6223 or visit nvblindchildren.org.