Las Vegas hypnotherapists say they take subconscious route to help alter behavior
September 15, 2016 - 5:00 am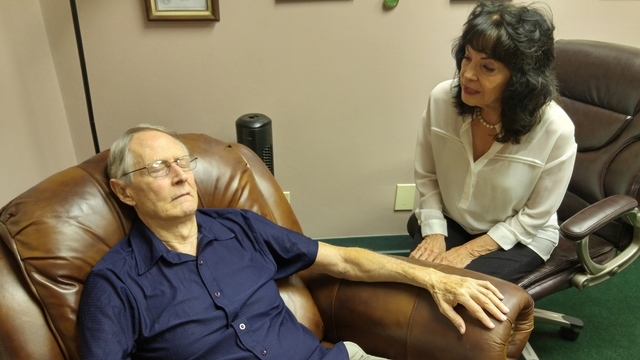 When she was younger, Juanita Curiel's dream was to, one day, record a song in Los Angeles. Only Curiel's fears where holding her back.
As a background singer for Wayne Newton, she sought the help of a hypnotherapist in Las Vegas. Curiel said it took a couple of sessions where she was told repeatedly under hypnosis that she would succeed and achieve her goals. Soon, she gained self-confidence and later joined a musical group, Hot, whose single "Angel in Your Arms" became No. 6 on the Billboard charts.
Seeing the power of hypnotherapy, Curiel later decided she would make a career out of it.
Layne Keck, founder and instructor at Capstone Institute of Hypnotherapy, 612 S. Jones Blvd., said many hypnotherapists have similar positive experiences with hypnotherapy that motivated them to join the field.
Hypnotherapists are similar but unrelated to stage hypnotists who induce people into hypnosis using a pendulum. Instead, hypnotherapists help their client reach a goal using the subconscious part of the brain, which can best be accessed during a state of hypnosis when the mind is relaxed and alert but not asleep.
Keck said to become a hypnotherapist, people don't necessarily have to have a medical or psychological background.
In Nevada, hypnotherapists need three things to run their practice: training from an accredited postsecondary institute; membership to a hypnotherapist group; and a business license.
Curiel has been practicing hypnotherapy in Las Vegas for 20 years and said she sees positive results in her clients.
"In our daily human life, we have stuff come up every day, so why not use a technique that will help you navigate with ease?" Curiel said.
Curiel and Keck's mentor, Helen Baucum, said that hypnotherapists get clients from the bottom of the barrel, as most have gone to all sorts of doctors before coming to their office.
Lisa Watson had smoked for 44 years and tried to quit on her own before she stepped into Curiel's office, Consulting Hypnotherapy of Nevada, 4045 Spencer St., Suite B22A. She said it took one session and listening to a CD the hypnotherapist gave to her.
"I think it worked for me because I dug a little deeper instead of just changing habits," Watson said. "I'm not saying it's guaranteed for everybody, but it's definitely worth a try."
Hypnotherapist's clients often come for help with things such as phobias, relationships and weight loss. Curiel said that while regular therapy uses problem-solving skills through the conscious mind, hypnotherapy involves the subconscious mind.
Keck describes the subconscious mind as the part of the brain that associates and reacts from an emotional point and associates habits with emotional memories. Instead, Curiel acts like a guide through her client's subconscious. While they are in that induced state, the hypnotists repeatedly makes suggestions that include positive reinforcement.
"We get to the emotional root of what is keeping the client from achieving their goal," Keck said. "We pull the weeds, and plant new seeds into their mind."
When clients leave Curiel's or Keck's office, it's their choice whether they want to go along with their suggestions to reach their objectives.
"Although, in a way, I wish it was like that," Curiel said. "I wish they could come in here, and I could say, 'You are never going to smoke again,' but we don't control them."
Curiel said unlike drugs that cause physical reactions soon after taking them, hypnotherapy requires a subtle buildup within the subconscious mind. The process could take days and multiple sessions.
"People walk in here with dark gloomy clouds over their head, and when they walk out, they're beaming, they're shining, and they realize the power that they have," Curiel said.
Sessions with Curiel start at $85 an hour and are available by appointment. Call 702-245-2805.
For information on the Capstone Institute of Hypnotherapy, visit capstonehypnotherapy.com or call 702-595-8588.
Consulting Hypnotherapy of Nevada
Address: 4045 Spencer St., Suite B22A
Information: Sessions start at $85 an hour and are available by appointment. Call 702-245-2805.
Capstone Institute of Hypnotherapy
Address: 612 S. Jones Blvd.
Information: Visit capstonehypnotherapy.com or call 702-595-8588.