Las Vegas residents join Little Free Library movement to spread literacy
December 18, 2015 - 10:14 am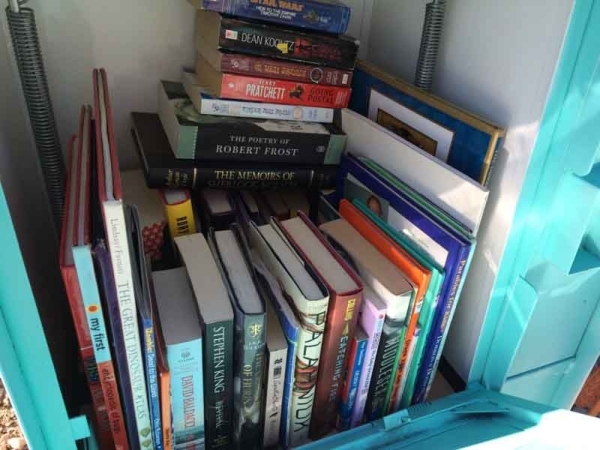 The concept of Little Free Library is simple: take a book, return a book. It's a free book exchange that operates on the honor system.
You see them popping up around town: small boxes, usually set atop a sturdy pole, that open up to reveal a plethora of books. Most Little Free Libraries are placed in front yards, parks, gardens and easily accessible locations. The boxes are built to withstand the elements and hold 20 to 100 books. Some are located in coffee shops and in or near restaurants and community centers.
There is one at 7263 Washburn Road.
"It was my Christmas present," said Margo Bartlett Pesek, whose travel column appears Sundays in the Las Vegas Review-Journal.
She said she'd read about the Little Free Library effort somewhere and thought it would be a good idea to host one. She is a voracious reader and has many books.
"My whole family and all my friends read, so we trade books back and forth," she said. "Now, I stock them in there."
Her daughter, Stephanie, built the house. It went up about April 2014. Pesek made up fliers and put them on her neighbors' doorsteps to help get the word out.
She said she'll peer out her windows and see a car out front every so often, someone there to pick up and leave off books.
"I have a few people who stop and trade out things. There's a policeman who stops by a lot," she said. "One woman stocked the whole thing with V.C. Andrews books. There were so many, I've got a whole flat of them to take to Goodwill. Of course, once in a while, the missionaries will come by and leave the Book of Mormon in there."
Pesek said she was not out to give it a political or religious bent, calling herself the "librarian" who got to choose what it contained. She said that the idea was simply to share books with other readers.
"I just want it to be a friendly service for people to trade books back and forth," she said.
The grass-roots effort currently has about a dozen Little Free Libraries across Las Vegas. As of September, there were more than 32,000 registered in all 50 states and 70 countries.
Todd Bol, the movement's founder, credits the fast growth to the grass-roots basics at its core. He put up the first Little Free Library in honor of his mother, June, soon after her death in 2009. He used his background in international business development to bring it to market.
"The concept of coming together on literacy to make it work better for all of us is a giant 'we,' without having an author. Most movements are political or religious or whatever … the movement is really moving itself. It pulls us together as a community," he said.
Bol said holding a book will never be replaced by electronic means of reading books.
"You can read a Kindle and enjoy a Kindle, but you can't really hug one," Bol said. "It's a tactile experience."
On Oct. 30, Katie Krikorian unveiled her own Little Free Library at 4004 Dale Evans Drive, near Rainbow Boulevard and Alexander Road. She said that she wanted to host one for people who didn't have access to city libraries or book stores. She works part time at Our Lady of Las Vegas Catholic School at Alta and Rancho drives, teaching pre-kindergarten and kindergarten technology. She called herself a lifelong bookworm type.
"I try to pass them on as soon as I finish them," she said of the books. "I'm part of a book club, and we exchange books, so I'm (used to) passing them on."
Her Little Free Library is a former Las Vegas Review-Journal newspaper stand that she acquired for about $20 and refashioned. She could have gone with the more common type, a wooden box-like structure on a post.
"You can purchase them online, and they'll ship them to you, but I wanted to do something a little bit different," she said.
Online, the kits start at $150 and come in a handful of styles such as Amish, Red Roof and Maple Leaf. They go up to $375.
Krikorian spent the summer refashioning her newspaper stand to transform it into a Little Free Library. She filled it with roughly 30 books and has several boxes ready with new stock should it run out. She said she plans to keep a variety of tomes available: nonfiction, thrillers, romance books and even children's books.
"A lot of the Las Vegas Little Libraries don't have children's books," she said, "so we're going to have a pretty good supply of those."
Krikorian said that planning her library led to ringing doorbells.
"It's an opportunity to talk to neighbors who I had not met previously, so it's helped me make a few new friends in the neighborhood." she said. "I asked them what kinds of books they liked, how many children they had and what ages, and that kind of thing. People are really excited about it, and some remarked they'd considered doing it themselves but hadn't had a chance to."
"Over 200,000 books are being exchanged each day around the world," Bol said. "We'll soon pass McDonald's, delivering more books than burgers."
Visit littlefreelibrary.org or call 715-690-2488.
— To reach Summerlin Area View reporter Jan Hogan, email jhogan@viewnews.com or call 702-387-2949.