Las Vegas self-defense instructor, 78, provides vital lessons for all ages
August 27, 2016 - 9:01 am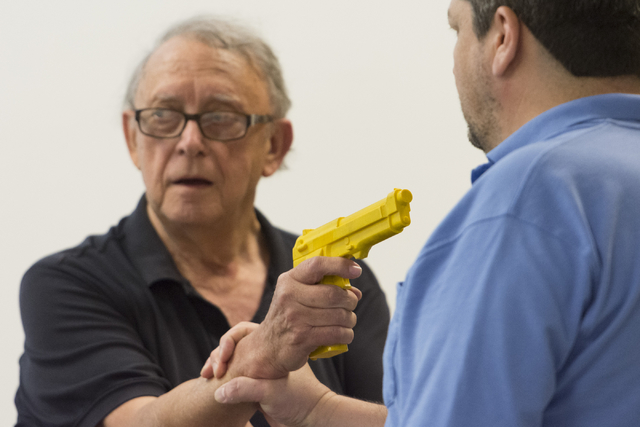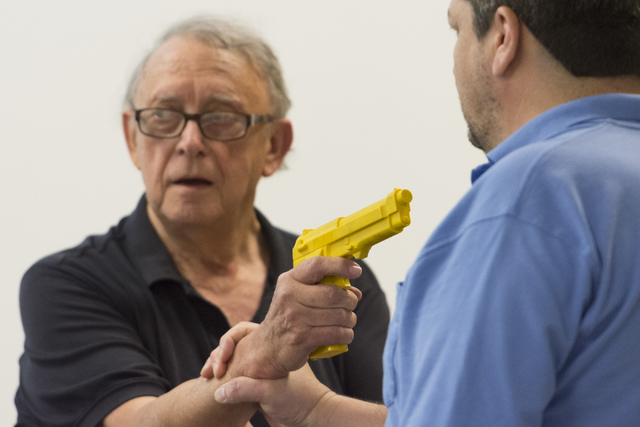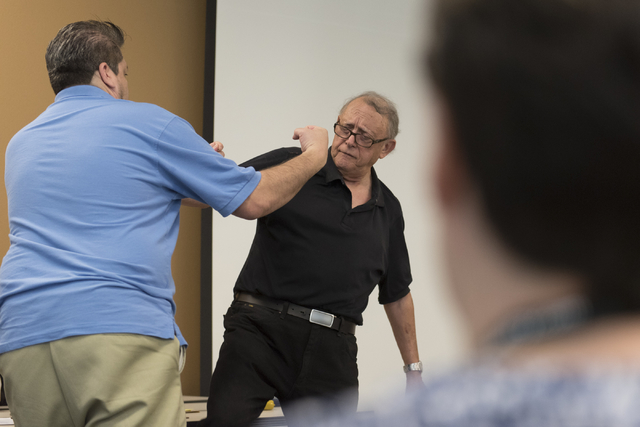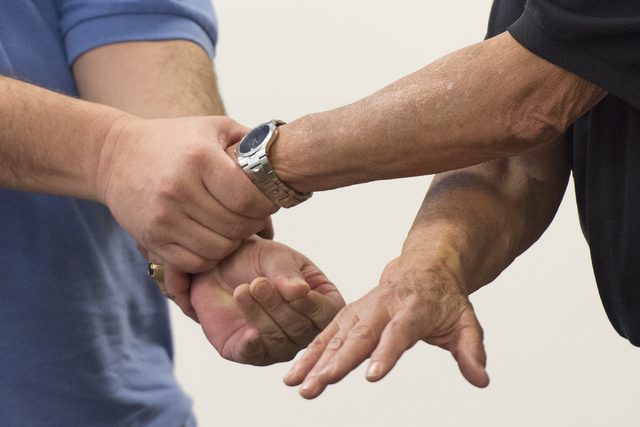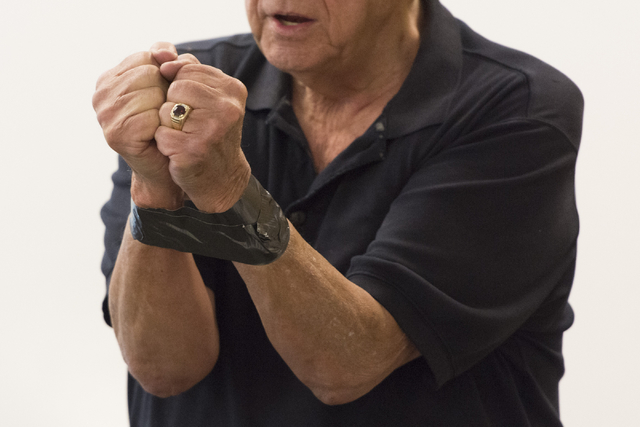 When I first called Roland Rogers, his pleasant South African accent surprised me.
Two days later, I strangled him in his kitchen.
Rogers, 78, teaches free self-defense classes at community centers. He developed a program about 12 years ago that, he says, utilizes basic moves anyone at any skill level can use.
During that first phone call, we spoke for about 20 minutes about his love for teaching self-defense to what he calls the "soft targets" of society — meaning elderly people, women and children.
"It's just something that I'm passionate about," he said.
He's turned his program into a DVD called "Survival One." After some lackluster sales, Rogers started distributing them at his workshops.
He accepts $10 donations in exchange for the videos, a cat-shaped self-defense keychain and an instructional booklet. Anyone who doesn't want to pay can have the items free.
The South African native has a first-degree black belt in Shotokan Karate, a martial art he took up in his late 20s.
He said anyone could use the moves he developed to incapacitate anyone who was younger, faster and stronger than the person who was using the technique. I was skeptical.
I called Roland back the next day and asked if we could meet up to talk. He mentioned that his wife was out of town, so we could have some space to go over a few self-defense techniques in his home.
I strolled up to his home in a tidy gated community and noticed a small security camera on his front porch.
It's part of living in the "yellow code," what Rogers calls a relaxed state of awareness of your surroundings. Rogers said he stays in the yellow to always be prepared to get to safety. The idea is if you're aware of your surroundings, you will sense danger before it ever hits you.
Most of Rogers' class focuses on the codes of awareness. He said most people live in the white code, which is no awareness. The next step is yellow, and then orange.
And if you have to cross over to red?
"You're screwed," he said. It's fight or flight, according to Rogers.
I rang his doorbell, which sent his two dogs into a barking fit. After he settled them down, he opened up for me.
We sat at his kitchen table. One of his wooden chairs was broken from practicing getting out of being duct taped to it. It didn't take long to start talking technique.
He told me some of the moves were potentially lethal.
The first thing he showed me was how to crush a trachea. You don't need to make a full fist when you go for the throat jab. A full fist would be hard to aim just right to hit the trachea. You have to curl your fingers and squeeze your thumb and little finger in, making sure the knuckles are tight.
He took a couple of jabs and stopped just before hitting me. Even a day before his 78th birthday, he was sharp as a tack.
Then he showed how to cut off blood flow from the carotid artery. If hit right, any attacker would go down.
I told him he was intimidating. He brushed it off.
"Choke me," he said.
"Like, actually choke you?" I replied, shocked.
And in my most bizarre moment ever, I wrapped my hands around an elderly man's neck. I kept it light — the way you would if you were practicing potentially lethal moves on a man in his own kitchen. And he insisted I choke him harder. Reluctantly, I tightened my grip.
In a split second, he slipped out of my stranglehold, put me in a wrist lock and brought me to my knees. My exact reaction can't be printed here.
Teaching self-defense is no joke to Rogers. He loves it and takes it seriously. He wants to expand his classes to reach more people.
I attended his workshop on July 22 at Metropolitan Police Department headquarters, which turned out to be about the same as the presentation I received in his kitchen. About 30 people showed up, most of them elderly volunteers for Metro.
Rogers got the crowd loosened up with some jokes before he brought the focus back on some outdated crime statistics.
Rogers chose 42-year-old Anthony Radel for his demonstration of bringing down a bigger, stronger attacker. He tossed him around, jabbed at his face and put him in head locks.
The crowd was riveted by the presentation, with some following his every move from their seats.
Linda Vish, a 74-year-old Metro volunteer, was impressed by the ease with which she would be able to bring down an attacker.
"I found it unbelievable, to be honest, that it was that simple," she said.
She ended up purchasing four sets of DVDs and keychains for her family.
Rogers doesn't maintain a website or Facebook page, so anyone who is interested in attending or booking him for one of his free classes should call him at 818-720-8230.
Contact View intern reporter Blake Apgar at bapgar@reviewjournal.com or 702-383-0342. Follow @BlakeApgarLV on Twitter.