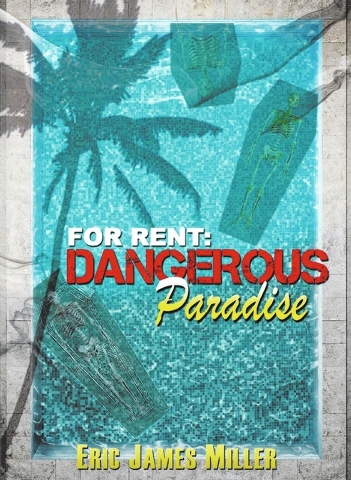 When things go wrong near the apartment complex at 399 Broadway, people attribute it to the rough neighborhood or the sour economy. What they don't know is the neighborhood carries a curse from a "lustrous summer centuries before any European dared name the place Santa Monica Bay," writes local author Eric James Miller in his novel "For Rent: Dangerous Paradise," the first in his planned For Rent mystery series. Tohi, "the smug, self-entitled, heir apparent grandchild of a local Chumash chieftain," buries an axe in the back of his rival Vantu, a warrior hunter from the Tongva tribe.
"He marked the grave with only dry spit — a decision he sorely regretted two years later when he returned, desperate to break the curse Kriti, the powerful shaman priestess he tried so shamelessly to possess, had put on him," Miller writes.
The curse continues for centuries, with Tohi seeking forgiveness and Vantu demanding revenge, and the contemporary residents of 399 Broadway caught in the crossfire.
Miller plans to follow the novel with the Las Vegas-based "For Rent: Dangerous Neon."
Excerpt from 'For Rent: Dangerous Paradise'
"We might have to arrest you for contaminating a crime scene." "Me?!" Dana exclaimed as she spun around. "Why? I just — I didn't —" Dana pinched herself under her bicep to stop any tears from welling up in her eyes. She stood her ground, but sensed the two trained investigators could read the crushing fear growing inside her. Jail?! I'm going to go to jail? My final paper is going to be an insider's look at the county jail? How can I put that on my friggin' resumé!!? "Bob. Stop scaring the poor girl," Schwartz ordered with passive authority in his voice. The less imposing detective smiled at Dana then took a measured half step towards her. "You have to excuse my partner, Miss Santoyo. He's a little by the book sometimes. Even when some tact and understanding would serve the investigation much better. Unfortunately, though," he said with another genuinely sympathetic look in his eyes, "I'm sorry to say this time he's not completely off the mark. The sooner we confirm why you're in Miss Andrews' apartment, the sooner it doesn't look so suspicious. You can understand that, right?"
Dana nodded. She did understand. They had to do their jobs.
But she had to do hers, too.