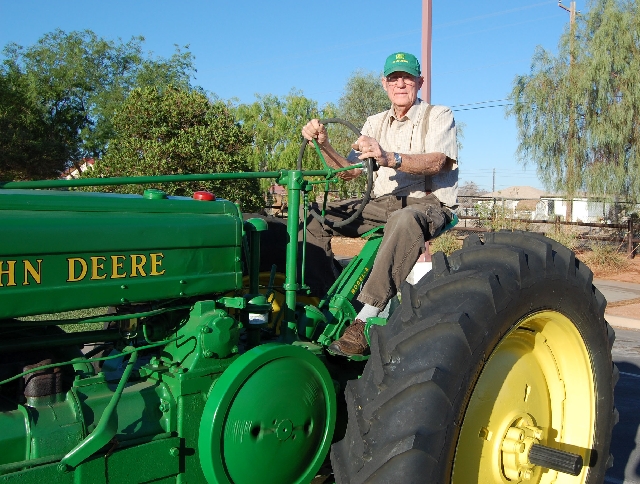 Ken Hinman, born in 1934, grew up on a farm in northwest Nebraska. Hinman taps his childhood experiences in the new book "Jimmy John the Tractor," a nostalgic true tale of farming, illustrated by Arizona artist Trish Gename.
After two years serving the U.S. Army in Korea, Hinman went to Chadron State Teachers College and graduated in 1961. He worked most of the next 35 years for the Veterans Administration in Leavenworth, Kan., and Memphis, Tenn. Now he and his wife, Carol, live in Henderson, where Hinman has been active reading to schoolchildren and participating in the city's Heritage Days Parade. Hinman is slated to read to children and sign copies of his book at 11 a.m. Saturday at the 567 N. Stephanie St. Barnes & Noble. For more on the book, visit jimmyjohn
thetractor.weebly.com.
Excerpt from "Jimmy John the Tractor"
Ken walked around Jimmy John and looked at him from his front to his back, and from his tall exhaust to the bottom of his tires. Then he climbed up and sat on the seat, put his hands on the steering wheel and whispered, "I like you."
Just then Farmer Vern came through the big doors. "May I drive the tractor?" asked Ken.
Farmer Vern smiled. "Ken you are just too small, but soon you will grow bigger and stronger and then you can help with the farm work and drive Jimmy John."