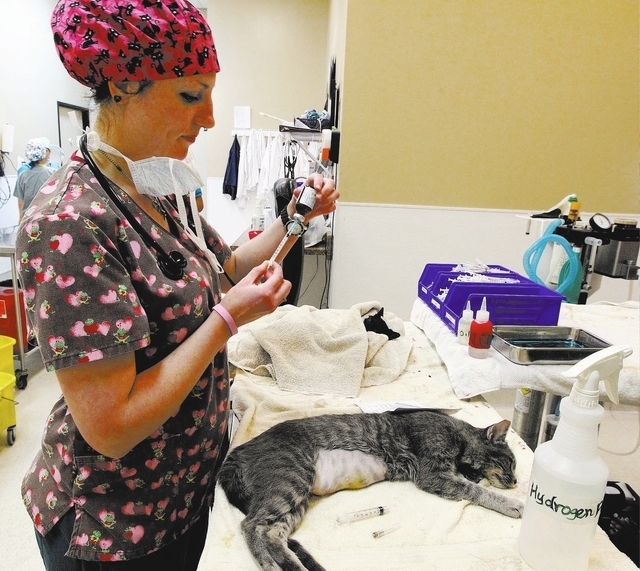 Once a month on Sunday, three organizations spend their morning and afternoon trapping feral cats. Volunteers from Heaven Can Wait Animal Society, the Community Cat Coalition of Clark County (C5) and the Las Vegas Valley Humane Society work with cat colony caretakers to reduce the overpopulation of feral cats.
Heaven Can Wait plans to host its 11th anniversary monthly feral cat clinic from 7:30 a.m. to 2 p.m. Oct. 20. The clinic targets feral cats throughout the valley.
"We've seen a decline in the number of cats that have been put down," said Harold Vosko, president of Heaven Can Wait. "In 2009, The Animal Foundation put down 20,000 cats. This year, we expect that number to be between 10,000 to 11,000. This program has knocked those numbers down."
Vosko said that years ago, the normal colony consisted of 10 cats, and now most colonies he sees have about six.
"Our goal is to reduce the number of cats that are impounded and euthanized at the local shelters," he said.
Since opening Heaven Can Wait, approximately 90,000 animals have been spayed and neutered. Vosko said, on average, they spay and neuter 250 cats during the feral cat clinics.
Targeted areas vary depending on the number of calls that the volunteers receive from community members who report feral cats. Vosko said this month, Heaven Can Wait will target ZIP codes 89156 and 89110, and C5 will focus on 89121.
Individuals who feed and want to spay or neuter feral cats are advised to contact Heaven Can Wait, C5 or the Las Vegas Humane Society, and the organizations will see which sponsor is best suited to handle the situation.
"Cats chronically go into heat," Vosko said. "Feral cats are like nuclear bombs. They can have a litter of five within the next three to four months. If we spay or neuter 100 cats, that prevents 500 cats from being born."
During the event, volunteers will go to targeted areas with traps, which they will learn how to use during an orientation. Canned food is placed inside the trap to lure cats into the cage.
Once the cats are trapped, volunteers will take them to Heaven Can Wait's clinic, where they are spayed or neutered. The cats also get their ears clipped to keep track of which ones have had the surgery.
Individuals who trap the cats are responsible for their care after surgery. According to Heaven Can Wait's website, hcws.org, males should be kept for 24 hours and females for 36 hours. Pregnant cats must be kept for 48 hours.
Keith Williams, president and director of C5, keeps track of the numbers and a log of colony caretakers throughout the valley. He asks people who are feeding cats to call 702-582-5867 so he can log the number of feral cats.
"Euthanizing cats by the thousands wasn't fixing anything," Williams said. "It was just a Band-Aid. By doing trap-neuter-return, we are going to root of problem: excessive reproduction."
Williams hosts C5 classes on how to properly trap cats. He believes there are roughly 2,000 to 3,000 feral cats in Clark County.
For more information about C5, visit c5-tnr.org.
Gloria Diaz, who works in Heaven Can Wait's front office, said low-cost and targeted no-cost spay and neutering are offered Monday through Thursday. Colony caretakers who call ahead of time can receive free spay and neutering for feral cats during any Sunday feral cat clinic.
Vosko said each clinic costs $4,000 to $6,000 and most of the money comes from donations.
After Oct. 20, the last two 2013 clinics are scheduled for Nov. 17 and Dec. 15. Those interested in volunteering are invited to attend an orientation scheduled for 2 p.m. Oct. 19 at Heaven Can Wait's animal clinic, 546 N. Eastern Ave.
"This is a community problem. We can't solve it by ourselves," Vosko said. "If those feral cats never got (spayed or neutered), how many have been born to die or (have) an inhumane life?"
Contact Sunrise/Whitney View reporter Sandy Lopez at slopez@viewnews.com or 702-383-4686.