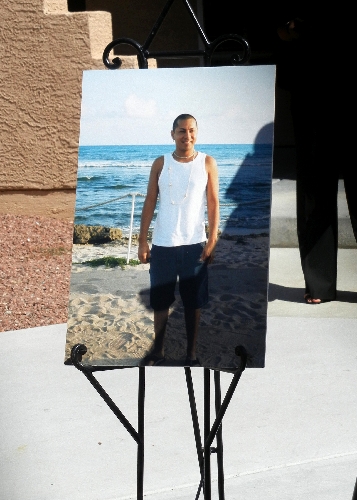 Magdalena Brandon wipes at the stream of tears flowing down her cheeks as she recounts memories of her late son, Richard Anthony Ruiz.
At 35, his life was cut short by complications from HIV. He died only five months ago. His battle lasted nine years.
Brandon, an interior decorator by trade, honored her son's memory by helping design a new complex that caters to the needs of those battling HIV and AIDS by providing affordable housing stocked with living essentials. The Aid for AIDS of Nevada project aims to ease the load for clients struggling to pay their living expenses and mounting health care costs. Some clients have upwards of $60,000 in medical debt.
Founded in 1984, AFAN is the oldest and largest AIDS service organization in the state. About 2,000 people infected with HIV are registered clients with the agency.
Families and friends attended an Aug. 10 ribbon-cutting ceremony for the new complex. Also in attendance were representatives from the offices of senators Harry Reid and Joe Heck, Clark County Commissioner Chris Giunchigliani and state Sen. Ruben Kihuen, among others.
"This made me proud," Brandon said, "that people can come in, and it's not a sterile situation. This was done from my heart to give back, to help me heal, to know that my son didn't transition for no reason. This was done for people to understand that HIV clients are people, too. They're not trash."
The renovated property will house 20 residents in single cottages and a group home that have been completely furnished. Esperanza de Casa, meaning House of Hope, will offer group-style living to 12 residents. The property's floor plan has three identical wings with four individual bedrooms and shared bathroom for every two residents. Esperanza de Jardin, which means Garden of Hope, features eight one-bedroom cottages complete with a full kitchen, bedroom and bathroom.
"This isn't another clinical setting," said Jennifer Morss, AFAN director. "This is home."
Residents are expected to move in Sept. 1. The property address will remain unpublished, as a request from AFAN, because of the sensitive nature of the program.
"This is about the hope that's out there," Giunchigliani said. "It's about making sure we stay focused."
A courtyard separates the cottages from the group home, where AFAN plans to plant sustainable gardens with organic fruits and vegetables and a community entertainment building that incorporates another kitchen, laundry facility and recreational room for social events.
A fountain trickles water in the courtyard. It's dedicated to Richard's memory. Brandon faux-painted the piece — a skill her son had mastered in his lifetime. He ran his own business.
"I want people to understand this isn't a death sentence," Brandon said, her voice cracked with emotion. "You can live with this. Let people know you have this and live. Don't not live."
For more information, visit afanlv.org.
Contact Downtown and North Las Vegas View reporter Kristi Jourdan at kjourdan@viewnews.com or 383-0492.