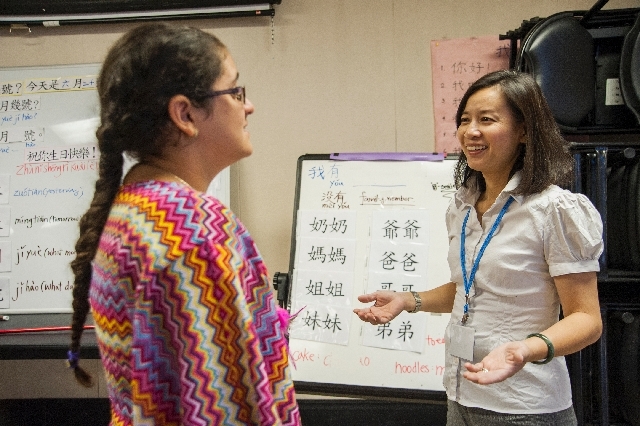 Only 10 percent of native-born Americans speak a language other than English according to the 2010 Census. In a sharp contrast, 53 percent of Europeans have mastered a second language.
Startalk, a federally funded program, strives to improve America's percentage by providing foreign language classes.
Startalk was created seven years ago by the Department of Defense with the purpose of introducing Americans to foreign languages such as Chinese, Arabic, Farsi, Russian and Portuguese.
"The purpose of Startalk is to promote languages that are less taught in our nation but strategically important to our national interest and future," said David Wu, chief executive officer at Teaching Chinese Resources.
This summer Startalk is sponsoring a free Chinese language daycamp for children 11 to 17 at the Winchester Cultural Center, 3130 S. McLeod Drive.
Joseph House, a cultural specialist at the center, said the goal is to expose kids to the Chinese language through calligraphy, Chinese crafts, lion dancing and juggling.
The program is divided into three-week sessions. The first session started in June, the second was scheduled July 1-19 and the third session is scheduled July 22 to Aug. 9. The free camp is offered from 9 a.m. to noon Monday through Friday.
In addition to the Chinese language camp, the center also offers an arts and learning camp that includes 10 themed weeks of activities such as team building, reading, writing and more. The camp is offered for children 6 to 17. The cost to attend varies by month. The fee for July is $342, August is $270, or weekly payments can be made for $95.
The arts and learning camp is scheduled from 7 a.m. to 6 p.m. Mondays through Fridays through Aug. 16. Field trips are offered Wednesdays.
Admission is accepted on an ongoing basis in both programs until classes fill.
In conjunction with the Startalk program, the Winchester Cultural Center plans to offer free Chinese programing including a photo exhibit Aug. 1-31, a screening of the film "Go Grandriders" at 2 p.m. Aug. 17 and a concert featuring Lin Hong Li's Chinese Ensemble at 3 p.m. Aug. 24.
According to Wu, Startalk is offering 125 Chinese language programs nationwide this summer.
A major obstacle in expanding the program has been a lack of qualified teachers. Because of this, a teacher training program was started in Nevada three years ago specifically to train Chinese language instructors. During the three-year span, 45 teachers have been trained through the program.
Teacher training is conducted on weekends at the Las Vegas Chinese School, 6284 Spring Mountain Road. Prospective teachers, who must be fluent in Chinese before entering the program, complete a 64-hour teacher training to receive graduate credit from California State University.
All the instructors for the Chinese language program come directly through Startalk, and two are Clark County School District employees.
Wu hopes to encourage the school district to schedule more Chinese language classes. There are more than 300,000 students enrolled in the Clark County School District, and Wu said only about 200 students will have the opportunity to learn Chinese.
Chi Chen is a Clark County School District teacher in her fifth year of teaching Chinese. Chen said Kit Carson Elementary School is the only elementary school that offers a Chinese program through the Startalk program and currently there are no middle schools that offer the program. Chinese programs are offered in public high schools at Liberty, Clark and Green Valley high schools.
"It's been a wonderful experience because it's different from my educational background," Chen said. "In Asia the teachers teach everything, and the student just sits there and listens to it. Here we have to get the students involved, and it's quite challenging, but I learn a lot from that."
So far, the Winchester Cultural Center has 12 students taking beginning Mandarin Chinese. All have different reasons for joining the program. While there are a few criticisms about the class, many of them see the benefit of learning a new language.
"I wanted to learn a new language so I'll have more opportunities to get a better job in the future. I want to get paid good," said Abril Ramos, 11.
Paige Owens, 13, added, "It's also going to help me because I want to get into Veterans Tribute High School. (The school) requires us to learn a new language."
While John Lindang, 15, agrees that the program is great, he wishes that the classes could be divided by age groups.
"I wish that they could bring in more teachers because some of us learn in different paces. The older kids learn faster, while the younger kids need a little more help," Lindang said.
Chaz Snow, 11, agrees.
"I wish they could slow it down, because it's a little too fast for me," Chaz said. "I also wish that it was offered at school. I've learned a lot so far, especially in these last five days."
If the program is successful, it may expand to other Clark County recreational centers and Wu hopes some may offer Chinese language programs all year.
"The community really loves this program," Wu said. "Hopefully this location becomes a new model on delivering this type of service to the community."
For more information about classes at the Winchester Cultural Center, visit clarkcountynv.gov or call 702-455-7340. For more on teacher certification classes, call the Las Vegas Chinese School at 702-476-9888.
Contact reporter Sandy Lopez at slopez@reviewjournal.com or 702-383-4686.