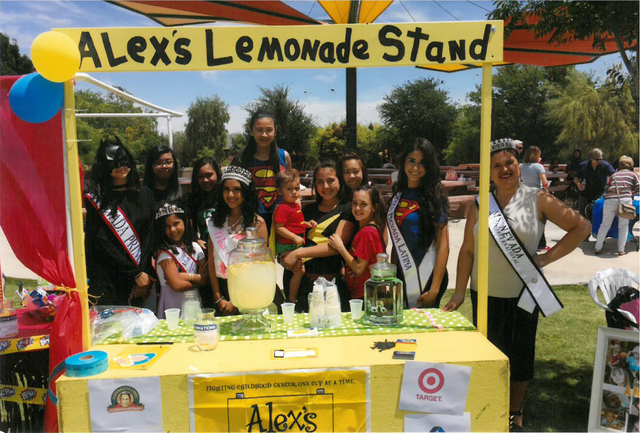 Summer league auditions: Auditions are open to sing the national anthem at a Samsung NBA summer league basketball game. Prior performance experience and an a cappella version of "The Star Spangled Banner" are required. League dates are July 8-18, and 45 audition spots are available. Pre-registration is required. Email showbizkidz@centurylink.net or visit showbizkidz.net.
Month of Honor: Station Casinos has launched a monthlong fundraising effort to raise awareness and funds for homeless veterans and their families who reside at Veterans Village in downtown Las Vegas. Through May 31, Station Casinos properties and venues, including the cafes, casino bars, bingo rooms, bowling alleys and gaming areas, including designated blackjack and poker tables, will be themed patriotic to signify where the company will donate a portion of its proceeds and gaming winnings. Visit veteransvillagelasvegas.org.
Las Vegas honored: The city of Las Vegas was named one of 20 finalists for the 2016 All-American City Awards by the National Civic League in April. The annual awards highlight cities that engage residents in innovative and inclusive efforts to tackle critical challenges. This year, the program is focusing on cities that have worked to ensure children are healthy and supported to succeed in school and life.
Stamp Out Hunger: Residents can leave nonperishable food items in their mailboxes on May 14 for letter carriers to pick up for delivery to a local food pantry as part of the National Association of Letter Carriers' Stamp Out Hunger Food Drive. Community members can also contribute money to provide fresh produce to pantries throughout the month of May by donating at stampyourgood.com.
Las Vegas Helldorado Parade: The free annual event is set for 10 a.m. May 14 on Fourth Street in downtown Las Vegas. The parade route heads north on Fourth Street from Gass to Stewart avenues. High school marching bands can receive $1,000 for participating, and high school groups that build and enter a float can receive $1,500 for participating. All community members are encouraged to submit entries at no charge. Download an application at tinyurl.com/gmqp32v. Visit elkshelldorado.com or call 702-229-6672.
Lemonade stand fundraiser: Residents Felicia Nakhla and her niece, Alexandra Elliott, 13, are set to host their third annual Alex's Lemonade Stand from 11 a.m. to 5:30 p.m. May 15 at Sunset Park, 2601 E. Sunset Road, to support Alex's Lemonade Stand Foundation for Childhood Cancer. The duo's goal is to raise $3,000 and get a minimum of 37 people to donate blood. Visit alexslemonade.org/mypage/1215688/member/219409.
Weatherization program: HELP of Southern Nevada is accepting applications for its Weatherization program, which assists low-income households occupied by seniors, those who are physically challenged and homes with children, to prepare for extreme summer and winter weather. This year, Southwest Gas is teaming up with the nonprofit through its Energy Share program, a bill assistance program to help those facing economic hardships. Through the program, customers in need can seek support on past-due natural gas energy bills. Qualified individuals may also receive assistance in replacing a natural gas appliance. Once an application is accepted, trained weatherization staff members will visit and examine homes and perform an energy audit. Repairs may include weather stripping, blowing insulation, broken windows, testing gas appliances, heating and air conditioning evaluations, refrigerator efficiency checks and installation of solar screens and other energy-saving devices. Visit helpsonv.org, call 702-795-0575 or visit the nonprofit at 1640 E. Flamingo Road between 7 a.m. and 5 p.m. Monday through Thursday.
Charity Golf Tournament: The event's shotgun start is planned at 7:30 a.m. May 30 at the Revere Golf Club, 2600 Hampton Road. Hosted by the Foundation Assisting Seniors, money raised will fund the foundation's programs. It includes a four-person scramble. Players may sign up as an individual or in a team, and the cost is $100 per player. Contests and an award luncheon with over 100 raffle prizes are planned. Contact Kelsey Hand at 702-965-1617, ext. 129 or kelsey@trospercommunications.com.
Nominations for Community Associations Institute: The institute, an educational organization representing homeowners associations, community managers and industry partners statewide, has announced it is accepting nominations for individuals and charities statewide. Formerly known as the Annual Heroes' Luncheon, it was redeveloped in 2012 to honor small charitable organizations that make a difference and are original to Nevada. Nominations are due May 31. Winners will be notified before an event to honor them, planned for Sept. 13 at the Gold Coast, 4000 W. Flamingo Road. For a form, visit tinyurl.com/OPEM2016form.
Volunteer coaches: Elite Las Vegas Wildcats, comprising tackle football and cheerleading for youths 7 to 14, is a nonprofit within the National Youth Sports League, affiliated with USA Football, a partner of the NFL. The Wildcats are looking for volunteer coaches for over 135 student athletes. No experience is required. Coaching clinics and course opportunities will be provided. Each volunteer will be required to submit a background check (a $10 fee). Football coaches will be required to obtain USA Football Certification for coaching (a $25 fee for online membership). Email elitelvwildcats@yahoo.com or call Katie Grossardt at 702-426-9039.
Free law classes planned: The Clark County Law Library and Nevada Legal Services are offering free classes on Bankruptcy and Consumer Rights in Nevada every other month through June. The class is being offered as a community service by Nevada Legal Services. Classes are planned from 1 to 3 p.m. Tuesdays every other month at the Clark County Law Library, 309 S. Third St., Suite 400. The next class is set for June 21. Topics include whether to file for bankruptcy, the difference between Chapter 7 and 13 bankruptcy, debt collector harassment and how to receive free help. Qualified participants may apply for a pro bono attorney after attending class. Seating is limited. Call 702-455-4696 to reserve a seat.
Election workers needed: The Clark County Election Department is looking for workers during early voting and election days, June 14 and Nov. 8, respectively. The pay is $10 an hour for early voting and $120 for the day on Election Day. Applicants must be registered voters in Clark County, not a candidate or relative of a candidate, endure long hours or have flexibility for a variable schedule. Visit ClarkCountyNV.gov/vote or call 702-455-2815.
Recreation center employees sought: Clark County Parks and Recreation is seeking part-time employees for year-round day camps and summer camps at local community and recreation centers. Desert Breeze Recreation Center, 8275 Spring Mountain Road, is seeking an art instructor to plan and execute all age-appropriate arts and crafts activities for summer camp participants. The applicant must have a high school diploma or equivalent and have previous experience teaching art to school-ages children in a school or recreation setting. A college degree in art, recreation, education or a related field is preferred. Hourly salary is $10 to $12. The center also is accepting applications for a program assistant for year-round day camp programming at the center. The employee would be responsible for the supervision of children ages 6 to 12 in an active recreation program as well as facilitating activities such as group games, sports, arts and crafts and mentoring. Hourly salary is $8.45 to $9. Call 702-455-8334. Applications can be picked up at any Clark County Parks and Recreation facility or can be downloaded at accessclarkcounty.com/depts/parks/Documents/Application.pdf.
Business license kiosks: City of Las Vegas Business Licensing has deployed two kiosks providing English- and Spanish-speaking customers with alternate methods of conducting business with the city of Las Vegas. The first one is in the first-floor lobby at the Development Services Center, 333 N. Rancho Drive. The second is at the Las Vegas Metro Chamber of Commerce, 575 Symphony Park Ave., Suite 100. Some of the tasks that can be completed on the new kiosks include: apply for a business license; manage business license; pay business license renewals; visit required state websites; print forms; take customer surveys; and report problems. Call the Business Licensing department at 702-229-6281.
Sunset Stewards volunteers: Volunteers are sought for Clark County Parks and Recreation's Sunset Stewards program, which involves patrolling Sunset Park for at least four hours each month. Stewards report problems and interact with park patrons in a positive way in order to educate them about what behavior is appropriate at the Sunset Lake and elsewhere on the grounds of the 323-acre regional facility. Volunteers are to be trained about how to interact with park patrons in a nonconfrontational manner. Volunteers are required to undergo a police background check and asked to have a cellphone with camera capabilities in order to document graffiti, vandalism or other concerns that they may encounter on their rounds. They will be provided a volunteer vest and have the option of being provided a trash grabber to pick up small pieces of garbage. Call 702-455-8200 or email sunsetstewards@ClarkCountyNV.gov.
Nominate veterans for veteran of the month: Nevada's Veteran of the Month award recognizes veterans statewide who contribute their time and energy in support of veterans and the military, and/or who take pride in caring and nurturing their local communities. The program is managed by the Nevada Department of Veterans Services, which continuously seeks out potential honorees. Anyone can nominate potential candidates. Submissions must be on an official form and will be reviewed by members of the Veterans Service Commission at its quarterly meetings. The members then make final decisions on who is chosen. Submissions are accepted throughout the year, and nomination deadlines are three weeks prior to each VSC quarterly meeting. To nominate:
— Read the attached VOM guidelines at veterans.nv.gov.
— Download and complete VOM nomination packet under "Services." Nomination packets must include a copy of the nominee's DD-214 Form and a photo of the nominee. For assistance in obtaining a copy of a DD-214 form, call the Nevada Department of Veterans Services, VAST Section, at 775-321-4880.
— Nomination packets can be filled out online, saved, printed, signed and mailed to: Nevada Department of Veterans Services, Attn: Pamela Roberts, 6880 S. McCarran Blvd., Bldg. A, Suite 2, Reno, NV 89509.
— Completed packets can also be scanned and emailed to Roberts at robertsp@veterans.nv.gov or faxed to 775-688-1656.